Cowboys-Saints: 10 things to know from Dallas' 38-17 win
The Cowboys had a fantastic game vs. the Saints on Sunday. Let us tell you all about it.
• 6 min read
Entering the season, we figured the NFC East was going to be one of the worst divisions in the NFL, and we also figured that the Cowboys were going to be one of the worst teams in the NFC East.
The first part might still be partially true, though the Giants have begun to make us reconsider. And on Sunday night, as Dallas destroyed New Orleans 38-17, we began to have second thoughts about how bad the Cowboys might be this season.
Look, they always had the potential to be dangerous on offense. I've said all along that Tony Romo is a top-seven quarterback, and with Dez Bryant emerging as one of the top young receivers in the league and with Jason Witten still playing effectively at the tight end spot -- not to mention left tackle Tyron Smith and center Travis Frederick and running back DeMarco Murray -- we figured Dallas had the potential to be in plenty of shootouts.
But the Cowboys defense, which was historically awful last season, had the potential to be even worse in 2014.
Except, somehow, it's not.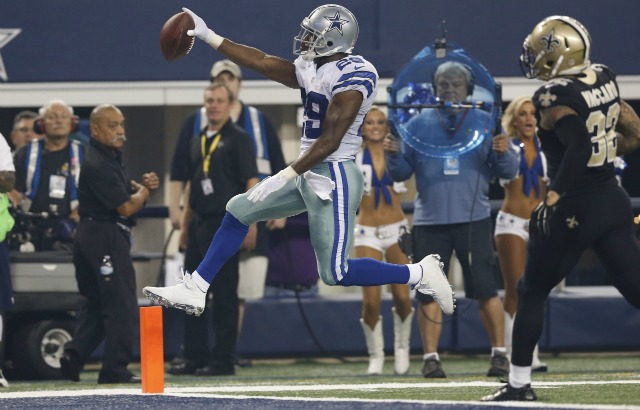 The Cowboys shut out the Saints in the first half, and though New Orleans racked up 438 total yards, Dallas limited its ability to score. In essence, the Saints looked like a much worse team than the Cowboys, something that probably hasn't occurred since Dallas beat a bad New Orleans squad in 1994.
With the Eagles loss to the 49ers on Sunday, the Cowboys, at 3-1, moved into a tie for first place in the NFC East. Philadelphia's offense looked horrendous for most of the day vs. San Francisco, and you have to wonder if the Cowboys defense which was effective against New Orleans on Sunday could do the same vs. the Eagles when they meet in Week 13.
With all the talk about how the Cowboys will need to make the postseason in order to save Jason Garrett's job, the Dallas squad that played vs. the Saints shouldn't have any of those concerns. For a team that's gone 8-8 the last three seasons AND missed the postseason because they've blown a Week 17 game in 2011, 2012 and 2013, maybe, just maybe the Cowboys will have clinched a playoff spot well before that.
What do we make of the Saints?
For some reason, I picked the Saints to make the Super Bowl (but to lose to the Broncos while there). I'm not quite sure that was the correct pick.
The Saints defense has been much worse than expected, and New Orleans' offense doesn't look the same. It's not as explosive and not as creative as usual when Sean Payton leads it. Drew Brees completed 32 of 44 passes for 340 yards, two touchdowns and an interception on Sunday, but without Mark Ingram in the lineup, the running game hasn't been effective. Even Jimmy Graham was inconsequential for 3/4 of the game Sunday night, and he fumbled in the red zone in the second half.
Lucky for the Saints, the NFC South is even worse than the NFC East, so it's not like New Orleans' season is over. But man, it's not looking good at this moment.
Don't make Tony Dungy mad
The Saints made the game interesting for a couple minutes early in the fourth quarter when they pulled to within two touchdowns. Then, New Orleans attempted a fake punt. It went a little something like this.
Not surprisingly, New Orleans never challenged for the lead again. Even worse, the Saints PISSED OFF Tony Dungy.
"@TonyDungy: What was Sean Payton thinking with that fake punt. You have Drew Brees. Let him try to win the game--not your PUNTER!"Love this

— Pete Prisco (@PriscoCBS) September 29, 2014
But seriously, New Orleans. Why do you want to upset Tony Dungy?
Murray continues dominance
Entering the game, the Saints boasted the league's 10th-ranked rush defense, allowing an average of 101.3 yards per game. Even with the vast majority of Week 4 games already done, Murray still led the league with 387 rushing yards through three games.
After his performance Sunday, New Orleans' run defense isn't going to be quite so vaunted.
Murray rushed for 149 yards and two touchdowns on 24 carries, and one-quarter of the way through the season, he's accumulated 534 yards and five touchdowns. Even Romo got in on the act Sunday, galloping a career-high 21 yards on third down to keep a Dallas drive moving.
But don't feel bad, New Orleans. Murray has been dominant this season against everybody he's played.
Via NBC ...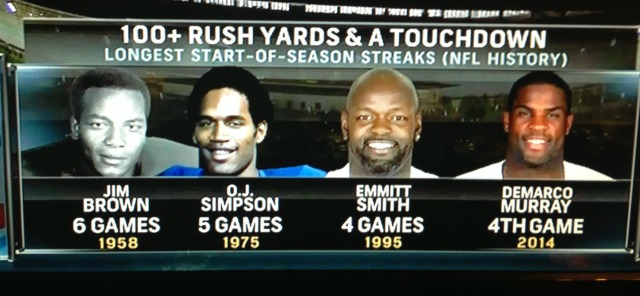 Jairus Byrd has yet to soar
Safety Jairus Byrd has struggled since he arrived in New Orleans after leaving Buffalo via free agency and signing a six-year, $54 million contract.
Entering the game, he was ranked the No. 42 best safety in the league this year according to Pro Football Focus' metrics. Not good considering he was ranked No. 8 in 2013, No. 2 in 2012 and No. 3 in 2011.
And then he took this terrible angle on a Romo handoff to Murray on the 15-yard line.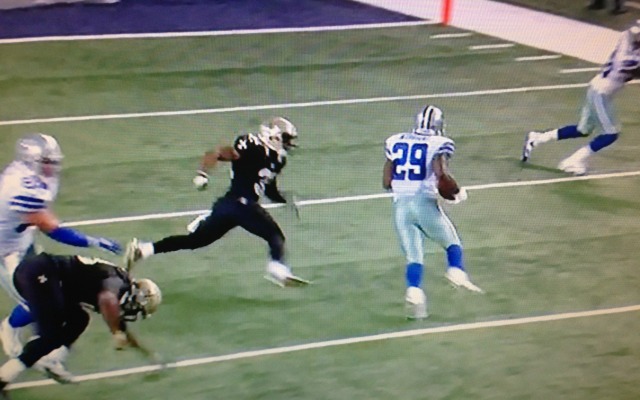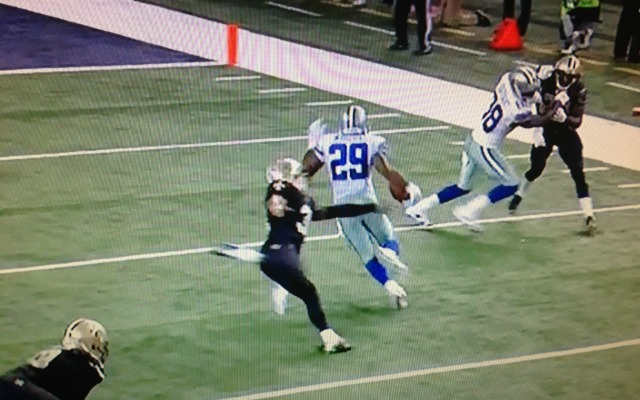 The result: a 15-yard touchdown for Murray and a 17-0 second-quarter lead for the Cowboys.
Jairus Byrd is broken.

— Chris Burke (@ChrisBurke_SI) September 29, 2014
Good lord, the angle Byrd took in run support on the TD was embarrassing.

— Ben Muth (@FO_wordofmuth) September 29, 2014
After all that AWOL stuff ...
Cornerback Morris Claiborne ended up starting for the Cowboys anyway. It was in their nickel defense, but Claiborne technically started his third game of the season. Later in the first quarter, he was injured after falling while trying to cover Saints receiver Kenny Stills.  
As you might know, Orlando Scandrick returned from his suspension this week and reclaimed the starting cornerback job that Claiborne was keeping warm for him. An upset Claiborne left the Cowboys facility in a huff and missed practice.
Claiborne returned the next day and apologized.
He played Sunday, but early on, this was the last we saw of him.
Mo Claiborne being helped to the locker room by team trainers, unable to walk on his own #NOvsDAL pic.twitter.com/p076e9xAP6

— Dallas Cowboys (@dallascowboys) September 29, 2014
An unfortunate new record
The Saints were losing 24-0 at halftime. It was unprecedentedly bad for New Orleans.
There it is - largest halftime deficit since Payton arrived in 2006. #Saints

— HowellOnCST (@HowellOnCST) September 29, 2014
Saints fans invade AT&T Stadium
Remember that stink from earlier in the season when it appeared as if 49ers fans (and their red shirts) were dominating the crowd at Jerry World (even though Jerry Jones said he didn't notice anything out of the ordinary).
Apparently, things weren't too much different Sunday night.
The Saints fans' cheers are as loud as the Cowboy fans' cheers. Sounds like an FA Cup Final with crowd split down the middle.

— Kevin Clark (@KevinClarkWSJ) September 29, 2014
My friend, Jess, a Saints fan, was at the game Sunday night. Here's what she sent me.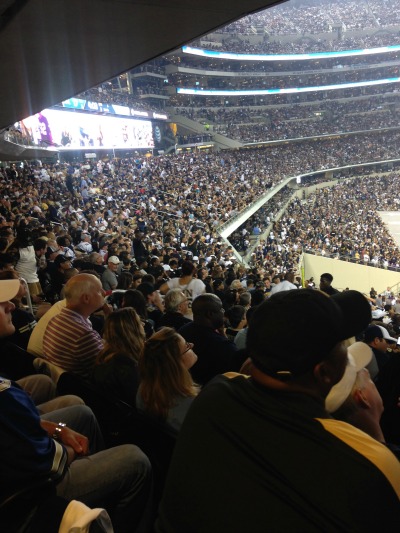 A good amount of black and gold there, it would seem. But not so fast.
@joshkatzowitz @burgermary There are a lot of @Saints fans here, but it's hardly a domination. Still a pro-@dallascowboys crowd.
— Cole (@ColeH) September 29, 2014 >
Injury Report
Clairborne left the game in the first quarter with a knee injury. He was listed as questionable and never returned ... Saints left tackle Terron Armstead left the game in the first half due to a concussion ... After trying to chase down Saints running back Khiry Robinson in the second half, linebacker Bruce Carter missed the rest of the game with quadriceps injury.
Somebody is excited ...
And we'll leave you with this.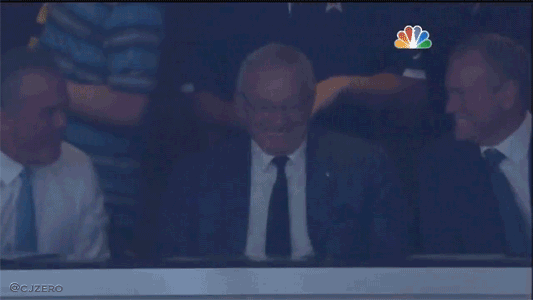 SportsLine's Mike McClure, a DFS pro with more than $1M in winnings, gives optimal lineup...

Check here for the latest news, rumors and updates for NFL coaching changes and searches

The Titans have tapped Texans defensive coordinator Mike Vrabel to take over as head coach
The government shutdown has come at a horrible time for NFL fans in the U.S. military

Bengals owner Mike Brown seems to be a huge fan of continuity

Our computer model simulated the AFC and NFC title games 10,000 times with surprising resu...