Cowboys' Tony Romo says right things about back, but not close to old self
The Cowboys say Tony Romo, coming off back surgery, will be ready by Week 1. But the oft-maligned but highly productive QB does not look anywhere near set yet.
• 5 min read
More NFL: Photos | Videos & GIFs | Training Camp updates | Manziel
OXNARD, Calif. -- Tony Romo isn't himself.
He's still flashing his charm, that huge smile, the playful, childlike side seeking out children of teammates for catch after practice and seems undaunted by the cauldron of being the oft-beleaguered but highly-productive quarterback of the Dallas Cowboys. But, physically, it's not the same. More often than not he's watching Brandon Weeden make throws to the starters at practice, he's not throwing too many deep balls, he's not rolling out with abandon. That's just not that there. From my two days here at Cowboys camp, while the hosting a feisty group of Oakland Raiders, Romo seemed to be doing a lot more watching than doing.
None of this is shocking because Romo underwent offseason back surgery. But as much as the Cowboys are publicly buoyant about the star quarterbacks's recovery and timetable, and would have you believe Romo will be Romo by Week 1, it's obvious there is a process ongoing. Backs can be tricky, and, as Romo suggested to me, all sides have to be flexible in charting a daily course of action. The overall plan is to have him good as new come September, but there is daily juggling of his pitch count and workload and Romo is in regular communication with the coaches and trainers, listening to what his body is telling him.
"That's an accurate statement," he said after a practice in which he underthrew a few longer balls down the sidelines, and attempted mostly slants, check-downs and shallow crosses underneath against the Raiders. "We have a plan and we follow that plan and it's continued to pay dividends."
To this point, that includes not practicing three straight days, limiting his throws (in some 11-on-11 drills Weeden was taking three times as many reps as Romo). The ball didn't come out with sizzle, rarely did Romo throw three or four times in a row -- he would make way for Weeden or end up handing off after a few throws in team drills -- and he wasn't connecting on much outside of 10 or 15 yards. Attempts at a few back shoulder fades came up short, knocked away by defensive backs.
Romo is scheduled to appear against the Ravens in Dallas' second preseason game Saturday night, but I'd anticipate a very limited role. In the short term a lot of work his work is done off the field, continuing to strengthen his core. While Romo says he "keeps getting better and better," things still seem fairly open ended. They pretty much have to be in a situation such as this. "You just go by what your body is telling you," Romo said.
There have been no setbacks, and he has been able to gradually increase what he's done on the field. But there is also no magic button to push in two weeks, either. And at this point Romo certainly does not look like a quarterback ready to cut loose and go full throttle as 300-pound defenders try to rip him apart. There aren't many tougher, more fearless guys in the league, but it would be silly to pretend that a recovery from back surgery can be quantified like a hamstring or a glute. Slow and steady has been the rule, and, I suspect might continue to be for a while longer.
Cowboys-Raiders practice notes
• The Raiders seem pretty content to start Matt Schaub in the opener, and they are paying him decent money to do so, but rookie Derek Carr has a bigger arm, looks the part, and I have to think he ends up playing plenty of snaps this season. Oakland has put together a decent group of receivers, and if Schaub isn't getting the job done, I don't see why the kid doesn't get a chance. Offensive coordinator Greg Olson has done fine work with kid quarterbacks before and Carr has been groomed for this for a long time.
• The Cowboys offensive line looks pretty beastly and should be among the best in the league. Tyron Smith is a mountain, Doug Free was winning one-on-one battles in drills against the Raiders. Travis Frederick continues to look like an inspired pick. It was hardly unusual to see a Raiders defensive lineman toppled to the ground when they went one-on-one, though Raiders rookie Khalil Mack was one of the rare Oakland players who shined, managing to beat Smith once and get the huge left tackle off balance. Overall, the Cowboys are going to be able to pound teams on the ground, and DeMarco Murray -- again, should he stay healthy -- looks like he is ready for a monster season. There were no shortage of explosive runs out of the joint practice.
• The Raiders were living up to their old swashbuckling image, and fights were not uncommon, and Oakland's players often ran in droves to get involved. During the second fight of Tuesday's session, pretty much the entire Raiders offense -- working on the opposite field -- came sprinting over to get involved in the tussle. One melee seemed to spill close to the stands where the Raiders fans were, with one fan seemingly trying to get involved. No one seemed to mind much, and this is football after all. Cowboys owner Jerry Jones was applauding the uppercut that Raiders tackle Austin Howard pulled off, dislodging a helmet. "It was great," Jones said, "It's hard to believe this was just a practice."
• Romo said that ideally, with the offensive line looking so good, he hopes the Cowboys can get tight end Jason Witten out in space more and not have to use him as much to help pass protect. The Cowboys were running an abundance of screens as well, and seem to be favoring that element more.
• The Cowboys are excited by the progress being made by Anthony Spencer, who will be vital in the pass rush, and hope he can come off the PUP list shortly. "He's much ahead of where I thought he would be," Jones said. Overall, there isn't a whole lot to like about this Dallas defense, and I'm not sure it will be an improvement over last season's awful showing without Sean Lee and DeMarcus Ware. It lacks for individual brilliance and last year, in the Tampa-2 scheme, they couldn't play well collectively as a unit, either. Could be a long year on that side of the ball.
• Both teams were very impressed by getting the chance to talk some to Hall of Famers Magic Johnson and Tommy Lasorda, who were among the many bigwigs rounding the sidelines here.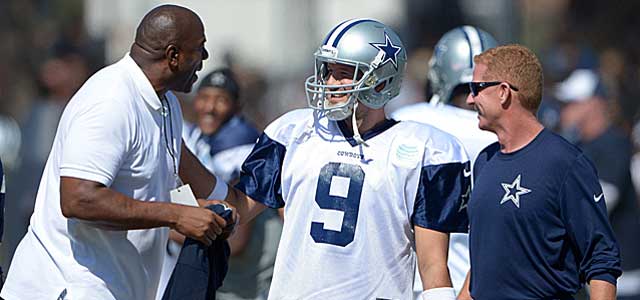 This might go down as the best catch of Week 15

Our computer model simulated every Week 15 NFL game 10,000 times with very surprising resu...

Ryan Shazier and the Steelers were the big winners in Pro Bowl voting that was unveiled on...
We've likely seen the last of Reggie Bush in the NFL

Fans have been sending Anthony Barr plenty of hate mail over Aaron Rodgers' injury

Here's every official injury designation for each NFL team for Week 15