Cowboys WR Dez Bryant: 'No doubt' I'll be playing Sunday
Cowboys Dez Bryant might be dealing with a back issue, but he says that won't keep him from playing on Sunday against the Eagles.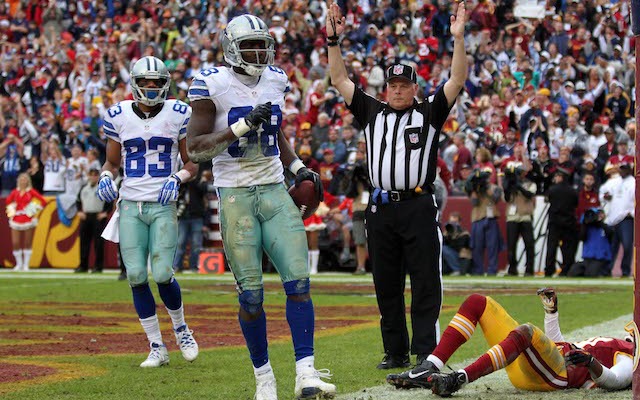 Tony Romo isn't the only one in Dallas dealing with a back issue, wide receiver Dez Bryant is too. Bryant was limited in practice on Thursday for the second straight day, however, that's not going to keep him from playing against the Eagles. Bryant told ESPN.com that there's 'no doubt' he'll be playing on Sunday. 
"I'm good. I'm playing. Don't worry about it," Bryant told the Fort Worth Star-Telegram. 
Bryant injured his back during the Cowboys 24-23 win over Washington, a game  where Bryant finished with four catches for 73 yards and a touchdown. 
This isn't the first time this season that Bryant's shown up on the weekly injury report with a back injury. Bryant was dealing with a back issue before the Cowboys Week 10 game against New Orleans. Leading up to that game, Bryant missed a practice and was limited in two other practices. 
Despite the injury, Bryant ended up playing against the Saints and was limited to one catch for 44 yards. 
With so much at stake, it's almost impossible to imagine Bryant missing this Sunday's game against the Eagles. The NFC East title and the playoff berth that comes with it will be on the line in Dallas. 
With their 2017 season basically over, it's time for Texans fans to turn their attention to...

Now 10 different players have intercepted Tom Brady multiple times in one game
Brady lofted it between two defenders and Lewis snatched it with one hand

Lawrence says the NFL should protect pass-rushers like it protects quarterbacks

With their 2017 season basically over, it's time for Redskins fans to turn their attention...