Cowboys WR Dez Bryant on Calvin Johnson: I can do whatever he can do
Cowboys wide receiver Dez Bryant doesn't see much difference between him and Lions receiver Calvin Johnson. Bryant said that on the football field he can do whatever Johnson can do.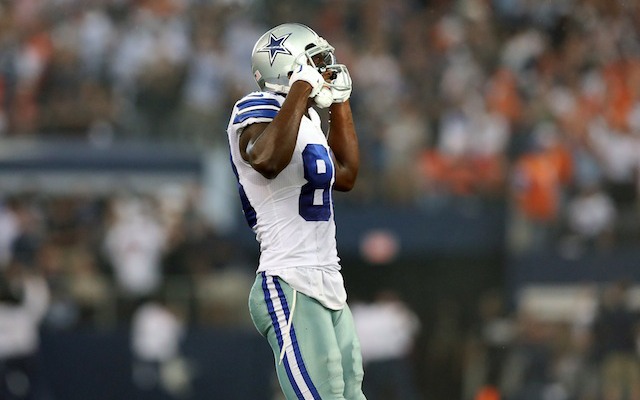 Calvin Johnson won't be the best wide receiver on the field when the Lions host the Cowboys on Sunday. Well, he might be the best, but he'll be tied for the best. Dallas wide receiver Dez Bryant sees himself as Johnson's equal and believes he can do anything Megatron can do. 
"I believe I can do whatever he can do," Bryant told KESN-FM in Dallas, via ESPN.com. "I think it's just a pride thing. When it comes to football, just being on the field, it's a mindset and having a mentality. I honestly believe when I'm there, I'll be feeling like there's nothing I can't do. Whatever the coaches ask me to do, I'm going to do it. I always feel like there's more. I think that's just a mindset you're supposed to have."
Bryant didn't exactly say he was the best receiver in the NFL, but he didn't not say it. Bryant seemingly went on to say there's room for two players in NFL to be the best at something. 
"Truth be told, I don't compare myself to nobody," Bryant said. "I think Calvin's the best at what he [does]. I think I'm the best at what I do."
Cowboys owner Jerry Jones thinks Bryant is good too, but he think's Megatron is better.
"I think that Johnson at Detroit has got to be the best receiver or best end target, if you want to put it like that, the best guy to go to right now in the league," Jones told KRLD-FM. "Dez can aspire to be that and has a chance to be that."
Bryant and Johnson have almost been equals this season. Bryant is averaging 81.3 receiving yards per game, just barely behind Johnson's 82.0 yards per game average. Both players have six touchdown catches and both have five receptions of over 20-yards.
One thing Bryant doesn't have though: a 50-yard touchdown catch in triple coverage.
(Wink of the CBS Eye to TotalProSports.com for the GIF)
The executive director NFLPA has an ugly prediction for the future of the NFL

Instead of practicing, Titans players and coaches will be hanging out with their eclipse g...

The defensive tackle might not be ready to play in Week 1
Coming soon to a Dallas-area high school this fall: Prime Time as offensive coordinator

The Steelers might not be getting their star running back anytime soon

Another day, another costly injury to a Colts starter