Cowboys WR Dez Bryant on J.J. Wilcox's aggressiveness: 'I love it'
The Cowboys had their first real 2014 training camp scuffle Sunday when, during non-contact drills, S J.J. Wilcox leveled WR Dez Bryant as he came across the middle
More NFL: Photos |  Videos & GIFs |  Training Camp updates | Manziel watch
The Cowboys had their first real 2014 training camp scuffle Sunday when, during what was supposed to be a non-contact drill, safety J.J. Wilcox leveled wide receiver Dez Bryant as he came across the middle. Not surprisingly, Bryant didn't appreciate the cheap shot and promptly let Wilcox know about it.
The moving-picture details, via Ryan Gerbosi of the Dallas Morning News:
But all's well that ends well. After practice, Bryant embraced Wilcox's aggressiveness.
"I love it. I love every bit of it. The reason why I love it is because that's what we need," Bryant said of a defense that finished 30th in the league, according to Football Outsiders. "Just in the heat of the moment, it got physical. It turned into like a real competition. I felt it. J.J. put a nice hit on me. He pissed me off, but at the end of the day, I loved it. I told him, 'Keep it coming.'"
"Hopefully the rest of the guys on that defense -- not only the defense, but the offense and the whole team -- feed off of that. That's what it takes to win. That's what we need to win. You've got to have that passion and that love for the game."
Meanwhile, Wilcox concedes that his hit wasn't exactly legal.
"I got a good little cheap shot in on him," he said. "We're still brothers, though. We still talk and talk about us doing our thing. It's just part of football. That's a safety's dream to see a guy coming over the middle like that. I just hope I can take that to the game."
Coach Jason Garrett, like Bryant, appreciates the tenacity, but knows that a lack of discipline during a game could be costly.
"You're treading a line there, but it's a competitive situation for a reason," Garrett said, via ESPN.com. "J.J. has done a really nice job through the first part of training camp running to the ball. I think he's improved dramatically, both at the back end and also his decisiveness coming up in the running game. I thought that was evidence of kind of where he is.
"You know, it's never good to have players go to the ground -- that's not what we want. But it is good to have them compete, and those two guys are some of the best competitors we have on our team."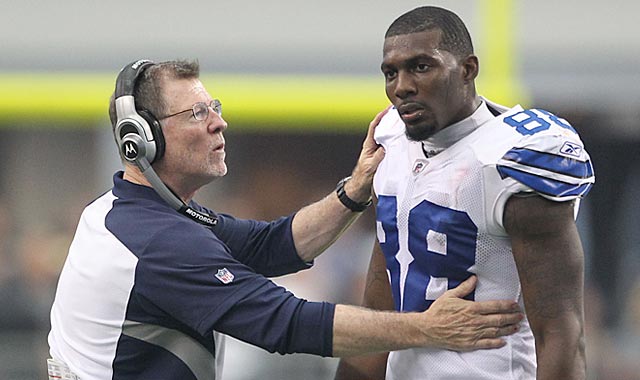 Here's an early look at the lines for all NFL games being played in Week 16

Plus the catch rule is still terrible, the Panthers quash the Packers' playoff hopes and much...

Week 15 provided a lot of clarity to the NFL postseason
The Cowboys move to 8-6 and are still in the playoff race with two regular-season games to...

The Steelers lost to the Patriots in controversial fashion after the 'Calvin Johnson Rule'...

The Raiders lost on a bizarre final offensive play