Cris Carter hoping DeSean Jackson is Eagles' 2nd biggest WR mistake
After being cut by the Eagles, Cris Carter went on to have a Hall of Fame career. Carter is hoping that DeSean Jackson is Philadelphia's 'second biggest mistake'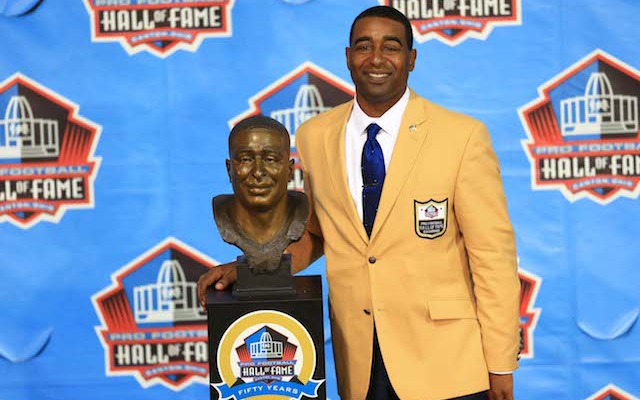 More NFL offseason: Mock Drafts | Prospect Rankings | Pro days | Top free agents
If DeSean Jackson goes on to have a Hall of Fame career with the Washington Redskins, it won't be the first time the Eagles have released a receiver who did that. The same thing happened to Cris Carter and just in case the Eagles had forgotten about it, he reminded them on Wednesday.
@DeseanJackson10 congrats Bro.Praying this is the 2nd biggest mistake @Eagles made in their history by cutting their best WR. #2ndchances

— Cris Carter (@criscarter80) April 2, 2014
In Philadelphia's defense though, Carter pretty much punched his own ticket out of town. A serious addiction to drugs and alcohol is what led Eagles coach Buddy Ryan to dump Carter. Ryan was the only coach Carter mentioned during his Hall of Fame induction ceremony and Carter even said in 2013, he wished he had stayed in Philadelphia. 
"If I [could] go back in time, I'd probably go right before Buddy Ryan cut me, to change it. I would do exactly what I did with the Vikings (get clean)," Carter wrote for TwinCities.com. "I never would have come to the Vikings."
As for the Eagles, they're probably hoping that Jackson doesn't have the career Carter did after leaving Philadelphia -- especially since the new Redskins wide receiver will be seeing the Eagles twice a year
After being cut by the Eagles in 1989, Carter was picked up on waivers by the Vikings and played 13 more seasons before retiring in 2002. 
Wentz suffered a knee injury while diving for the end zone

Lewis among several coaches on hot seat, Cam's amazing run, and more from Week 14 in the N...

Here are the Week 14 grades for every team that played Sunday
All of the best highlights from Week 14 are right here

The legendary kicker added to his incredible career with a rare curveball XP

The Browns remain terrible, and fall to 0-13 on the season after going 1-15 in 2016