Cruz deal done, Giants know Nicks will get even bigger deal
Victor Cruz got his big contract, but he's a slot guy. Jason La Canfora says the Giants know Hakeem Nicks is the kind of receiver who will get big money soon.
• 5 min read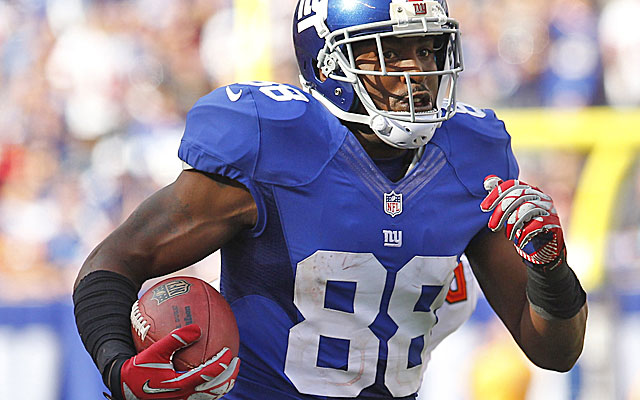 The New York Giants, about as good as it gets in retaining their own talent, made a strong move in that regard before camp, in securing the services of Victor Cruz for what should be the duration of his productivity. It does not, alone, however, solve their conundrum at wide receiver.
Ultimately, Cruz signed a deal that won't strap New York's cap and wasn't all that much different than what the Giants had been offering back in October. It's a nice deal for a slot receiver -- averaging $7.5 million per season when taken as a whole including the $3M he was already set to make in 2013 -- but it doesn't come close to the kind of money elite outside receivers are generating these days. Which means it doesn't come close to what top wideout Hakeem Nicks is going to command should he manage to stay healthy this season.
Cruz is a tremendous story, literally coming out of nowhere to become one of the very best at what he does. Given the cruel reality that he entered the league as an un-drafted free agent, he did well in this deal financially.
But this isn't a physical specimen the likes of which get massive bucks. He isn't the outside, complete guy who can destroy teams deep. He isn't the No. 1 guy (again, look at the compensation, the tell-tale sign in these things), and isn't anywhere near $10 million per season, much less the $12M Mike Wallace earned in free agency despite coming off a lost season with the Steelers.
Nicks is the guy who can be the difference maker. Nicks -- again, putting aside the nagging injuries -- can be THE MAN. Nicks, no doubt, will be New York's priority soon enough, certainly by this winter if no deal is struck. And Nicks isn't sweating this.
There was plenty of conjecture about the reasons he wasn't at OTAs, but the reality is, he didn't miss any mandatory work. He and his agent aren't forcing the contract issue with the Giants. Team brass understands the attributes he brings to their club and there was no fallout whatsoever from Cruz getting his deal. Nothing really to see here. Nothing has really changed.
If Nicks balls out this season, and he seems primed to do just that, he is going to get paid, whether by the Giants or someone else. New York has rarely used the franchise tag -- especially on anything other than a specialist like a punter or kicker -- and there will be plenty of demand for an emerging young talent like Nicks if he hits the market.
Next year's free agent market could size up quite favorably for Nicks, with a slim group of receivers (Eric Decker, who the Broncos, one would think, would work to re-sign; James Jones, a likely Green Bay priority with Greg Jennings now gone; Kenny Britt has serious off-field issues, for example). We saw how Wallace was able to benefit from the advanced age and blemishes of his free-agent competition this March, and that could very well be Nicks in a few months.
Eli Manning has immense trust in him and the Giants offense should rebound some this season. Nicks will have no lack of motivation. And the Giants' foes in the NFC East have had their share of coverage issues in recent years.
Jennings actually makes for a strong comparison for Nicks ... only that Nicks, 25, is just entering his prime and Jennings turns 30 in September. Even at that age, Jennings got the second-best deal of any free agent receiver this offseason, landing five years, $45 million with $18M fully guaranteed. Nicks would shatter those numbers.
Since 2009, when Nicks entered the league, consider the following:
Jennings: 53 games, 405 targets, 247 catches, 15.0 per catch, 29 TDs, 3,693 yards, 38 catches 25+ yards
Nicks: 55 games, 435 targets, 255 catches, 14.6 per catch, 27 TDs, 3,726 yards,  36 catches 25+ yards
Damn near identical, and one player is just entering his prime.
What about the comparisons with, say, Dwayne Bowe, another target receiver who was in the same draft class as Nicks? Bowe, while not having the luxury of playing with elite quarterbacks, has certainly been the focal point of a passing attack. Bowe received $56 million over five years from the Chiefs, not to hit the market, with $26M guaranteed:
Bowe: 56 games, 475 targets, 259 catches, 14.3/catch, 27 TDs, 3,711 yards, 31 catches of 25+ yards
Bowe's played one more game, caught four more balls, as many TDs, slightly less per catch and five fewer big plays (Bowe has dropped more balls than Nicks, I believe, since entering the league as well). Yeah, Nicks will be just fine either from the Giants, or in free agency, thank you.
So Nicks will play it out for $2.7 million this season, gamble on himself. He won't rock the boat; he understands the Giants corporate mentality and he won't be a distraction as they try to get back to their Super Bowl formula. In fact, if they do get anywhere close to a Lombardi, I suspect he will be a big reason why.
As much as the stats speak to Nicks' worth, it goes well beyond that. Stats don't tell this story. As the X receiver in New York's offense, he is the key weapon, the guy who gets doubled, which opens up space for slot receivers and running backs.
He is the alpha male who draws all that attention, and, if, say Cruz was doubled all the time, the numbers would tell a different story. Even as it is, Nicks has flourished as the attention-monger, above and beyond the way others have.
When teams don't pay Nicks with the proper defensive approach -- take Tampa's misguided game plan to focus on the slot over Nicks last season -- well, they get burned, to the tune of 10 catches for 200 yards.
The Giants, of course, realize all of this as well. As much money as they have saved, say, not paying big money to tight ends knowing Manning can develop them cheaply on the fly, well, they also know there aren't too many guys like Nicks roaming the waiver wire. The best front offices find a way to keep their best players, and the Giants surely fit that description.
And if for whatever reason they don't secure Nicks' long-term future the way they have with Cruz, there will be no shortage of teams that would do just that.
Our computer model simulated every Week 15 NFL game 10,000 times with very surprising resu...

Britt is going from the worst team in football to a Super Bowl contender

With three weeks to go in the regular season, the MVP race is wide open
The Eagles are sticking with Nick Foles

We all deal with devastation in different ways

It doesn't matter if he was a special teams player, Hester was the best player at his position...