Dallas Cowboys 2014 offseason preview
With the 2013 season officially in the books the Eye on Football staff is looking ahead to the offseason for all 32 NFL teams. Next up: the Dallas Cowboys.
• 8 min read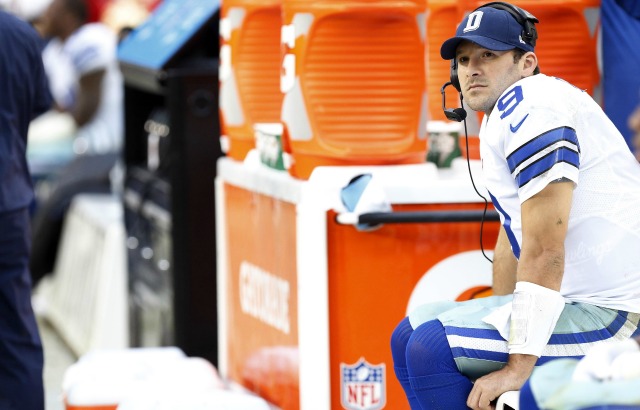 If the Dallas Cowboys are the best at anything in the NFL, it might be at teasing their fanbase. They get ever so close to making the playoffs, somehow landing themselves in a de facto NFC East title game just about every year. And Tony Romo might play great for most of the game (or Kyle Orton , for that matter). But the Cowboys end up losing the game and missing the playoffs. That again is what happened this season. For the third-straight year, the Cowboys lost in Week 17 to miss their chance at the postseason.
Though Romo takes more crap than just about anybody in the league -- oftentimes, unfairly -- he had a solid season, completing 63.9 percent of his passes and throwing for 3,828 yards with 31 touchdowns and just 10 interceptions. And late in the season, after beating the Raiders and Giants in back-to-back weeks, Dallas was 7-5 with a seemingly good shot at landing their first division title since 2009.
But the Cowboys lost to the Bears and Packers -- both of whom were playing their backup quarterbacks and, in Green Bay's case, was playing Matt Flynn -- and then fell to the Eagles in Week 17 to finish at 8-8, the third-straight season with that record.
And for the frustrated Cowboys fan, what does he get? Another few seasons of Romo at a huge salary; an infinite amount of time with owner Jerry Jones, also the team's general manager and who apparently possesses the brain of a 40-year-old; and the shuffling of assistant coaches who haven't shown they -- and head coach Jason Garrett -- can get the team to the playoffs.
Good times in Dallas.
What went right
Receiver Dez Bryant , despite a myriad of sideline antics that still makes us question his maturity, continued to prove why he's one of the league's best talents. And there's little question, at least in my mind, that he benefits from having Romo as his quarterback. On the season, he caught 93 passes for 1,233 yards and 13 touchdowns (the receptions and touchdowns were career highs). And while tight end Jason Witten (73 catches, eight touchdowns) continues to play at a high level, Bryant (and Romo) would do well to add another quality receiver in 2014. Aside from Terrance Williams ' 44 catches, no other Cowboys receiver caught more than 39 passes.
While the offensive line was one of the team's concerns heading into last season, that unit actually protected Romo well -- the team allowed the seventh-least amount of sacks in the NFL. First-round draft pick Travis Frederick had a solid rookie season at center, and Tyron Smith continues to make his case as a top-five left tackle in the NFL game. On the right side, tackle Doug Free had a solid season, as well. The play below notwithstanding.
What went wrong
After the 2012 season, the Cowboys put much of their blame on the defense and fired coordinator Rob Ryan, replacing him with the septuagenarian Monte Kiffin. Funny thing about that. Ryan, as the Saints defensive coordinator, led New Orleans to the No. 4 defensive ranking in the NFL in 2013, and Dallas fell to dead last in the league. It was so bad that Jerry Jones basically admitted in mid-season that firing Ryan had been a mistake.
Yes, it was, and we wonder where he got that idea. Was it when the Cowboys allowed 40 (!) first downs to the Saints in front of Ryan or when they allowed 51 points in a loss to the Broncos or when they allowed at least 24 points in nine contests? Whichever the case, Dallas' defense kept the team from winning much more often than Romo could.
Sean Lee has proven he's one of the best inside linebacker talents in the game. But he continues to get bogged down by injuries that keep him off the field. He's said he needs to be less injury-prone, and he's not wrong. Another problem with the Cowboys is the secondary. Brandon Carr didn't have a great season, and Morris Claiborne still has not justified Dallas' decision to draft him No. 6 overall in 2012.
And Romo still has a tough time winning the big game late in the fourth quarter. This isn't meant to play into the narrative, because in reality, the reason the Cowboys oftentimes are even in the game is because Romo has played well enough to put them there. But the narrative continues until Dallas makes the postseason and Romo leads the team deep into the playoffs.
Until then, he's still willing to help out in any way he can.
MVP
Although he continues to have sideline outbursts (and strange moments in life), Dez Bryant continues to improve. He is one of the tougher receiver matchups in the league because of his ability to make ridiculous catches and because he's so strong at gaining yards after the catch (Bryant was sixth in the league in total YAC, according to Pro Football Focus). As long as Bryant continues to watch himself off the field, he should be a top-10 receiver for years to come.
LVP
Because of his failures as a general manager and because of his meddling in the day-to-day operations, Jerry Jones provides the biggest barrier to Dallas returning to the NFL elite. Listen, I love Jones' passion, and even if some Cowboys fans dislike him as a, owner, you can't take that will to win away from him. But perhaps he needs to take a step back, hire a real personnel man to take over as GM and see if the less-handsy approach as an owner works better for his team.
What's happened since the season ended
All along, Jerry Jones said Jason Garrett would return as head coach in 2014, and turns out, he wasn't lying. Garrett, in fact, will be back. But Monte Kiffin will lose his defensive coordinator title, and Rod Marinelli will take over that position. Still, you'd have to think this will be the final season Garrett gets to reorder his coaching staff. If Dallas fails again next year, Jones will probably have to make a change.
Free agents to be
Two of the team's most important defensive linemen -- defensive tackle Jason Hatcher and defensive end Anthony Spencer -- are free agents, and depending on what happens with DeMarcus Ware , Dallas might be looking at a complete overhaul of the defensive line (FYI, Hatcher, Spencher and Ware are all on the wrong side of 30).  Hatcher very well could draw interest on the free agent market, making it harder for Dallas to sign him, while Spencer -- who's gotten the franchise tag two years in a row -- is coming off microfracture surgery on his knee. The Cowboys have talked to both about new contracts.
Though he's not a free agent -- he actually has two years left on his original seven-year, $79 million contract that he signed in 2009 -- it sounds like the Cowboys could make Ware a cap causality. He'd cost the team $12.25 million in base salary in 2014 and cost slightly more than $16 million against the salary cap, and after an injury-plagued season in which the 31-year-old accumulated only six sacks in 13 games, Dallas might choose to rid itself of one of its best players of the recent past. He simply might be too expensive (and too old) to carry.
Free agency gameplan
Don't expect the Cowboys to be all that active in the free agent market. As CBSSports.com's Pat Kirwin wrote in the middle of this month when Dallas was $32 million over the cap, "No team is in a tougher cap situation. The Cowboys could cut the bottom 10 players on the roster and still be more than $20 million over the cap. Expect big-name players to be released in the next few weeks and also expect Jerry Jones to keep using his credit card (converting salaries to signing bonuses) to keep this team afloat."
So, in other words, yikes.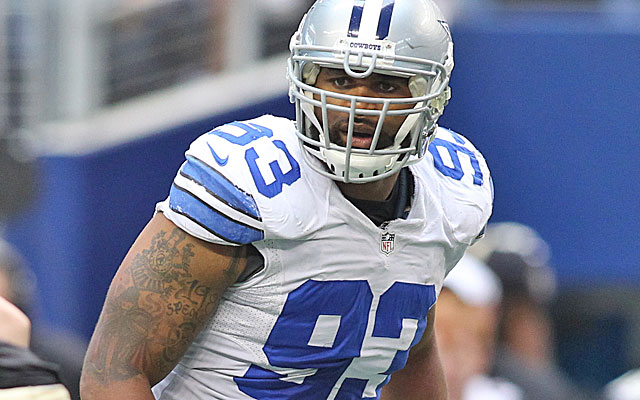 If the team doesn't end up with Hatcher and Spencer, the Cowboys could go after Bears defensive tackle Henry Melton and/or Giants defensive end Justin Tuck . The team could also continue to use help at offensive guard, and though 37-year-old Brian Waters , who remains a solid lineman, missed much of the season with a triceps injury, the Cowboys would do well to re-sign him.
Also, the Cowboys already have locked up their kicker for at least the next half-decade in January, inking Dan Bailey to a six-year contract.
Draft gameplan
You know, by now, that the Cowboys will need help on their defensive line, so it shouldn't surprise you that three of our CBSSports.com mock drafters predict Dallas will take Pitt defensive tackle Aaron Donald while one believes it'll be Florida State defensive tackle Timmy Jernigan. So, the defensive line ... yes, that one is obvious.
But here's where else Dallas could and should be looking. As I mentioned above, Bryant is basically the team's only legit receiver. The Cowboys should look to add to the team's depth by drafting another. Or, the team could go for depth at running back to help shore up Demarco Murray, who has missed 11 games in the past three years. Secondary help also should be in the gameplan.
Ridiculously premature prediction for 2014
If you love consistency, the Cowboys are your team. They've gone 8-8 the past three years, and they're always just good enough to raise the hopes of the team's faithful fans but just bad enough to let them down in the end. Jason Garrett seems like a good-enough guy, but I don't believe that he's the coach to lead this team back into the deep end of the playoffs. It'll be another mediocre year for Dallas, and Jones will have to fire Garrett and start again with another coach.
But if all of this gets you down, you can always watch the below video on an endless loop. Because hula-hooping is kind of awesome.
Predicted record: 8-8
Check out the uniforms that Kansas City and Oakland will be wearing on Thursday

Cliff Avril's NFL career might be over

Oct. 18 is a very special day in NFL lore
The Falcons should not be making any plans for Minnesota in February

The Colts star quarterback could end up missing the entire 2017 season

Not even two Super Bowl wins is enough to get Eli Manning any respect