Dallas LB Sean Lee: 'If I needed to play tomorrow, I could'
Seven months after tearing ligaments in his big toe, Cowboys linebacker Sean Lee still is experiencing pain. But he plans to be ready soon.
• 1 min read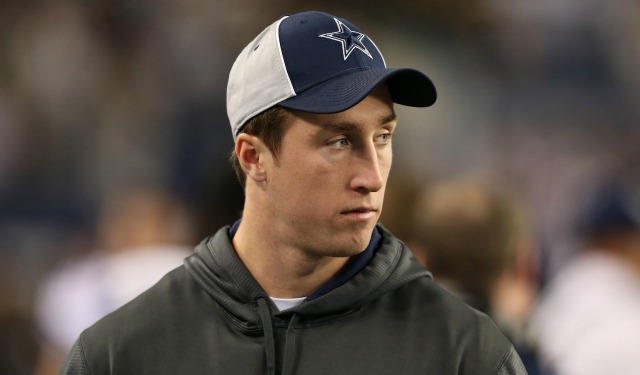 When former Cowboys defensive coordinator Rob Ryan and his sympathizers point to the number of injuries Dallas suffered last season as a major reason the team missed the postseason and ultimately ended Ryan's tenure with the team, linebacker Sean Lee's injury was one of the biggest.
Lee, entering his fourth season, was the most productive defender for the Cowboys and their leading tackler until he tore ligaments in his big toe, ultimately ending his season after just six games.
Seven months later, Lee still feels pain in his toe but figures he'll be OK by the start of training camp.
"You're going to feel that soreness, all the way probably until right before camp," he told the Fort Worth Star Telegram on Wednesday. "It's progressing really well. If I needed to play tomorrow, I could."
Luckily for him and his team, Lee still has a few more months before he's truly needed on the field with new defensive coordinator Monte Kiffin's unit. And he plans to be ready.
"Ever since college, I've really changed across the board how I've trained, how I've tried to recover -- stretching, eating, every habit that can help me stay on the field, I've tried to do since college," Lee said. "Last year, the type of injury it was, I thought it was a fluke. You really can't avoid that. But I'm still at this stage, trying to avoid injuries. And I've got to find a way to stay on the field. If I want to be an effective player, I've got to stay on the field."
So, how big was the loss last year for the Cowboys?
As CBS Rapid Reporter Nick Eatman wrote then, "The Dallas defense figures to suffer significantly without him, as, apart from his playmaking ability he was also the brains of Rob Ryan's scheme on field, relaying information and keeping everyone aligned. Ryan, notorious for complicated schemes and pre-snap movement, may have to curtail some of the extremes without Lee."
Assuming he's back and healthy, Lee figures, once again, to be one of the top young linebackers in the league.
There is suddenly a wide open NFC playoff race and the MVP battle could get interesting to...

Pittsburgh is headed to its fourth consecutive postseason appearance

The NFC is going to be a blast to watch down the stretch
Here are the Week 14 grades for every team that played Sunday

Someone apparently threw a drink at Jefferson as he left the field and he was not happy about...

All of the best highlights from Week 14 are right here