Dalton, Ponder must break through in 2013 or risk Sanchez's fate
Mark Sanchez made the playoffs his first two seasons in the NFL, but it has been downhill ever since. Pat Kirwan says Andy Dalton and Christian Ponder face similar pressure this season to break through.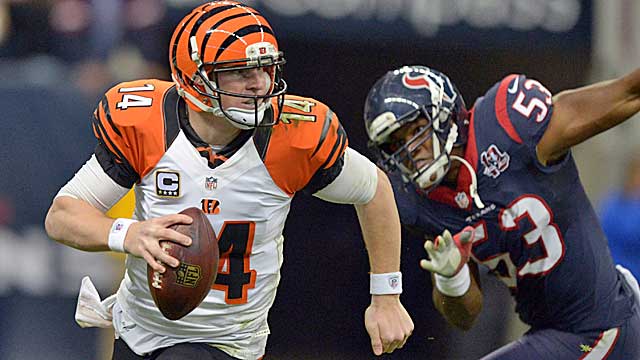 The Jets traded up for Mark Sanchez, even though he only started for one season at USC, because he blew the Jets' staff away at his private workout. He also delivered as a Jet ... at first.
Sanchez started from opening day as a rookie and stayed under center all the way to the AFC Championship Game in his first two seasons. He was going beyond what's expected of first- or second-year QBs, but the Jets wanted more from their young signal caller, and even chased Peyton Manning last offseason.
Comparing Sanchez's first two seasons
Regular season
Sanchez
19-12 (31G)
Dalton
19-13 (32G)
Ponder
12-15 (27G)
Record vs. playoff teams
Sanchez
8-9
Dalton
3-11
Ponder
4-6
Playoff record
Sanchez
4-2
Dalton
0-2
Ponder
0-0
Playoff production
Sanchez
9 TD, 3 INT, 4 SK
Dalton
0 TD, 4 INT, 6 SK
Ponder
0 TD, O INT, O SK
Regular season production
Sanchez
29 TD, 33 INT, 53 SK
Dalton
47 TD, 29 INT, 70 SK
Ponder
31 TD, 25 INT, 62 SK
Sacks per attempt
Sanchez
1:17
Dalton
1:16
Ponder
1:13
INTs per attempt
Sanchez
1:26
Dalton
1:36
Ponder
1:31
TDs per attempt
Sanchez
1:30
Dalton
1:22
Ponder
1:25
But when Manning passed, the Jets gave Sanchez a contract extension and also signed Tim Tebow. The result was a disasterous season, with the Tebow distraction and a number of injuries contributing to Sanchez's poor play.
Now, in the wake of a 6-10 season, Sanchez is fighting for his professional life, and most people who follow the Jets think he's a dead man walking. What a shame for a young man who had a 4-2 playoff record, all on the road, in his first two seasons with nine touchdown passes, three interceptions and four sacks in postseason games.
Short-term memory is the lesson in the Sanchez case, and now two young quarterbacks find themselves in the same boat heading into their 2013 season that Sanchez did.
Right now, Andy Dalton is the talk of the town in Cincinnati after leading the Bengals to the playoffs in his first two seasons in the league, but losing in the first round both years. Last year, his Bengals managed just 13 points in the wild-card loss to Houston. In fact, Dalton has faced Houston in his only two postseason games and has two losses, zero touchdowns, four interceptions and six sacks.
That's a lot worse than Sanchez's numbers in the postseason in his first two years. Dalton has to break through this season with a playoff win or the pressure will start to mount and his career might look like Sanchez's in a year.
Christian Ponder is up in Minnesota and facing his third year as a starter. So far, he has been looking like a potential long-term answer to the quarterback question for the Vikings, but he hasn't come close to what Sanchez accomplished in his first two seasons. He might be in for a rude awakening after this season if he doesn't get more done.
Take a look at Sanchez's first two seasons, as well as Dalton's and Ponder's first two seasons. You decide for yourself if there is cause for alarm for the Bengals and Vikings at QB.
Sanchez had more wins over playoff-caliber teams in his first two seasons than Dalton and Ponder combined over the same period of time. Sanchez has more playoff wins than the two combined, and neither Dalton nor Ponder has ever thrown a postseason touchdown pass while Sanchez had nine in his first two seasons. How soon we forget how well Sanchez started out his NFL career.
Finally, Sanchez plays in New York with a much bigger microscope on him than in Cincinnati or Minnesota. Nonetheless, Dalton and Ponder could easily face the scrutiny that Sanchez faces if they don't make some real noise in the playoffs this year. At the end of this season, barring injury, both Dalton and Ponder will have well over 40 starts and the honeymoon will be over. For Sanchez, the writing is on the wall.
Pick Six Newsletter
Get the day's big stories + fun stuff you love like mock drafts, picks and power rankings.
Please check the opt-in box to acknowledge that you would like to subscribe.
Thanks for signing up!
Keep an eye on your inbox for the latest sports news.
Sorry!
There was an error processing your subscription.
Manning is one of the Giants' biggest problems but the expectation is that he'll remain with...

Osweiler has been good for the Dolphins this season but in 2016 with the Texans, he was one...

Here are the Week 7 grades for every team that played on Sunday and Monday
Wondering which NFL teams are going to win in Week 8? You've come to the right place to find...

According to reports, Bengals owner Mike Brown told Reid he 'intends to prohibit' anthem p...

All the latest trade news and notes from around the NFL including the latest rumors floating...