Dan Quinn: 'I certainly would've been interested' in Browns job
The Browns have already hired Mike Pettine as their head coach. But perhaps they could have gotten Dan Quinn.
• 1 min read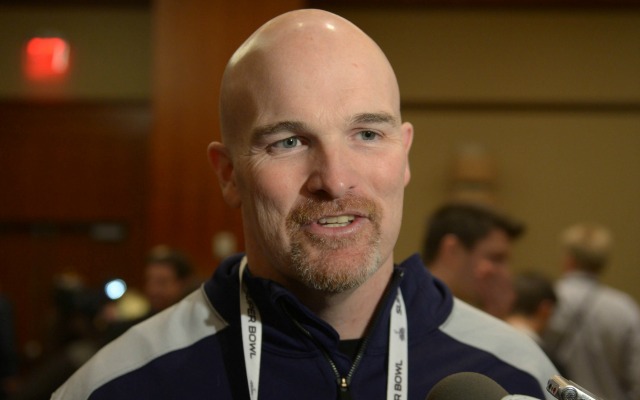 More SB coverage: Seahawks win 43-8 | Photos | Numbers | More news
Remember the debacle that was the Browns' head-coaching search? You know, how candidates kept taking themselves out of the running (Josh McDaniels, Todd Bowles, Adam Gase, for instance) and how the franchise waited longer than anybody else in the NFL to hire somebody before giving the job to Mike Pettine -- which turned out to be one of the least-exciting hires of the new coaching class?
Well, here's another punch in the gut for Cleveland fans.
Seahawks defensive coordinator Dan Quinn -- whose unit just stuffed one of the best offenses in NFL history en route to the Super Bowl XLVIII title -- said after the game that he would have had interest in the Browns job.
"I certainly would've been interested," Quinn told the Cleveland Plain Dealer. "I mean, it's a big-time place. It's the Cleveland Browns."
Right, that's exactly why so many other candidates dropped out before Cleveland could hire them. It's the Cleveland Browns, and they've been terrible for so many years that the job has become a coaching death trap. Isn't that right, Eric Mangini, Romeo Crennel, Pat Shurmer and Rob Chudzinski?
But if Cleveland wanted him, the Browns would have had to wait. Quinn said he wouldn't interview for a second time until after the Super Bowl was complete.
"To me, it was important," Quinn said. "The relationship I have with these players, to understand we're all in it together -- I couldn't be more proud to be part of that group."
That, of course, is completely understandable. And you also could understand why the Browns perhaps felt like they couldn't take that chance. Considering that so many had turned down the team, Cleveland had to figure that there was a decent shot Quinn would do the same.
Then, the team would be stuck without a coach today.
Instead, the team hired a man in charge of last year's Bills defense, which finished a respectable 10th in the league. Meanwhile, Quinn -- whose unit finished No. 1 -- will remain a defensive coordinator for at least another season.
Follow Josh Katzowitz on Google+
Like everything with Luck, there's some good news and some bad news with his latest health...

The top would-be free agent wide receiver is officially off the market

A billionaire owner of the Pittsburgh Steelers is hoping to buy the Carolina Panthers
The crop of free agent offensive linemen just got better

Laurent Duvernay-Tardif might have just made one of the most unique jersey requests in NFL...

The new Raiders coach offered some details on what he wants from Marshawn Lynch