Dan Rooney on Chuck Noll: 'I think he ranks with Halas and Lombardi'
The Steelers chairman and the team president have released statements following the death of Chuck Noll.
• 1 min read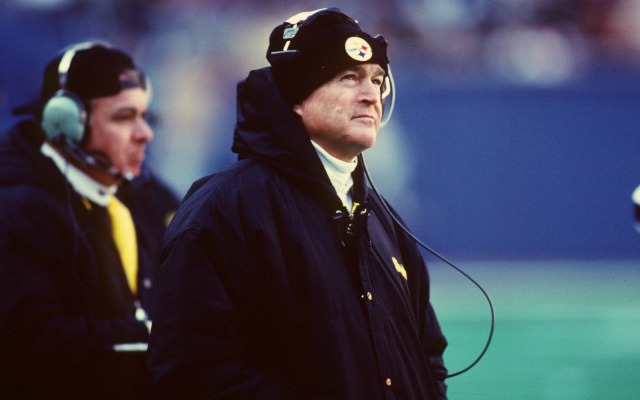 A number of Chuck Noll fans have taken to Twitter to express their sadness at the death of the 82-year-old football coaching legend who led the Steelers to four Super Bowl titles in the 1970s.
Now, Steelers chairman Dan Rooney and team president Art Rooney II have given us their thoughts on losing the team's all-time coaching wins leader.
"As for the football end of it, I think he ranks with Halas and Lombardi," Dan Rooney said in a team release Saturday morning. "There are many other good coaches over the history of the NFL, but I think Chuck Noll ranks up there with those other two guys right at the top. No other coach won four Super Bowls, and the way he did it was with dignity. His players were always his concern, both in treating them well and giving them what they needed to succeed on the field.
As far as personally, Chuck was a good friend. His wife, Marianne, is a delightful person and really had helped him through his illness. Chuck, Marianne, Patricia and I spent a lot of time together. He was a very bright guy and experienced a lot of interesting things during his life, but he also was a very private person."
Which might have been one reason Noll's supporters believe he didn't necessarily receive the credit he deserved.  
But there's no doubt the Rooney's hold Noll in high esteem.
"When Chuck became our head coach he brought a change to the whole culture of the organization," Art Rooney II said. "Even in his first season when we won only one game, there was a different feel to the team. He set a new standard for the Steelers that still is the foundation of what we do and who we are. From the players to the coaches to the front office down to the ball boys, he taught us all what it took to be a winner."
These prospects aren't first-round locks now but could be in for a rise after the Senior B...

Newman was the oldest defensive player in the league to get regular snaps this season

Some Midwest companies seem to think that no Vikings fans will make it out of Philadelphia...
Mike Tierney has owned NFL totals and has a strong pick for the NFC Championship Game

Jackson was upset Pittsburgh players were looking ahead to a Patriots rematch

The bulletin board material is piling up for Sunday's AFC Championship game