Daniel Snyder: Redskins have 'started process' of planning new stadium
Redskins owner Daniel Snyder wants to build a new stadium for his team and he wants to host a Super Bowl in that new stadium.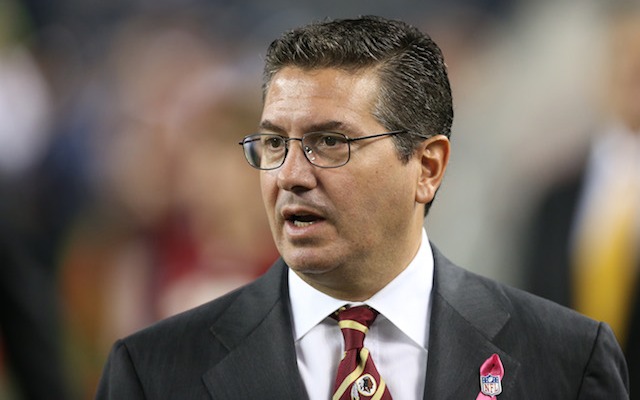 Redskins owner Daniel Snyder has spent most of the offseason defending his team's controverisal name, but that's not all he's done recently. Snyder said on Wednesday that he's also been doing something else: He's been laying the ground work for a possible new stadium. 
"Whether it's Washington, D.C., whether it's another stadium in Maryland, whether it's a stadium in Virginia, we've started the process," Snyder told CSN Washington. 
Snyder didn't say when he'd like his new stadium to be completed by, but he did say that sooner would definitely be better. 
"I'd like to see it sooner than later, but we love FedEx Field," Snyder said. "It's a great place to feature our home games, but it's 17 years old now. I think it's time for us to start looking and we're doing it.
The Redskins have only had two stadiums since 1961. The team played in RFK Stadium from 1961-96 before moving to FedEx Field in 1997. 
Snyder said the plan is for the new stadium to 'feel like RFK.'
"We've already seen some preliminary drawings and I'm going to be very retro with it," Snyder said. "It's gonna feel like RFK. It's gonna move like RFK. I love that, I actually asked architectural firms to do it and they said that they can do it. I said that I think the lower bowl sections are going to want to rock the stadium like the old days."
For Snyder, one of the incentives for getting a new stadium built is the possibility of hosting the NFL's biggest game. 
"I think this region, not only this town, this region deserves a Super Bowl," Snyder said. "It ought to be here, it would be a fantastic accomplishment. It's the biggest sporting event in the globe. It's the nation's capital, it's a no-brainer."
Snyder didn't say how he was going to pay for the stadium, which is interesting, because the public might not be interested in giving him public money if they don't like the team's name. 
On the other hand, the team name might not be a problem though. Former Redskins general manager Vinny Cerato said over the summer that he could see Snyder agreeing to change the name under one condition: If he got a new stadium. 
The Saints coach wasn't in the mood to answer questions about Drew Brees on Tuesday

This is footage that you'll definitely want to see

It wasn't the matchup that we expected, but the Jaguars would argue that's everyone else's...
The Eagles quarterback and the Vikings quarterback have paths that have crossed many times

The Bengals quarterback gives his side of one of the craziest stories of the NFL season

There are many confusing issues when it comes to Ben Roethlisberger's future