Darrell Green actually doesn't want to change Redskins name
On Tuesday, Darrell Green said the team should listen to those with concerns about the Redskins name. A day later, he clarified his words.
• 1 min read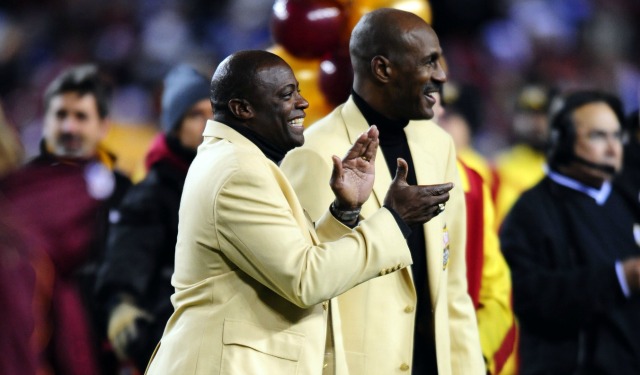 A day after NFL Hall of Famers and Redskins legends Darrell Green and Art Monk said the team should take a listen to those who are offended by the nickname and those who want the organization to change its name, Green backtracked a little and said he actually didn't want the Redskins moniker to change.
"In no way I want to see the Redskins change their name," Green told 106.7 The Fan's Lavar Arrington and Chad Dukes. "So that just makes that clear. And I'll speak for Art, there's no way he wants it, and I guarantee he didn't say it, and I know I didn't say it."
Here's what the two actually said on the radio Tuesday.
"[If] Native Americans feel like Redskins or the Chiefs or [another] name is offensive to them, then who are we to say to them 'No, it's not'?" Monk said, via WTOP.
Said Green: "It deserves and warrants conversation because somebody is saying, 'Hey, this offends me.'"
So yeah, neither of them actually said they wanted a different nickname for the Washington football squad. I don't think we implied that, but apparently, Green felt like his comments were taken out of context.
But you could interpret by the apparent progressiveness of Monk and Green on this issue that they also wouldn't mind seeing a change. Well, if that's the interpretation, Green has a different opinion.
"What my real comment, in response to the question was, 'Does it deserve merit?'" Green said. "And my comments were that, 'Look, if it offended somebody. If somebody was offended, then I think it merits at least a discussion.' I mean, goodness, I mean, people should be able to say 'Hey, you offended me' and somebody should be able to have a dialogue. Now, where it lands, that's another thing."
And Green doesn't want it landing by forcing a name change he doesn't want in the first place. 
CBS All Access allows viewers to stream every NFL on CBS game in their local market

CBS All Access allows viewers to stream every NFL on CBS game in their local market

CBS All Access allows viewers to stream every NFL on CBS game in their local market
CBS All Access allows viewers to stream every NFL on CBS game in their local market

CBS All Access allows viewers to stream every NFL on CBS game in their local market

CBS All Access allows viewers to stream every NFL on CBS game in their local market