Darrelle Revis looks revitalized in Patriots-Redskins practice
The Patriots and Bill Belichick look pretty smart right now bringing in Darrelle Revis, who looks like he's ready to be a big contributor.
• 7 min read
More NFL: Photos |   Videos & GIFs |  Stories | Training Camps | Manziel watch 
RICHMOND, Va. -- Darrelle Revis is one of the smartest players in the NFL. And he's now being coached by Bill Belichick, arguably the most brilliant football man in the business who also has an always-evolving defensive mind.
I have a hard time thinking this doesn't work out marvelously.
The Patriots, as we know, are just renting Revis this season, in essence, with him eligible for free agency at season's end. And the All-Pro, looking 100 percent back from his 2012 ACL injury, hasn't been afraid to jump around in recent years. But I have a hunch this turns out to be more like a marriage than dating.
Revis is in incredible shape, Belichick is more than willing to adapt to his skill set and put him in plenty of man situations (I'm guessing there's not nearly as much playing quarters anymore), and Revis was showing up all over the field during Tuesday's long and spirited three-hour joint practice with the Redskins at the Skins training camp facility.
Revis is super motivated, not only to show the Buccaneers that they were crazy to release him, but also to be back in a winning environment for the first time in a while. He gets two cracks at the Jets, the first team to move on from him, and the Patriots have absolutely loved what they've seen so far. Belichick is lining him up on the other team's best receiver -- he got plenty of work pounding on DeSean Jackson during 11-on-11 drills Tuesday -- and also deployed Revis in the slot on either side of the field, having him work on Santana Moss and even across from a safety a time or two.
Revis Island is back, and I wouldn't be so certain that it will just be quarantined to one side of the field.
"Has he looked great?" one member of the staff repeated back when asked about Revis. "He's 20 yards past great. He looks special."
Revis was nimble enough to stay with spindly types like Moss and Jackson, and made a great play on Jackson in the back of the end zone. Several people close to Revis said he has been nothing but impressed with Belichick and the Patriots' organization. Barring injury, I predict a monster season from him, and he happens to be in a division where he should be able to feast on the likes of EJ Manuel, Geno Smith and Ryan Tannehill.
Maybe, in the end, he prices himself out of New England's 2015 budget, but I expect this offseason the Pats make an attempt or two to keep him around longer before he hits the market.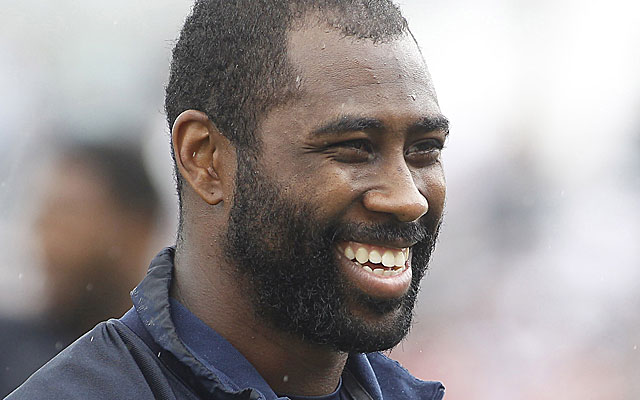 Here are some other things that caught my eye from this dual practice:
• The Patriots are still short some key weapons like Rob Gronkowski, and even Aaron Dobson, but they were downright humming at times. Sure, they were playing against what has been a weak defense for a while now, and the opposition can't really pass rush like a normal game, but Tom Brady appeared to be 10 years younger running a two-minute drill.
His trust in Julian Edelman is evident -- Edelman still looks like his primary go-to-guy in tight situations. Redskins coach Jay Gruden referred to Brady's work as "poetry in motion" and they were carving up the Redskins in team drills. Brady, ever the perfectionist, wasn't exactly boasting about his play, but it was sharp.
"Everybody's goal is to get better," he said.
Edelman scored touchdowns underneath, created problems on the outside -- blowing past a busted coverage for a long touchdown grab -- and was animated and fired up throughout the day.
• The Redskins continue to be impressed with rookie fifth-round pick Ryan Grant, a receiver who seems to be taking advantage of the absence of Leonard Hankerson, for one. Grant made a few eye-catching grabs in this session and is quickly getting Robert Griffin III to trust him. Gruden called Grant's development "very encouraging" and referred to the Tulane product as a very seasoned young kid.
Griffin said of Grant: "He's a great talent. He's got everything you want. He runs great routes, he's precise, he has great hands."
Keep an eye on Grant in the preseason.
• Both coaches could not stop raving about how much they got out of these sessions. Tuesday's work included some no-huddle, two-minute stuff, red zone and lots of special situations that neither team's first-team offense might get much time to work on during the entire preseason.
These sessions were definitely live -- there were a few big pops including Pats linebacker Jerod Mayo whacking running back Alfred Morris and dislodging the ball at one point -- and this three-hour session in the hot sun seems like a much better teaching and evaluation tool than a normal practice. Sounds like Wednesday's work is going to be pretty competitive as well and more than just a normal walk-through that might precede a preseason game.
"Our starters can't get this kind of work, and that many special situation reps in preseason games," Belichick said.
• Gruden continues to work with Griffin to find a happy medium on when to extend a play and when to live to fight another day. Griffin's proclivity to scramble into traffic and try to keep things alive has hurt him in the past, literally, and his decision-making remains under scrutiny. He improved from Monday's session, but this will remain a constant calibration it seems.
At times, "he probably should" just throw the ball away, Gruden said, and Griffin said in practice he prefers to try to keep it alive with his feet but vowed to throw it when necessary in the preseason.
• We'll see how Pats nose tackle Vince Wilfork maintains through the season, and he is coming back from a serious injury, but he was moving well and looked more agile -- by very large man standards -- than I expected. He got his hands on a ball for an interception early in practice and did a mini victory lap by the stands and was pretty heavily involved in first-team drills.
• Redskins tight end Jordan Reed is a difference maker. He made plays running on to the ball, he made plays on balls that were behind him. He reached back to snag a low pass and tumble into the end zone at one point, fighting off a defender, and his work against Pats safety Devin McCourty in individual drills was worth keying on, as they battled hard (Skins left tackle was stout absorbing some serious Chandler Jones bull rushes in individual drills as well). Reed's concussion issues are well documented, but if he is able to avoid a recurrence, he'll be a huge part of this offense.
• Was wise of the Redskins to stop over-limiting Griffin's meetings with the press and policing things way more than ever necessary. Former coach Mike Shanahan went way overboard in the past, and Gruden is letting the kid breathe. Griffin returned to the media room Tuesday, well after his daily briefing with the press and while still in full uniform, to bring in some cupcakes for the sweaty, ink-stained wretches. It's a little thing, but it was sincere. He looks much more at ease and able to be himself in this new regime.
• Skins receiver Pierre Garcon continues to nurse a hamstring injury and was not on the field at all Tuesday. Wouldn't expect to see much of him this week, as the team is taking precautions. This isn't the same offense without him in it.
• Surprisingly, there were no officials working these drills Tuesday and the NFL's mandate on cracking down on illegal contact remains a hot topic. Revis' play on Jackson in the back of the end zone, for instance, was probably worthy of a flag, Griffin said.
Belichick managed to pause, grimace and make it clear to everyone he was biting his tongue, somewhat literally, when asked about this latest officiating initiative. Clearly, he doesn't seem too pleased about it.
"I have no idea, I have no idea," he said when asked about expectations for illegal contact. Then came the head shaking. "Not the slighted idea. You have to talk to the guys who are throwing the flags. I'm just coaching the game. I don't have any control over what the officials do."
It's time to hook up that jersey of your favorite NFL player with some Black Friday deals

After tossing five picks in his NFL debut, Nathan Peterman is heading back to the bench

Micah Roberts has the pulse of Bill O'Brien's team and just made a strong play for 'Monday...
The Factory of Sadness is closing in on the worst three-year run in NFL history

Mike Tierney has owned NFL totals and has a strong pick for the Thanksgiving Day NFL game

The president will not be taking a break from Twitter during the Thanksgiving holiday