Darrelle Revis once called Bill Belichick a 'jerk' during TV interview
Darrelle Revis wasn't a big fan of Bill Belichick in 2012. During an interview that year, Revis described Belichick as a 'jerk.'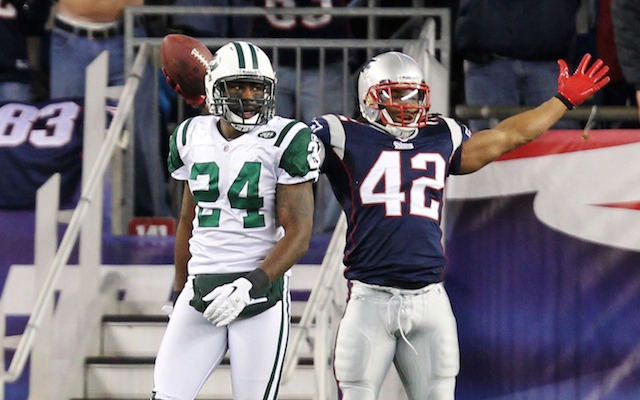 More NFL offseason: Mock Drafts | Prospect Rankings | Pro Days | Top free agents
Hopefully Bill Belichick doesn't hold grudges or 2014 could be an awkward year for New England. The Patriots added cornerback Darrelle Revis on Wednesday, the same Revis who called Belichick a 'jerk' during a television interview in March 2012. 
Revis, then with the Jets, was on SportsCenter with Patriots tight end Rob Gronkowski. During a segment involving word association, the host gave Revis the words 'Bill Belichick.' 
Revis then described Belichick as a 'Jerk.' Revis then went on to explain that he thinks Belichick is a jerk because of "Some of the comments he says about the Jets.'
Gronkowski was asked about Jets coach Rex Ryan, he didn't jump on the jerk train though, instead, he called Ryan an 'Entertainer.'
Back to Revis and Belichick though. The twosome also had some slight differences in 2011. After a 37-16 Patriots win over the Jets in Week 10 of 2011, the New York Post quoted Belichick as saying, "Thirty-seven points on the best defense in the league, s--- my d---." 
That quote didn't sit well with Revis, who was quoted as responding to Belichick in the book 'Collision Low Crossers: A Year Inside the Turbulent World of NFL Football.'
"I think that's a jerk," Revis said of Belichick in the book. "Maybe some people think he's a good, collected guy off the field, but then why say such things? It's degrading. Suck my what? Say it to my face. That's not great character."
It seems like Belichick and Revis have ironed out their differences, but if they haven't, it could be a long 2014 season for one of them -- or both of them.  
The Patriots' quarterback and likely MVP appears to be banged up heading into the AFC title...

Kaepernick made the pledge in October 2016 in the middle of his campaign for social equali...

Landry is scheduled to become a free agent this offseason
On Sunday, the Patriots' coach will go up against the coach he recommended almost exactly a...

Here's a look at the NFL's entire postseason schedule for 2018

It's been "Brady vs. everyone" all year, so it makes sense to vote for the constant