Darren Sharper indicted on two sexual assault charges in Arizona
Darren Sharper is now facing sexual assault charges in two states after he was indicted in Arizona on Wednesday.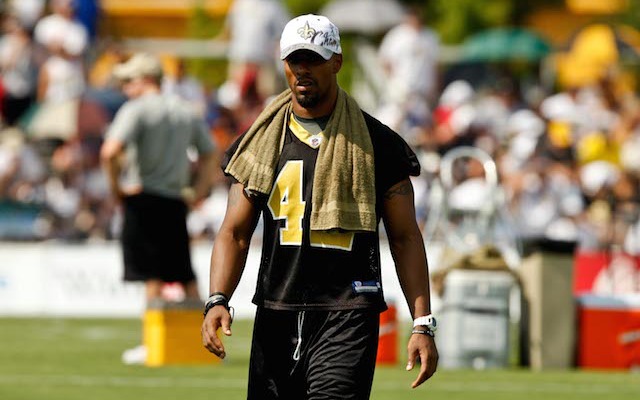 More NFL offseason: Mock Drafts | Prospect Rankings | Pro Days | Top free agents
Former NFL safety Darren Sharper is now officially facing sexual assault charges in two different states. Sharper was indicted on Wednesday in Arizona on two counts of sexual assault and three counts of administering dangerous drugs. 
The charges stem from an incident last November in Tempe, Ariz., where Sharper allegedly drugged three women and then raped two of them. According to USA Today, Sharper went back to an apartment belonging to one of the alleged victims and insisted on making the women drinks. After drinking Sharper's concoction, one of the women passed out and the other one began feeling sick. A third woman woke up half-naked and had no memory of how her clothes came off. 
Sharper's attorney, Skip Donau, told the New Orleans Times-Picayune that Sharper denies the charges against him. 
"Darren is vigorously denying the accusations and at the end of the proceedings we expect he will be exonerated," Donau said. "I am concerned about the huge amount of publicity generated by various agencies in different states. I have a concern that it may affect his ability to obtain a fair trial."
Sharper's legal troubles began on Jan. 17 when he was arrested in Los Angeles and charged with two counts of rape. Sharper was later released on a $200,000 bond. However, less than a month later, that bond was raised to $1 million, an amount that Sharper was still able to pay. 
In a Los Angeles courtroom on Feb. 20, Sharper entered a plea of not guilty to felony charges of drugging and raping two women. Besides the two rape charges, the former safety was also charged with four counts of furnishing a controlled substance and one count of possession of a controlled substance, for a total of seven charges.
The 38-year-old has been accused of raping at least nine women in five different states. The Los Angeles case and the Arizona case are the only ones so far where Sharper's facing charges, however, police in New Orleans did file an arrest warrant on Feb. 27 and Sharper could still face formal charges in that case. Sharper is also under investigation for sexual assaults in Nevada and Florida. 
Sharper has been in a Los Angeles jail since turning himself in on Feb. 28 following the arrest warrant being filed in New Orleans. 
Keep up with the latest moves in free agency as teams try to build a Super Bowl contender

The phrases 'going to the ground' and 'slight movement of the ball' will be eliminated

The proposal would permit ejections after instant replay reviews
The league is the brainchild of the man who directed the '30 for 30' documentary about the...

The Jaguars also let star receiver Allen Robinson walk in free agency this offseason

Grant was set to make $29 million over four years before he failed his physical in Baltimo...