Darren Sproles' wife calls out Saints' front office on Instagram
Darren Sproles' wife took to Instagram to call out the Saints' front office for wanting to trade her husband.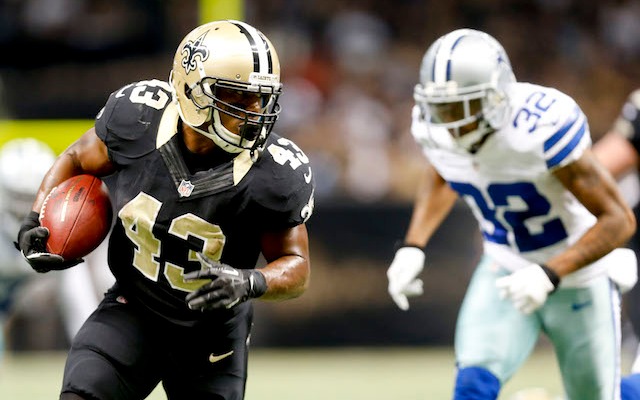 More NFL offseason: Mock Drafts | Prospect Rankings | Pro Days | Top free agents
There used to be a time when a person could rant about whatever it was that set them off, and do so in their privacy of their own home and without fear that anybody would hear it. Those times no longer exist, at least not if you insist on putting said rant on Instagram.
This is exactly what Michel Sproles, wife of Saints (for now) running back Darren Sproles, did Wednesday, a day after the Sproles' learned -- via Twitter, naturally -- that New Orleans planned to trade him.
Darren Sproles' wife has a few things she'd like to say about the Saints. pic.twitter.com/jibrlGpw2U

— Bart Hubbuch (@HubbuchNYP) March 13, 2014
There's more. Michel Sproles sent a follow-up message that begins, "I purposely posted this to see all the factions and I'm not at all surprised, and for those that responded ignorantly completely fell for it. I didn't not attack Who Dat Nation, I specifically said I was referring to the front office."
You can read the whole thing here (they've since been deleted from Instagram), courtesy of BlackSportsOnline.com, but the takeaway can be boiled down to this: Michel's first mistake was thinking that people on the internet actually read anything before wildly jumping to conclusions.
Lesson learned.
Meanwhile, Darren Sproles said he would like to be released so he can have some say on where he plays next season. It's not clear if the Saints will oblige but this much is certain: There will be plenty of teams interested in Sproles as both a running back and a returner.
Welcome to the NFL's version of a dress rehearsal

It sure sounds like the players are planning for a work stoppage when the latest CBA expir...

One of the league's best players is still looking for a new long-term contract
'It's completely different,' Wentz says about entering his second season with the Eagles

Tavon Austin, Matt Kalil and Joe Flacco headline our list of the NFL's most player-friendly...

Richardson has played for four NFL teams, and hasn't appeared in an NFL game since 2014