Darren Woodson makes Cowboys Ring of Honor: Is Hall of Fame next?
Woodson was one of the NFL's best safeties against both the run and pass throughout his career and is the Cowboys' all-time leading tackler.
The Dallas Cowboys announced on Tuesday that five-time Pro Bowl safety Darren Woodson will be added to the team's Ring of Honor this season. Woodson will become the Ring of Honor's 21st member, and the first since Drew Pearson, Larry Allen and Charles Haley (who is set to be inducted into the Hall of Fame this coming weekend) were inducted together back in 2011. Woodson's induction ceremony will take place during Dallas' Week 8 game against the Seattle Seahawks on November 1.
Woodson spent his entire career with the Cowboys, playing 178 of a possible 192 games between 1992 and 2003 and becoming the franchise's all-time leading tackler (he actually broke the record during the same game that Emmitt Smith became the NFL's all-time leading rusher) in the process. He'll be the eighth defensive player inducted into the Ring of Honor, and just the second (along with Haley) from the famed 1990s era.
A reserve on the Super Bowl XXVII champs as a rookie, Woodson started all but one game during the remainder of his career. He'd end up with three Super Bowl rings in all, to go along with his five Pro Bowl appearances and three selections as a First-Team All-Pro.
Woodson was selected in the second round of the 1992 draft as a linebacker out of Arizona State, but secondary coach Dave Campo saw him as a safety so that's where he moved upon starting his NFL career. Looking back on it, Woodson's game essentially set the mold for players like Seattle's Kam Chancellor, who bears a lot of similarities to Woodson. At 6-foot-1 and 220 pounds, Woodson had great size for a safety, and he used that size to tremendous effect when delivering punishing hits over the middle of the field. He was often referred to as one of the NFL's hardest hitters, and that reputation was well-earned.
But not only was Wilson an intimidator, he was also one of the league's best cover safeties, which was a key to the strength of the Dallas defense in the 90s. "Woodson had the run-stopping skills of a strong safety and the pass-coverage ability of a free safety," the Dallas Morning News' Gerry Fraley wrote back in 2010 when enumerating some of the Cowboys' all-time best draft picks. "His ability to cover slot receivers made a significant difference for the defense." By using Woodson in the slot and near the line of scrimmage, the Cowboys could stay within their base defense more often than not and still have adequate personnel to handle both the run and the pass.
The Triplets – Troy Aikman, Emmitt Smith and Michael Irvin – and the rest of the Cowboys offense got most of the attention that was lavished on those 1990s teams, but Woodson and the defense were arguably just as responsible for the team's success. They finished 4th, 2nd, 3rd and 3rd in scoring defense from 1992 through 1995, respectively, and allowed the fewest total points, yards and yards per play over the course of that period.
Now that he's being enshrined in Cowboys lore, it's fair to wonder if the Hall of Fame might come calling for Woodson next. He has been a semifinalist before, and it seems reasonable to expect he'll eventually pop up on the list again.
Pro-Football-Reference lists 11 post-merger players who have made the Hall of Fame as safeties. Two of those players – Deion Sanders and Darrell Green – were really corners that just moonlighted as safeties toward the end of their careers, so we'll call it nine. Among that group, Woodson would rank sixth in Approximate Value (or AV, Pro-Football-Reference's stat that attempts to attach a single number to every player's value since 1950) and, because he had a relatively shorter career, fifth in AV per year.
He didn't play as long as Rod Woodson or pick off as many passes as Ronnie Lott or Aeneas Williams, but Woodson was arguably of the same class of player as each of them, both at his peak and throughout his 12 NFL seasons. That level of play should put him firmly in the mix as a typical Hall of Fame safety. It remains to be seen if the Hall will agree with that rationale, obviously, but it does seem like a pretty decent bet that he gets the call sometime before his eligibility is up.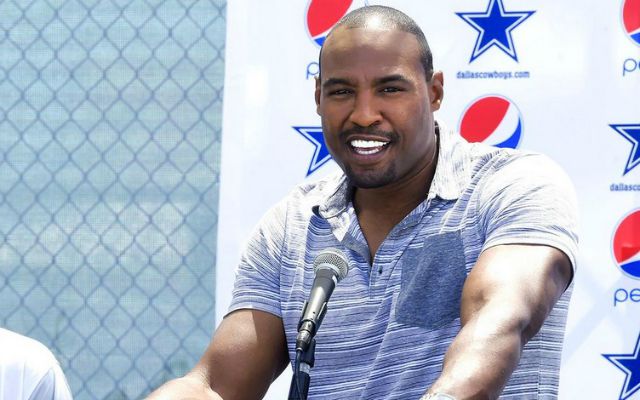 Pick Six Newsletter
Get the day's big stories + fun stuff you love like mock drafts, picks and power rankings.
Please check the opt-in box to acknowledge that you would like to subscribe.
Thanks for signing up!
Keep an eye on your inbox for the latest sports news.
Sorry!
There was an error processing your subscription.
McCoy, who was owed $13 million in 2019, won't be back in Tampa Bay next season

The Patriots added to their defense by bringing back a familiar face in Danny Shelton

Foster was injured just three reps into Washington's OTA period
Any and all marijuana use is currently prohibited by the NFL, with suspension as punishmen...

The Steelers quarterback owns up to the comments he made that might have offended his former...

Let's break down exactly which QB would be the best investment