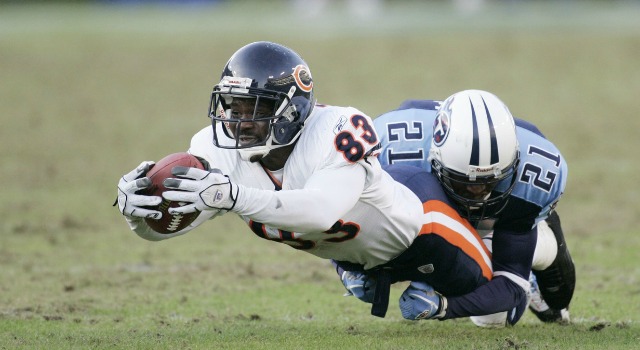 A few days ago, RedEye Chicago put out its list of the top Bears draft pick busts in team history. Cade McCown, Rashaan Salaam and the just-traded tackle Gabe Carimi made the list, but standing not-so-proudly at No. 1 was receiver David Terrell, who was drafted by Chicago at No. 8 overall in 2001 but caught just nine touchdown passes in four years.
Terrell saw the list and made a call to the author of the story to protest. And then he gave current quarterback Jay Cutler what could be the biggest compliment of his life.
After he was asked by RedEye Chicago's Riley Blevins what he would have given to catch passes from Cutler, Terrell said, "I would have cut off both my balls. I'd give those up, no problem. You could have neutered me. I would have been neutered with a smile."
In a word, wow.
Now, Terrell makes a good point, which is kind of the entire basis of this new article, when he says he perhaps would have had a different career outcome if he would have played with a half-decent quarterback.
During his tenure in Chicago the quarterbacks the Bears employed included Jim Miller, Shane Matthews, a 38-year-old Chris Chandler, Henry Burris, Kordell Stewart, Chad Hutchinson, Craig Krenzel, Jonathan Quinn and Rex Grossman. So, not the most Hall of Fame-worthy bunch.
In fact, that group alone probably would make any receiver want to chop off his testicles.
"What I'll say is this, to be able to play with a guy like Jay Cutler is one thing," Terrell said. "Jay Cutler is without a doubt a top 10 quarterback in the league. No doubt about that. His knowledge of the game, his pocket presence makes him that. I never witnessed that in the NFL. I could have [that] with Rex, but I had limited time with Rex. I only had four games with Rex, you know what I'm saying? Great quarterbacks know what's going on before the play.
"My last year here was just in disarray because the quarterbacks didn't even know the play calls. So it takes out some camaraderie, yeah. …  I didn't have that anywhere but at Michigan with Tom Brady and with that quarterback Drew Henson."
Plus, Terrell also had injury problems that led to some ineffectiveness and time away from the field.
"Factually, my first year with the Bears -- my first and my last year -- those were like my best years here. My first year was the best team I ever played on besides my Michigan teams, you see what I'm saying. But my first year we was one game from the Super Bowl, and I think I was a big, big piece in a lot of those wins. I think I may have won four, five games for my team. I mean, hey, maybe I didn't win them all by myself, but I sure played a big part. The next year I went to Bourbonnais and I kicked the season off with what, like, four touchdowns in three games? Then I broke my foot. Then I was done for the whole year.
"Then my third year I couldn't play because my foot was just broke and they had my time limited. Shit, then the last year, I led the league for like the first four games with Rex Grossman at quarterback. Until Rex Grossman breaks his foot against Minnesota. Did you forget that? I think you must have forgot about that. Man, I led the league in like every category basically until Rex broke his foot. When Rex broke his foot, after that, the season was over. I had nine different quarterbacks after Rex Grossman. I caught a ball from nine different quarterbacks in one year. Did you forget that?"
Anyway, it's a lengthy interview filled with a decent amount of cussing. But if you want to hear Terrell's thoughts on why former general manager Jerry Angelo wasn't a big Terrell fan or how a staph infection suffered in New England nearly cost him his leg, read the rest of the article here.
Maybe Terrell will convince you that he wasn't actually the biggest draft bust in Chicago. Or at least explain to you why it wasn't his fault.