Day 1 free agency Musings: A look at some early grades
It will take time to tell if any of the first-day free-agent moves pay off, but it's time to offer up some quick grades on some of the moves that have happened so far.
More NFL offseason: Mock Drafts | Prospect Rankings | Pro Days | Top free agents
There is nothing that gets us in trouble more than doing immediate grades on trades, draft picks and free-agent signings. But I love doing them because they stir the pot.
So here are some early free-agent grades:
DE Michael Johnson to the Tampa Bay Buccaneers: I like Johnson a lot. He is a tough, hard-nosed player who plays the run and can get pressure on the quarterback. Tampa Bay needed that outside pressure to go with Gerald McCoy inside. But Johnson had only 3 1/2 sacks last season. Yes, he still racked up some pressures, but $8.5 million is a lot of money for him. Even so, I like this signing. I like young -- he's 27 -- players with a lot of good football left in their bodies. Grade: A-
T Jared Veldheer to the Arizona Cardinals: I like this move. The Cardinals have had left tackle problems for a long time. This fixes it. I always thought Veldheer was underrated with Oakland. He isn't a great player, but he's a good enough left tackle to protect the blind side of Carson Palmer, which he did in Oakland in the past. Solid move. Grade: B
DT Clinton McDonald to the Tampa Bay Buccaneers: I really like this move. In Lovie Smith's system, he is the perfect up-the-field defensive tackle. I thought he had an impressive season for Seattle in 2013. Nice job, Bucs. Grade: A-
T Branden Albert to the Miami Dolphins: The Dolphins had a huge hole at left tackle, and they feel like they closed it. Did they? Albert is a good player, coming off a nice season, but he isn't one of the five best tackles in the league. He will be paid that way. They filled a need, but they overpaid like so many Tuesday. I had some personnel guys with tackle needs telling me they were concerned about Albert for the big money. Grade: B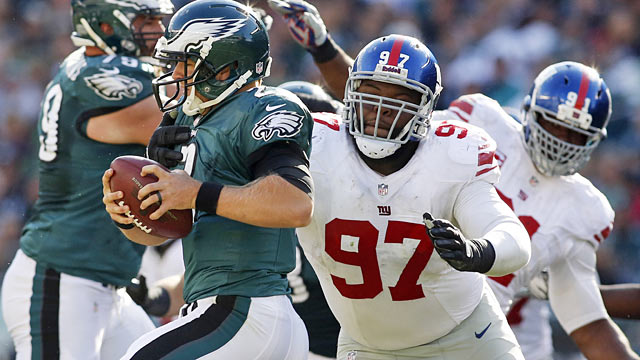 DT Linval Joseph to the Minnesota Vikings: He was one of my top guys in this class. He is young, big, strong and powerful. He will team with Shariff Floyd to give the Vikings a nice 1-2 on the interior. Mike Zimmer has to be thrilled with this signing. Grade: A
WR Andre Roberts to the Washington Redskins: Roberts is another 26-year-old who teams wanted and will help give the Redskins a threat in the middle of the field. Two years ago, he put up good numbers with the Cardinals but lost some chances when Michael Floyd emerged last season. I think going to the Redskins will help the offense inside with Pierre Garcon the deep threat outside. Grade: C
ILB Karlos Dansby to the Cleveland Browns: They let a 30-year-old linebacker go in D'Qwell Jackson, but then they sign a player two years older? That makes no sense. Yes, Dansby had a nice season for the Cardinals in 2013 on a one-year deal, and he's better than Jackson, but age has to be a factor here. Why not get a young, fast player in the draft? Let's face it: 32-year-old linebackers don't have a lot of good football left in their bodies. This is a strange move. Grade: C
G-T Rodger Saffold to the Oakland Raiders: Yes, Saffold played well when he moved to guard last season after being drafted as a tackle. The Raiders say they plan to play him at guard. But is he really worth the big deal he got? I don't think so. Solid player. Not a great one. Grade: C
G Zane Beadles to the Jacksonville Jaguars: I am not a fan of this move, especially for $6 million a year. I thought he struggled last season for the Broncos. Yes, the Jaguars needed help inside, but that's a lot of money for a left guard who was just OK last season. Grade: C-
G Jon Asamoah to the Atlanta Falcons: They had to get bigger and stronger up front and Asamoah is a 320-pound player who will do that. They overpaid to get him, but his best football is in front of him. I like this move. Grade: B+
DT Paul Soliai to the Atlanta Falcons: His age is a little concern at 30, but he's a power player and they needed that in the middle of the line. The price was a bit high, but that's the market. If they are going to use more 3-4 schemes, which it looks like, he will be the nose. Grade: B-
Safety T.J. Ward to the Denver Broncos: The Broncos had big problems in the back end of their defense last season. Ward can step in and become the big hitter they need. I think he improved in coverage last season, so he's not just one-dimensional. Grade: B
S Donte Whitner to the Cleveland Browns: The Browns opted to let T.J. Ward go to sign Whitner to a deal that reportedly will pay him $7 million a year. That's a wash in terms of talent, but Ward is younger. I always thought Whitner was a liability in coverage for the 49ers. Grade: C+
S Antoine Bethea to the San Francisco 49ers: The 49ers chose to replace Whitner with Bethea, who has had some good seasons for the Colts. What I think this will do is give them more range in their back end. He will team with Eric Reid to give them a nice 1-2 cover group at safety. I like it. Grade: B+
S Jairus Byrd to the New Orleans Saints: I love this move. Byrd has a ton of range and can play a lot of single-high safety. That will allow second-year safety Kenny Vaccaro to become a real force at the line of scrimmage. Great move by the Saints. Where did they find the money? Grade: A
CB Alterraun Verner to the Tampa Bay Buccaneers: Give to new general manager Jason Licht. He was as aggressive as anybody on the first day. He will get rid of Darrelle Revis and bring in Verner as a cheaper replacement. Verner isn't nearly as good, but he fits in Lovie Smith's scheme. Grade: B- 
S Mike Mitchell to the Pittsburgh Steelers: The money was a little high -- five years and $25 million -- but Mitchell will be an upgrade over Ryan Clark. He played well for Carolina last year, his first after signing from Oakland. His best football is in front of him. Grade:  B
DE Lamarr Houston to the Chicago Bears: Houston has played outside in a 3-4 and outside in a 4-3. But I think he can also play inside in the Bears' 4-3 defense. He isn't a great pass rusher, but he is really good agaisnt the run. He will help a Chicago run defense that was bad last season. But the reported salary of $7 million a season is a bit steep. Grade: B
DE Arthur Jones to the Indianapolis Colts: I really like Jones as a player, but the Colts paid him a lot of money with an average of $6 million a season. Again, he is a good player getting great player money. That's dangerous. Grade: B
NT Earl Mitchell to the Miami Dolphins: I didn't see what others saw in this nose tackle. He didn't do a lot for the Texans until late last year. He is a big player, but couldn't the Dolphins have just kept Soliai? Grade: D+
S Malcolm Jenkins to the Philadelphia Eagles:Yes, he's an upgrade over what they have, but who wouldn't be. Jenkins is a former corner turned safety, but he hasn't lived up to the expectations of being a first-round pick of the Saints. Can he turn that around in Philadelphia? Grade: C
RB Toby Gerhart to the Jacksonville Jaguars: I knew they wanted a veteran running back and had an eye on Gerhart. He is a need with Maurice Jones-Drew out the door. I wouldn't sign running backs if I am a general manager, but this is almost a have-to for the Jaguars. He's a lot younger than Jones-Drew. Grade: C
RB Rashad Jennings to the New York Giants: Again, I wouldn't sign a back. But Jennings is coming off an impressive season. The Giants need help at running back, so I get it. I prefer the draft for backs. Grade: C.
CB Aqib Talib to the Denver Broncos: The money is outrageous with a reported $28 million in guaranteed money. But they had a glaring need. He's a good player, a good man cover corner, when he's healthy. But he missed time last season. This is a bit risky, but could pay off. Grade: C+ (Money too high)
RB Donald Brown to the San Diego Chargers: Why? Why? Why? I don't get it. Yes, Ryan Mathews misses time, but why not draft one? Brown played well last season, but is he worth a three-year deal at $4 million a year? Weird. Grade D
• I can't believe the Dallas Cowboys, who were awful on defense last season, released their best defensive player in DeMarcus Ware. I know he had a huge cap number at $16 million, and the Cowboys were up against the cap, but why let it get to this point? Ware will land with a team and be a 15-sack player next season. At 31, when healthy, he's still a force off the edge. I still think he's better as a 3-4 outside linebacker than a down end in the 4-3.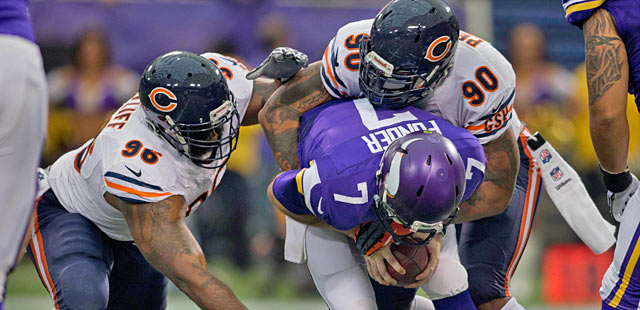 • The 30-year-old-plus player making big bucks is a thing of the past -- unless you are a quarterback. That's what we've learned from the past few days as free agency opened.
I say it all the time, but now teams are wising up: Old and slow and you make too much dough you have to go.
In the past few days we saw the Panthers trying to trade receiver Steve Smith, their only true outside pass threat, the Bears dumped defensive end Julius Peppers, the 49ers dumped corner Carlos Rogers and the Saints have already dumped their fair share of aging veterans. And we had Ware getting let go Tuesday.
Some will say it's cruel. I say it's the wave of the NFL. The target average roster age should always be 26 to 27. Seattle won the Super Bowl with a roster that averaged just over 26 years of age. The younger your players, the better your cap will be. And then when the players get older, teams can decide whether to keep them for the long haul or let them walk.
---With Peppers, Ware and Minnesota's Jared Allen all on the market, good teams in need of an aging veteran have a chance to land a good pass rusher for two years or so. There will be a market for those players. They just won't be worthy anything for the long term. 
• The Steelers release of LaMarr Woodley should not come as a shock. He has a huge cap hit this season and he's missed a lot of time. But when he was healthy early last season, he played well. He is certainly worth a look for a team in need of a power pass rusher as a 3-4 outside rusher. Woodley is 29 and has a lot of good football left in his body. The Steelers had to set him free, but he should get plenty of action on this market. It might not be a mega-deal, but he it certainly won't be a bargain. 
• The Chargers made a nice move to re-sign guard Chad Rinehart. He missed time last season early on, but came back and played well. He is a quality starter. The Chargers signed him away from Buffalo last season. With the Bills, he played well in 2011, then was hurt in 2012 and didn't play much, before surfacing in San Diego on a one-year deal in 2013. 
• The Jaguars trading of quarterback Blaine Gabbert to San Francisco for a sixth-round pick was met with a lot of laughs on Twitter. I thought Gabbert had the tools to become a quality starter. I was wrong. What he didn't have was feel in the pocket, the ability to sense the rush and step up and away from it. I don't know if he ever will. So for the 10th pick in the draft, the Jaguars got back a sixth-round pick and they're still looking for a franchise passer. Ugg. 
• The link between the Falcons and Paul Soliai shouldn't have come as a shock. One of the big things the Falcons wanted to do this offseason was getting bigger and stronger on both lines. When coach Mike Smith was on the Ravens staff, Baltimore won a Super Bowl with Sam Adams and Tony Siragusa in the middle of their line -- two 320-pound players. In Jacksonville, when he was defensive coordinator, the Jaguars had Marcus Stroud and John Henderson in the middle. In his time with the Falcons, the defensive tackles have been undersized. Solia and Jackson will change that. 
• Has anybody's career taken a quicker downturn than Santonio Holmes? Wow. 
• I like the Jets' move to re-sign tight end Jeff Cumberland to a three-year, $5.7 million deal. Cumberland, a former college receiver, is the pass-catching tight end teams want these days. As the Jets get more weapons around him, I look for him to put up even bigger numbers. 
• Running backs? Anybody? Running backs? 
• Anybody killing the Jets for the Darrelle Revis deal anymore? Bad move for the Bucs. He's still a good player, but they gave up way too much and paid him way too much, which is why trade-and-pay deals never work out. 
The Eagles cemented their status as the best team in the NFC

Wentz is a magician who pulled his greatest trick so far on Monday night against the Redsk...

Wentz is carving up the Redskins on Monday night
Peters was quickly ruled out by the Eagles with a knee injury

Wentz rebounded from an awful interception with a 64-yard touchdown pass against the Redsk...

Cousins did not want to miss a meeting or his wife delivering their child, so he found a way...