Day 4 NFL free agency grades: Cortland Finnegan to Miami gets D
NFL free agency slows considerably Friday, but there still are solid moves (Ravens, Steve Smith) and mistakes (Dolphins, Cortland Finnegan) to tally.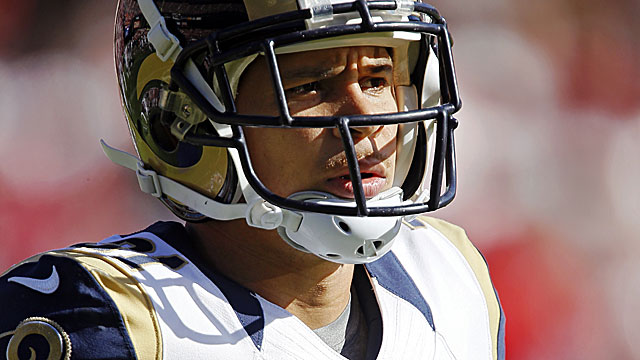 More NFL offseason: Mock Drafts | Prospect Rankings | Pro Days | Top free agents
It's amazing how quiet things got Friday on the NFL free­-agent market. Things are really slowing down, as the carcass is getting picked pretty clean.
There are still some good players, and good values, left but the big deals look to be finished.
Even so, there were a handful of interesting moves that needed to be graded.
Here goes:
WR Steve Smith to the Baltimore Ravens: They needed another threat for their passing attack, and Smith can still get it done. He doesn't have the deep speed he once had, but Baltimore has that in Torrey Smith. He will be a nice addition, even at the age of 34. He plays with a swagger, which I love. I do think a three-year deal for a player his age is a risk, but it's probably a deal the Ravens can get out of after a year. Grade: B-minus
CB Cortland Finnegan to the Miami Dolphins: It's a two­-year deal ­­ said to be for $11 million -- for a corner released by St. Louis two weeks ago. Finnegan played in only seven games last season because of injuries and wasn't good when he was on the field --­ and that's being kind. He does bring an attitude -- and a huge chip on his shoulder -- so maybe he can have a rebound year like Brent Grimes did last season for Miami. I wouldn't count on it. This is more name than game, and I used to love him as a player. Grade: D
CB Chris Cook to the San Francisco 49ers: They signed Cook to a one-year deal, which might end up being a real bargain. He is a bigger corner who has starting experience with the Vikings. He could come in and push for a spot in the rotation. He's worth a look, that's for sure. Grade: B
C Evan Dietrich-Smith to the Tampa Bay Buccaneers: Dietrich-­Smith takes over for Jeremy Zuttah, who could move back to guard. Dietrich-­Smith is a good center who is more technique than power, but should be a nice addition inside for the Bucs. He is former guard who has made a smooth transition inside. The Bucs could also opt to play him at guard. Grade: B
TE Brandon Pettigrew back to the Detroit Lions: Has he lived up to the hype? Not close to it. But he is still better than a lot of other tight ends on the market. He lacks consistency and drops a lot of passes, but he has ability. He just needs to do more with it. He can still block -- at bare minimum. So I understand the move, maybe moreso than Lions fans. Grade: B-minus
LB Daryl Smith back to the Baltimore Ravens: He was a priority for them after he played so well last season on a one­-year deal. This time, he gets a four-­year deal. Smith has been underrated for a long time, but he is a consistently solid linebacker. He's also a great guy in the locker room. Good move, even if he is older. Grade: B
NT Cam Thomas to the Pittsburgh Steelers: Thomas is a big, physical body, the type the Steelers like in the middle of their defense. His play was a bit of a disappointment last season with the Chargers, but he has the ability to be a decent starter. He's good against the run, but offers little in terms of pass rush. He can also move outside to a 3-­4 end, but I expect him on the nose a lot. It's only a two­-year deal, so it's worth a look for a young player. Grade: C
ILB Wesley Woodyard to the Tennessee Titans: Woodyard played really well two years ago for the Broncos, but tailed off last season and eventually was benched. He is a nice cover player, but the Titans are moving to a 3­-4 defense and say he will play inside. That's a lot for a linebacker who is pretty one-dimensional isn't great against the run. Grade: B-
CB Brandon Browner to the New England Patriots: Browner is suspended for the first four games, but when he returns he gives the Patriots a big corner to match up against big receivers. He can also move inside and play some safety in some packages. With Browner and Revis in that secondary, it's a lot better. But he isn't as good as his reputation. Grade: C
DE-DT Antonio Smith to the Oakland Raiders: Smith is a veteran player who can still play at a high level for another couple of years. He got a two-year, $9 million deal, which is market price for a veteran like him. He gives them another big body up front, which they need. Grade: B-
CB Tarrell Brown to the Oakland Raiders: Brown is coming off a good season across the Bay for the 49ers, but they choose to go in another direction. With Tracy Porter leaving Oakland for Washington, Brown will step in as the starter. He's a good player, but not a top-tier corner. Grade: B
T Michael Oher to the Tennessee Titans: Oher was a major disappointment for the Ravens after being a first-round pick. He ended up at right tackle, which is where he will play for the Titans with the release of David Stewart. The price here is a little high with a four-year deal for $20 million and a $9.5-million signing bonus. That's a bit rich, but he is still young. Grade: C-
WR Hakeem Nicks to the Indianapolis Colts: They had to get a a big receiver who could complement T.Y. Hilton and while it's only a one-year deal, this move could pay off. If Nicks is focused, he can really help the offense. If he is, they could give him a long-term deal down the road. Grade: B+
More observations
I love the idea of the Bills moving second­-year linebacker Kiko Alonso from the middle to the weak side. The reason: He can fly.
Alonso did some good things last year for the Bills as a rookie starter, but the more tape I watched the more concern I had with his size and his ability to take on blocks and shed them.
He did a nice job of jumping around them with his speed, but at times he would get caught out of position and surrender big gains. He seemed to have trouble with guards getting out on him and also when he had to take on the fullbacks in the hole.
If he could avoid the block, he made the play. That's where his speed and quickness showed up.
Here's a look at two plays that sum up why I think he will be a big­-time player with the move outside, rather than a decent player in the middle.
The first is a run play in the final week of the season against the Patriots. It's a 15­-yard run by Stevan Ridley.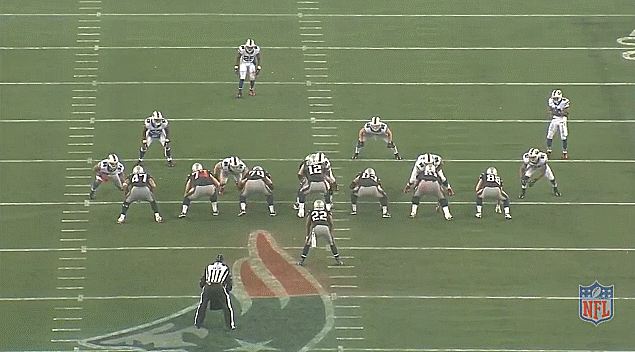 As you can see, Alonso read the play right and got to the hole, but tackle Nate Solder engulfed him to create the cavity for Ridley to get through for the big gain.
Now here's a look from a play against Tampa Bay in Week 14 that shows off his speed and quickness. It's a screen pass to Bobby Rainey.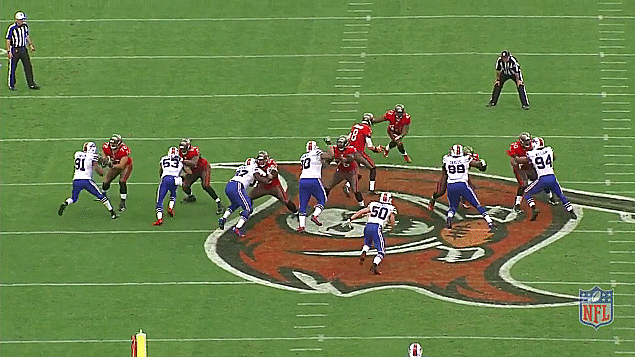 Alonso made a great read­-and­-react play on the screen pass to drop Rainey for an 8­-yard loss. When he's playing more in space, he'll be able to do even more of this. He has great quickness and does a nice job of identifying things. He just has to play with more control -- he has a tendency to overrun things -- and we will see a potential Pro Bowl linebacker on the weak side in Buffalo.
• I was watching some Seattle tape to catch up on some of their free agents, and I kept seeing their linebackers flying to the football. We all talk about the Seattle pass rush and secondary, but those speedy linebackers cover a ton of ground. With the game so spread out, that's a must these days. So any team trying to copy the Seattle defense might want to look for fast, athletic linebackers in the draft. This isn't about the pluggers anymore. It's about speed.
• The Cowboys are interested in Henry Melton. Melton, a former running back at Texas, is coming off a torn ACL, but he would fit perfectly with what the Cowboys want to do inside. With little cap room, the structure of any deal is key for Dallas.
• Some will wonder why the Bengals gave coach Marvin Lewis a one-­year extension? It's because he was entering the final year on his deal and teams hate having lame-­duck coaches. The Bengals have been to three consecutive playoffs under Lewis, and won the AFC North last season, but they have yet to win a playoff game. That puts this move in the spotlight, but I think it's the smart move. If the Bengals regress, though, the heat will be on Lewis.
• Packers general manager Ted Thompson did it again Friday. He re­-signed defensive end­/nose tackle B.J. Raji. Thompson is great at keeping his own. Raji's play has tailed off the past couple of seasons, so it will be interesting to see how he responds on a one-­year deal. Raji has complained about the way he's been used, but now he will go back to playing nose tackle, which is what he wanted. He just needs to play better. If reports are true, Thompson has spent $16 million in cap room to keep five of his own. That's what they call the right way.
• So it basically came down to this for the Titans: They were more comfortable with Charlie Whiterhust than they were with Ryan Fitzpatrick as their backup quarterback. OK. I guess.
• Even with Dietrich-­Smith going off the market, there are still good centers available. There's San Francisco's Jonathan Goodwin, New England's Ryan Wendell and Brian De La Puente from the Saints. Then there's also Cleveland's Alex Mack, although the Browns could match any offer he would get since they put the transition tag on him.
Pick Six Newsletter
Get the day's big stories + fun stuff you love like mock drafts, picks and power rankings.
Please check the opt-in box to acknowledge that you would like to subscribe.
Thanks for signing up!
Keep an eye on your inbox for the latest sports news.
Sorry!
There was an error processing your subscription.
The former Browns first-round pick didn't see the field in the Hamilton Tiger-Cats' season...

The odds are out for first coach fired and Pro Football Weekly's Eric Edholm joins Will Brinson...

The former Bills star was first diagnosed with cancer in 2013
T.O. hasn't played in the NFL since 2010 but he's still finding ways to make headlines

Doug Baldwin, Anquan Boldin, Malcolm Jenkins and Benjamin Watson penned an Op-Ed to the pr...

The second-year quarterback is going to help Kansas City explode on the scene