Defensive-minded Fox, Carroll are two masters at art of coaching
It's no surprise that John Fox and Pete Carroll are in the Super Bowl. Each young in spirit, and cool under pressure, the two defensive gurus have mastered the art of coaching.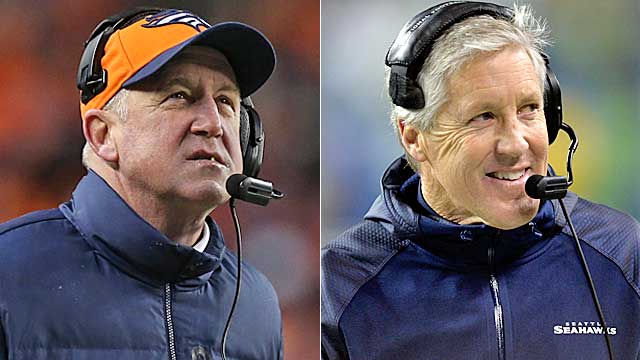 More SB coverage: XLVIII odds | Expert picks | SB weather | Latest news
Some people would lead you to believe that coaching is a science, but after 42 years in the business, on almost every level, I have concluded coaching is an art form. Head coaches really have so much on their plate that they have to have a great ability to understand and react to so many things.
This Super Bowl has two great head coaches who epitomize coaching as an art form. I have known both John Fox and Pete Carroll for a very long time and have had many discussions with them about philosophy, managing coaches, selecting players, handling players, teaching the Xs & Os, in-game decisions, motivating players, dealing with expectations, stress, success and failure. There isn't a day that goes by in an NFL head coach's life that almost all of these issues pop up and John Fox and Pete Carroll have done it better than any other coaches out there in 2013. Both coaches were weekly guests on my Sirius Radio show and they never missed a week and they were never late. In fact, both promised to come on next week, win or lose.
The parallels between Fox and Carroll are fascinating. Both men are recycled head coaches from other teams. There's always an undercurrent that owners should hire young new head coaches with fresh ideas. Don't tell that to Broncos owner Pat Bowlen or Seahawks owner Paul Allen.
Those two owners valued previous experience much like the Giants did with Tom Coughlin, the Patriots did with Bill Belichick and the Colts with Tony Dungy. Those three head coaches have six Super Bowl championships between them since 2002 and a recycled coach is sure to win a seventh title this year.
I talked with Carroll and Fox about what they learned in previous NFL head coaching experiences, and of course I was with Carroll in his first opportunity with the Jets. Both men were extremely relaxed talking about this upcoming game because of their previous coaching experiences.
To me, that's what the owners were paying for when they hired these guys.
Carroll and Fox both have a great ability to create a healthy environment for the players and coaches, especially in this super bowl setting in New York/New Jersey. John Fox sat down with me for more than a half hour just talking ball and would have stayed longer if I asked him too. As he said, the Broncos are prepared and confident.
Pete Carroll said the same things about his team, and believe me, after interviewing all of the head coaches in the last 10 Super Bowls there is a difference between coaches with experience compared to men in their first head coaching job. I talked to enough players on the Broncos and Seahawks to know the relaxed atmosphere created by the head coaches this week has rubbed off on them.
The next interesting issue common to both Fox and Carroll is that they are both from the defensive side of the ball. Sixteen of the NFL head coaches are from the defensive side of the ball, and more importantly, three of the final four teams in the playoffs this year had head coaches with a defensive background.
Bill Cowher and I talk about this subject all the time and we share the opinion that defensive coaches are trained from the very beginning of their coaching days to learn to react to situations. That skill, as well as understanding field position and taking care of the ball, gives defensive-minded head coaches a unique perspective on the game. In a survey of NFL players this year, Carroll was the coach for whom most players wanted to play. Fox came in third in the same survey.
When it comes to defensive X's & O's both coaches built their defense around the 4-3 scheme, even though we are led to believe the NFL is headed toward a 3-4 league. When it comes to blitzing, both coaches are close in attitude. Seattle blitzed by down and distance the following ways: 15 percent on first down, 25 percent on second down and 29 percent on third down.
Carroll dialed up the blitz just 130 times in the regular season or eight times a game. His players generated 18 sacks or one sack every seven calls.
John Fox called the blitz 28 percent on first down, 32 percent on second down and 31 percent on third down, which was slightly more than Carroll but certainly not blitz-happy like many teams in the NFL. Denver will call for pressure 12 times a game but only get home once for every 16 times. Things dropped off for the Broncos after Von Miller went down with an injury.
The next thing about these two coaches is their age. Pete Carroll was born in 1951 and is a very young 62-year-old coach who relates to his players and there is little to no age gap when it comes to communication. The same could be said for John Fox, who turns 59 in a week. I have been with both coaches many times and it is hard to believe they aren't in their early 40s the way they operate.
It comes very natural for both men to talk with young players in a way that young people can relate to but by no means are they push-overs when it comes to making a tough decision about a player. John Fox's dad was an original Navy Seal, so need I say more about how he was raised.
Both men are used to developing good young coaches and helping them move on to opportunities as head coaches over the past three years. Fox has put Dennis Allen (Oakland) and Mike McCoy (San Diego) in head coaching positions. Pete Carroll lost Gus Bradley (Jacksonville) but all you hear about is NFL owners coming after even more of the members of the Fox and Carroll staffs. Why? Because both men know how to identify and train coaches to be successful, and they never seem to panic when some club plucks the rising stars from their staff. More importantly, neither team appears to have a setback on the field when new coaches are elevated.
Finally, the old expression "may the best man win" doesn't apply to this Super Bowl because these two guys are as good as it gets in the NFL or any other walk of life. I consider both of them good friends and great coaches, or as I pointed out at the very beginning, true artists. There will not be a player or coach on that field Sunday who won't pour his heart out for 60 minutes, and so much of the professional pride comes from the top. And that of course is Fox and Carroll, or maybe the other way around.
Warren Sapp was one of several players named in a lawsuit against NFL Network

Check out the uniforms that Denver and Indianapolis will be wearing on Thursday

The Cowboys are going to need a few things to go their way to get into the postseason
Rudolph will be put under the microscope in Mobile by clubs looking for a quarterback early...

This fan is taking the Saints to court for using 'football games as a platform for protest...

Can Aaron Rodgers get the Packers to the postseason? Even if they win out, they'll need he...