Deflategate's Textgate: Pats staffers' texts paint picture of Brady's role
Text messages between Patriots locker room attendant Jim McNally and equipment assistant John Jastremski provides a behind-the-scenes look at Deflategate.
• 1 min read
Be careful when texting -- especially when you might be involved in Deflategate. And especially when your text messages could potentially end up appearing in a 243-page document that ultimately declares that Tom Brady was probably "generally aware" that the footballs were being deflated.
New England Patriots locker room attendant Jim McNally and equipment assistant John Jastremski probably learned that lesson today. Printed on pages 5-7 in attorney Ted Wells' report on Deflategate are multiple text conversations between McNally and Jastremski. The conversations are taken from various points in the season.
Though none of the texts directly involve Brady (he is mentioned various times), they do serve as some very convincing pieces of evidence that Brady was, in fact, directing McNally and Jastremski to deflate the balls to a level that Brady wanted.
The messages are pictured below and contain multiple expletives.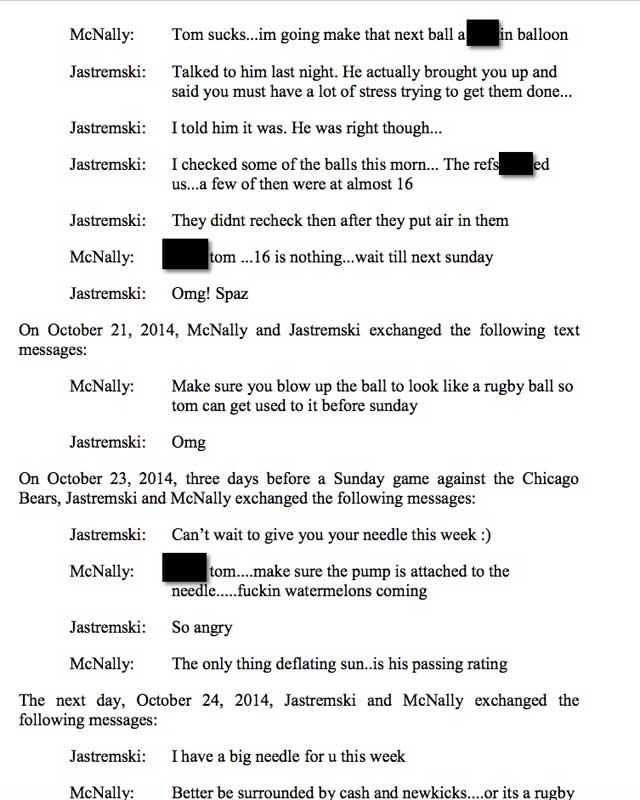 The first text messages that were included in the report were dated back to October 17, after the Patriots beat the New York Jets on Thursday Night Football. In the messages, McNally and Jastremski appear to be talking about how Brady was upset with McNally for over-inflated footballs.
The next messages we're able to read are from the week prior to the Patriots' game against the Chicago Bears. From October 21 to October 25, McNally and Jastremski joked about Brady and how McNally was going to improperly inflate the balls to make Brady angry. McNally even quipped, "The only thing deflating sun..is his passing rating."
Finally, the texts take us to the week of the AFC Championship Game. They reveal that McNally received signed memorabilia via Brady, which might have been in exchange for deflating the footballs.
But perhaps the most significant piece of evidence in the text messages is when McNally referred to himself as "the deflator." That was in a conversation with Jastremski back in May of 2014.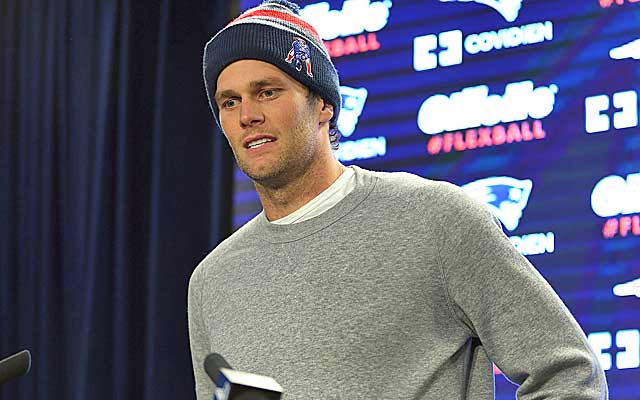 No punishment for Brady, McNally, and Jastremski has been announced so far, but these messages clearly indicate their involvement in a scandal that doesn't appear to be going away any time soon for the Super Bowl champs. 
Good night, sweet Cowboys, it was a good run

Time to keep the hot streak going

Everything you need to know heading into Sunday of Week 12 of the 2017 NFL season
Pete Prisco shares 10 interesting things to watch in Week 12 of the NFL season

The 3-7 Broncos are not in a good place right now

This young fan wins Thanksgiving