Deion Sanders announces he's 'suiting up' for Pro Bowl; NFL says no
Deion Sanders is a captain for this year's Pro Bowl and he's a captain who wants to suit up for the game.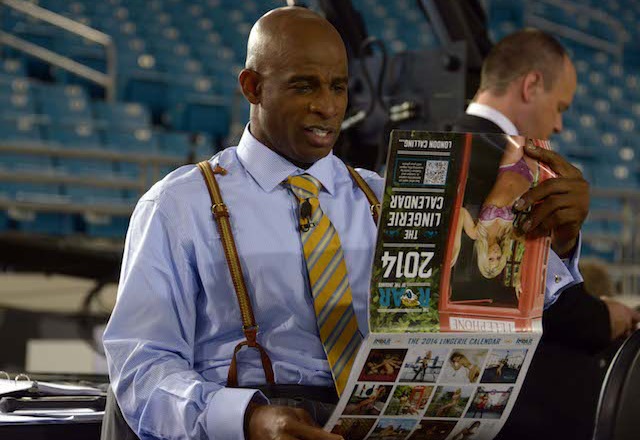 Back in July the NFL announced it had decided it wanted to spice up the Pro Bowl by changing the format. Instead of the AFC against the NFC, the game will feature two teams that will be selected in a Jan. 22 draft.
Deion Sanders also has his own plan for spicing up the Pro Bowl and that plan involves him suiting up for the game. Sanders took to Twitter on Monday to announce, well, you can see what he announced. 
Ladies and Gentlemen I am officially announcing "I WILL SUIT UP IN HAWAII" Please let @JerryRice know that a real captain leads by example!

— DeionSanders (@DeionSanders) January 13, 2014
Sanders mentions Jerry Rice in the tweet because Rice and Sanders are serving as captains for the game and each player will be at the Pro Bowl draft to pick their team.
If you tune into the Pro Bowl on Jan. 26, don't look for Sanders to be suited up though. The NFL has already nixed the idea. A league spokesman told ProFootballTalk that Sanders won't be playing in the game, which is actually interesting because Sanders never said he was going to play in the game. Sanders said he was going to suit up, which could mean he just planned on being in pads, kind of like baseball managers wear uniforms for games. But it could also mean Sanders wanted to play. Who knows with him.
Either way, Sanders won't be in pads, but he and Rice "will be spending the full week with their clubs, attending practices [and] on the sidelines for gameday," according to the league. 
This is all good news for Cardinals cornerback Patrick Peterson, because now he won't have to give up his number.  
@RealPeterson21 u may have to wear another number in the pro bowl for #teamDeion because your Captain may play in the #Probowl! WHAT!!!

— DeionSanders (@DeionSanders) January 13, 2014
Everything you need to know for Week 3 of the 2017 NFL season is here

The Rams picked up their first win at Levi's Stadium in three years

The Jaguars are taking some cool cleats with them to England
Tickets are dirt cheap and very much still available for the TNF matchup

The Lions are being recognized after beating two popular preseason picks to make the playo...

Hernandez was 27 when he committed suicide in April 2017