DeMarco Murray could miss Eagles game; DeMarcus Ware out a month
The Cowboys will most likely be without running back DeMarco Murray and defensive end DeMarcus Ware for Sunday's NFC East showdown in Philadelphia.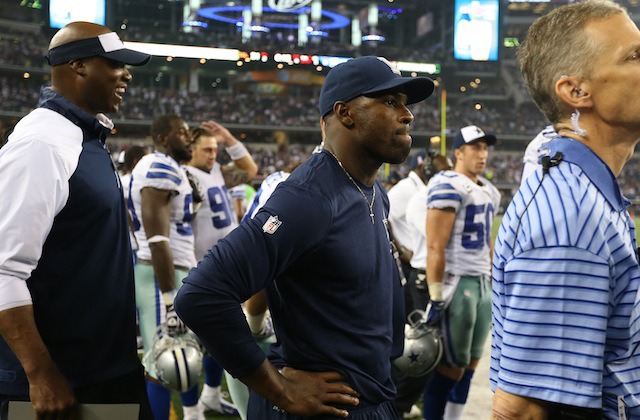 The Cowboys had no problem making it through the second half of Sunday night's win over Washington without DeMarcus Ware and DeMarco Murray, now we'll see if they can do it for an entire game. 
Ware and Murray are both expected to miss Sunday's game in Philadelphia, CBS Sports NFL Insider Jason La Canfora has reported.
Murray is expected to miss at least one week after spraining his knee in the first half of the Cowboys 31-16 win over the Redskins. The NFL's fourth-leading rusher with 428 yards, Murray is telling people that 'he feels good and won't be out long,' meaning he might be able to return as soon as Week 8 when Dallas plays in Detroit. 
Despite leaving the game in the second quarter, Murray still finished as the team's leading rusher against Washington with 29 yards on seven carries. 
The news isn't as good for Ware. The defensive end could be out up to four weeks after straining his quad in the second quarter against Washington. If Ware's out for four weeks, that means the Cowboys could be without the team's all-time sack leader until almost Thanksgiving. 
Over the next four weeks, the Cowboys play at Philadelphia, at Detroit, at home against Minnesota and at New Orleans, before getting a bye in Week 11. After the bye, the Cowboys have two games in four days because of Thanksgiving. 
Losing Ware and Murray means the Cowboys won't have all of their weapons on Sunday when they head into Philadelphia with first place in the NFC East on the line. 
The sports world's most unlikely relationship continues to find new legs

Riveron, who replaced Dean Blandino in 2017, has the support of NFL commissioner Roger Goo...

Between the Birds, Villanova hoops, the resurgent Flyers and restocked 76ers, there's lots...
Andy Dalton, Chris Long, and Von Miller round out the field of finalists

Senior Bowl weigh-ins may seem insignificant, but they hold importance during the pre-draft...

Matt Hasselbeck is also a candidate to take over for Jon Gruden