Dennis Allen has been given indication he'll be back for 2014
Raiders coach Dennis Allen is safe for now, it seems. But he still has to meet with owner Mark Davis.
• 1 min read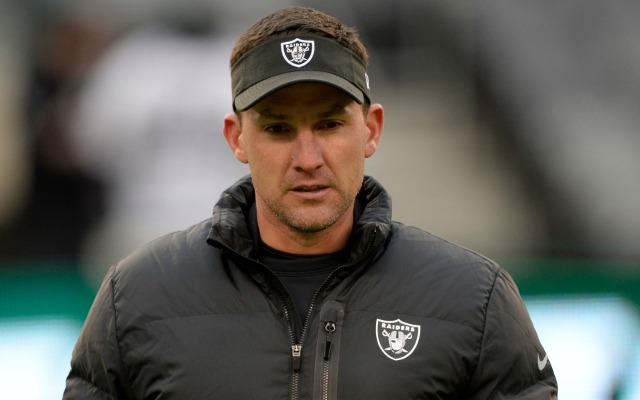 As of Monday afternoon, Raiders coach Dennis Allen still has a job. And perhaps he might continue to have one into next season.
"I've been given an indication that I'll be back," Allen told reporters. "But we'll see."
Though Allen has met with general manager Reggie McKenzie, he has not sat down with owner Mark Davis, so Allen's return is anything but certain. Still, Allen said he hasn't been told that he won't be back in 2014.
And if that's the case, it's most likely the right call. Though the Buccaneers fired Greg Schiano after only two seasons -- and poor Rob Chudzinski was pink-slipped after 16 games -- it seems like it'd be grossly unfair to do the same to Allen after just two seasons.
Yes, the team is 8-24 under Allen's leadership, but the roster and the salary cap were such a mess when he was hired that hardly anybody alive on earth could have turned Oakland around in such a short period of time.
If Allen does stick, though, one of the first moves that needs to be made is to address his quarterback room.
Both Matt McGloin and Terrelle Pryor had good moments this season, but neither would make you believe that they have what it takes to become the team's franchise quarterback.
Said Allen: "I'm not sure if we have the quarterback of the future in the building right now."
For now, though, it sounds like the Raiders do have a head coach.
Follow Josh Katzowitz on Google+
Check here for the latest news, rumors and updates for NFL coaching changes and searches

The Titans have tapped Texans defensive coordinator Mike Vrabel to take over as head coach

The government shutdown has come at a horrible time for NFL fans in the U.S. military
Bengals owner Mike Brown seems to be a huge fan of continuity

Our computer model simulated the AFC and NFC title games 10,000 times with surprising resu...

The people of Philadelphia now have two reasons to root for the Eagles this week