Denver Broncos 2014 offseason preview
With the 2013 season officially in the books, the Eye on Football staff is looking ahead to the offseason for all 32 NFL teams. Next up: The Denver Broncos.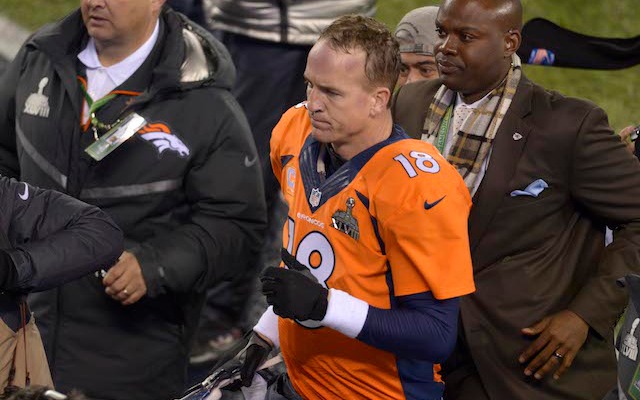 With the 2013 season officially in the books the Eye on Football staff is looking ahead to the offseason for all 32 NFL teams. Next up: The Denver Broncos. 
It's not a holiday in Denver, but March 3 probably should be because that's the day Peyton Manning and his neck were cleared to play in 2014. Last season didn't end the way the Broncos wanted it to, actually, it probably ended the opposite of the way Denver wanted it to, but with Manning coming back in 2014, Denver's the instant favorite in the AFC to get to the Super Bowl. 
In only two seasons with the Broncos, Manning is doing things that have never been done in Denver. Besides breaking various franchise records, Manning has also led the Broncos to 13-wins in consecutive seasons, something that had never been done in franchise history.
Super Bowl XLVIII is going leave a bad taste's in Denver's mouth, but there's no reason the Broncos can't be back as long as they spend smartly in the offseason and yes, that's my way of saying don't overpay for Eric Decker.
Lets take a quick look at the Broncos 2013 season and where they're headed in the 2014 offseason.  
What went right
The Broncos scored an NFL-record 606 points in 2013, so basically, everything went right on offense during the regular season. Peyton Manning threw two or more touchdown passes in 15 of the Broncos 16 regular season games and was pretty much unstoppable all season.
With Manning's help, the Broncos became the first team in NFL history to have four players catch 10 or more touchdown passes as Demaryius Thomas (14), Julius Thomas (12), Eric Decker (11) and Wes Welker (10) all reached the 10-touchdown mark. To put that in perspective, only 13 players in the entire league caught 10 or more touchdown passes in 2013 and four of those played for Denver. 
It's not like the Broncos were one-dimensional either, running back Knowshon Moreno hit the 1,000-yard mark (1,038) and also rushed for 10 touchdowns, tied for fourth most in the NFL. 
What went wrong
Not much went wrong in Denver until the Broncos got to the Super Bowl, where nothing went right. Peyton Manning was under constant pressure against the Seahawks defense and on the other side of the ball, the Broncos defense couldn't get any pressure on Russell Wilson. This ended up being a recipe for disaster and by haltime at the Super Bowl, this is probably how most Broncos fans felt: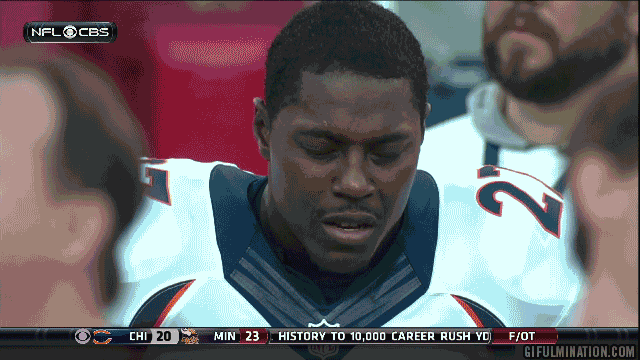 Or maybe they felt more like this:
Either way, it was ugly.
Denver had several starters who missed part of the regular season and all of the playoff run though. That list includes LT Ryan Clady, OLB Von Miller, DT Kevin Vickerson, S Rahim Moore and DE Derek Wolfe. If that group comes back healthy in 2014, the Broncos will be better on both sides of the ball. 
MVP
Peyton Manning. Here's a brief list of the records Manning broke or tied in 2013: Single-season record for touchdown passes, single-season record for passing yards, most games in a single-season with four touchdown passes, most games in a single-season with 400 or more passing yards. This list is impressive because it's a list of records. Most players don't break or tie any records in a season, Manning broke so many that there's a list of them.  
LVP
Von Miller. After an 18.5 sack season in 2012, the Broncos had high hopes for Miller in 2013, hopes that probably included Miller playing in all 16 games. That didn't happen though. Miller was suspended for the first six games of the regular season and then came back 15 pounds heavier. It was suppose to be 15 pounds of muscle -- and it might've been -- but it was also 15 pounds that slowed him down. Miller's season then went from bad to worse when he tore his ACL in a Week 15 win over the Texans. 
What has happened since the season ended
March 3 was a big day in Denver because that's the day Peyton Manning and his neck were officially cleared for 2014. Manning was given a clean bill of health in the annual neck exam he's required to undergo each offseason.
Manning isn't the only offseason news story in Denver, there's also John Elway and Jack Del Rio, who were both given contract extensions. Elway was given a three-year extension and named the team's general manager. He was already basically the general manager, but now it's official. As for Del Rio, the Broncos defensive coordinator was given a two-year extension four days after Super Bowl XLVIII. 
Impending free agents
If you look at the Broncos roster, it almost seems like every player not named Peyton Manning is headed for free agency on March 11. That's not quite the case, but it's close. Denver has 18 unrestricted free agents and that number includes five players who each started at least 12 games in 2013. Wide receiver Eric Decker and left guard Zane Beadles, who could both end up leaving in free agency, both started 16 games for the Broncos last season. 
Here's the complete list of the Broncos unrestricted free agents: S Mike Adams, DE Robert Ayers, G Zane Beadles, LB Stewart Bradley, WR Andre Caldwell, CB Marquice Cole, WR Eric Decker, S Michael Huff, S Quentin Jammer, OT Winston Justice, C Dan Koppen, LB Paris Lenon, DE Jeremy Mincey, RB Knowshon Moreno, LB Shaun Phillips, CB Dominique Rodgers-Cromartie, C Steve Vallos, LB Wesley Woodyard.
Free-agency game plan
General manager John Elway pretty much said at the NFL combine that he's going to let the Broncos free agents 'hit the market' before Denver tries to re-sign any of them. That most likely means Decker and Moreno won't be returning because the Broncos won't -- and shouldn't -- pay either of those the amount of money other teams will most likely offer. As a matter of fact, the Broncos should take any money they're thinking about giving to Decker and give it to Rodgers-Cromartie. I know, things don't exactly work like that, but DRC and Shaun Phillips should be two of Denver's higher priorities in free agency.   
Draft game plan
If you go back up and read the Broncos free agent list, you'll notice there's a lot of safeties on that list (Adams, Huff, Jammer), so the Broncos will most likely need to go that route in the draft. Denver really can't go wrong with any defensive position in this draft. If there's no safety available that the Broncos like, then a defensive end or cornerback should also work.
So who will the Broncos take in the first round? CBSSports.com senior NFL columnist Pete Prisco, CBS Sports NFL Insider Pat Kirwan and NFLDraftScout.com's Rob Rang all have Denver going with Notre Dame defensive tackle Stephon Tuitt with the 31st overall pick. Then there's NFLDraftScout.com's Dane Brugler, who has the Broncos going with Auburn defensive end Dee Ford.
Ridiculously early prediction for 2014
During Peyton Manning's two seasons in Denver, the Broncos have looked almost unbeatable during the regular season, going 26-6. However, with their 43-8 win in Super Bowl XLVIII, the Seahawks proved that the Broncos aren't invincible. If the blueprint to beating Denver involves a strong defense, then the Broncos could be looking at a tough 2014. Next season, the Broncos play the No. 1 (Seattle), No. 3 (Cincinnati) and No. 5 (San Francisco) defenses from 2013 and the NFC West in general is going to be a tough matchup. Denver probably won't lose every game against the division, but it's hard to see the Broncos going 13-3 for the third straight year. 
Predicted record: 12-4
The NFC is going to be a blast to watch down the stretch, but don't sleep on the Patriots'...

The Dolphins just created a serious shock in the AFC and MVP races by beating the Patriots

With their 2017 season basically over, it's time for Texans fans to turn their attention to...
Now 10 different players have intercepted Tom Brady multiple times in one game

Brady lofted it between two defenders and Lewis snatched it with one hand