DeSean Jackson free agency updates: Redskins closing in?
Here's all the latest news from the pursuit of former Eagles receiver DeSean Jackson.
• 3 min read
With the surprising news from late last week that the Eagles had released DeSean Jackson, a free agency period that was turning somewhat boring has been reinvigorated with new life. Jackson, after all, would be one of the best free agents in any season and now that most of all the top players have been signed for the 2014 season, much of our attention can be focused on him.
Here's all the news that's fit to print on Jackson from Tuesday, the second day in which he was in Washington to meet with the Redskins.
-10:19 p.m. ET: The Redskins might be closing in on a deal. According to NBC Washington, Jackson was scheduled to be on a flight out of DC on Tuesday night, but he skipped the flight and will be in Washington until at least Wednesday morning. 
- 3:18 p.m. ET: According to CBS Sports NFL Insider Jason La Canfora, with the 49ers, Raiders and Bills in the mix for Jackson's services, the Redskins are hoping to keep him in town until he signs.
Skins hoping to keep DeSean Jackson in town til he signs. 49ers, Raiders, Bills are among teams in this thing as well

— Jason La Canfora (@JasonLaCanfora) April 1, 2014
- 2:51 p.m. ET: The Redskins and Jackson's agent are sitting down now to begin negotiations, according to NFL Network.
- 2:31 p.m. ET: CSNWashington.com's Tarik El-Bashir tweets that Jackson has left Redskins Park after "about three hours of meetings."
-1:49 p.m. ET: How will Jackson's reputation survive the latest reports? That's easy, says CBSSports.com's Gregg Doyel.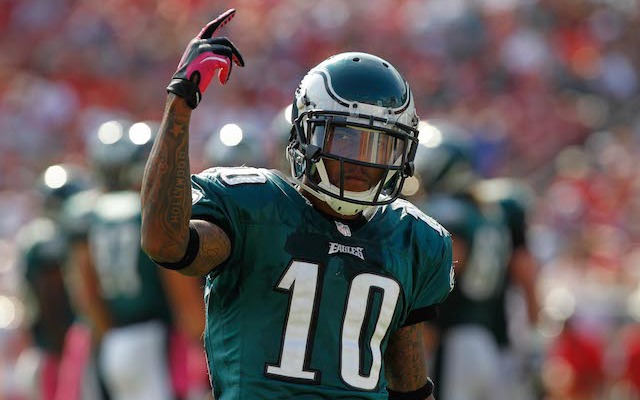 "All he has to do is show up on time, work hard when he gets there and stay out of trouble when he leaves," Doyel writes. "You know: Be an adult."

-1:02 p.m. ET: Meanwhile, the Eagles haven't wasted much time getting Jackson off their stadium facade.
Desean Jackson banner coming down off the side of Linc. Wouldn't want that job. For many reasons! pic.twitter.com/QRwyKTmE2n

— Cindy Webster (@Cindy610) April 1, 2014
12:59 p.m. ET: Apparently, the Browns also are interested in possibly signing Jackson, according to NBC Washington, which writes that Cleveland is "going hard" after Jackson with an offer.
Also, there's this warning to the Redskins.
Redskins source: "If DeSean Jackson gets on the plane...its going to be hard to sign him. He's at the Park now. They can't let him leave"

— Dianna Marie Russini (@NBCdianna) April 1, 2014
-11:54 a.m. ET: There seems to be so much we don't know about Jackson's off-field life, and though he's denied that he has any gang affiliation, he's also reportedly had at least one scary incident in which a fan threatened his life.
That's the word from Bleacher Report's Jason Cole, who writes that the 2012 incident "freaked [Jackson] out."
"He thought it was gang (related) at first," a source told Cole.
More from Jackson's reported gang ties.
"Is he a gangbanger? No, I don't think so," an AFC team executive told Cole. "Our belief is that he's kind of a wannabe, at worst. He hangs out with bad guys because he thinks it's cool, but he doesn't really do bad things."
-11:47 a.m. ET: It sounds like Jackson's meeting with the Redskins is going swimmingly.
According to ESPN.com, the two sides "appear to be moving closer to an agreement on a contract."
Make of that what you will.
-10:45 a.m. ET: While the Raiders seemingly would make a good landing spot for Jackson -- and it seems that Raiders fans really want Jackson on their team -- it sounds like general manager Reggie McKenzie has some concerns.
Acccording to PFT, McKenzie is "leery" about Jackson because of his me-first reputation. That doesn't, however, necessarily mean the Raiders wouldn't sign Jackson if given the chance. 
-8:41 a.m ET: Not surprisingly, DeSean Jackson's arrival in Washington caused plenty of media coverage. There were photos of Jackson on the escalator embedded in tweets and plenty of speculation on whether the Redskins would even let Jackson leave town without a contract.
And there was the requisite TV reporter walking with Jackson and trying to get him to say something. To say anything.
Here was the Philadelphia ABC affiliate's attempt. Which actually yielded a quote or two. Though it's not like Jackson was thrilled to be interviewed at the moment.
In the past week, Marshawn Lynch and Michael Bennett have both sat during the national ant...

As expected, the internet had jokes about the Chick-fil-A at Mercedes-Benz being closed on...

Harrison is the franchise's all-time leading sacker, but J.J. Watt's brother will get the starting...
More than 17 percent of fans say they would never consider dating a Pats fan

Brady said that his lack of speed is why he fell so far in the draft in the first place

If Thomas is right, that means it's bad news for DeShone Kizer's chances of starting early