DeSean Jackson is hoping Robert Griffin III will switch to No. 3
DeSean Jackson is holding out hope that RG3 will give up his number so Jackson can wear No. 10 in Washington.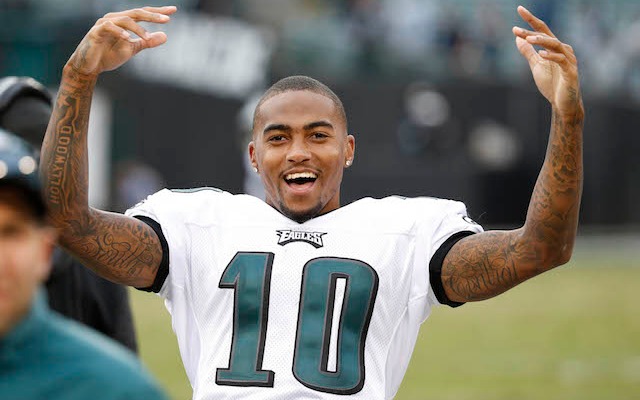 More NFL offseason: Mock Drafts | Prospect Rankings | Pro days | Top free agents
DeSean Jackson is officially a Washington Redskin. We know that because he signed his contract on Wednesday afternoon. 
DeSean Jackson has officially signed his contract: pic.twitter.com/wADgNTnTro (via @Redskins)

— Eye on Football (@EyeOnNFL) April 2, 2014
Now the next question is: What number will Jackson wear in Washington? And that question isn't as easy to answer as it might seem.
Since his rookie year in 2008, Jackson has worn No. 10. There's a small problem with getting that number in Washington though: It's already taken. And it's taken by someone who Jackson probably won't be able to buy off. That someone would be Robert Griffin III.
Even though RG3 has worn No. 10 since high school, Jackson is still holding out hope that the Redskins quarterback will give the number up, "We talked about it a little bit, but there hasn't been a decision that's been made yet so far," Jackson said on Wednesday. "Maybe RG3 will wear No. 3 and I'll try to get 10. We'll see how it goes."
One option Jackson doesn't have is switching to his college number. The former Cal wide receiver wore No. 1 while playing for the Golden Bears, but under NFL rules, he's not allowed to wear that number. Wide receivers have 20 options when it comes to jersey numbers: they can either wear a number between 10 and 19 or a number between 80 and 89.  
Griffin could theoretically make the switch to No. 3 though because quarterbacks can wear any number between one and 19, but it doesn't sound like that's going to happen. 
Fans everywhere please calm down. Not changing my # @DeseanJackson10 will kick off his new beginning with us in a new one #HTTR

— Robert Griffin III (@RGIII) April 3, 2014
In the past week, Marshawn Lynch and Michael Bennett have both sat during the national ant...

As expected, the internet had jokes about the Chick-fil-A at Mercedes-Benz being closed on...

Harrison is the franchise's all-time leading sacker, but J.J. Watt's brother will get the starting...
More than 17 percent of fans say they would never consider dating a Pats fan

Brady said that his lack of speed is why he fell so far in the draft in the first place

If Thomas is right, that means it's bad news for DeShone Kizer's chances of starting early