DeSean Jackson offers $50K reward for info on his home burglary
Last week, DeSean Jackson's home was burglarized, and now he's offering money for information.
• 1 min read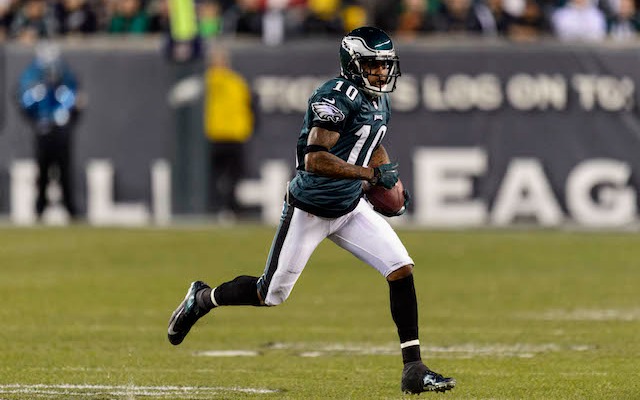 In the week after the Saints ended the Eagles season with a win in the wild-card round, Philadelphia receiver DeSean Jackson's home was burglarized, and thieves reportedly made off with $250,000 in cash, $125,000 in jewelry and two handguns.
Now, Jackson is offering a $50,000 reward for help in finding those who took his belongings, according to the Philadelphia Daily News.
"DeSean is clearly upset that his home was burglarized while he was out of town on vacation. He has always felt very safe in his community, and it concerns him someone would victimize his place of residence," Jackson publicist Denise White said in a statement. "He had personal items, jewelry and a small amount of money taken in the burglary, however the amount that has been previously reported is inaccurate."
Jackson lives about a mile from the Eagles practice facility, and there were reportedly no forced signs of entry at his home. Jackson's mother was the one to discover the robbery, and according to a report, one safe was missing from the house and two others had been cracked open.
Follow Josh Katzowitz on Google+
The Vikings coach says the way that linebacker Anthony Barr tackled Rodgers was within the...

The defending NFC champs look lost after home defeats to the Bills and the Dolphins

Wondering which NFL teams are going to win in Week 7? You've come to the right place to find...
The Chiefs quarterback admitted that he was fired up after Mitchell's takedown

The former Heisman Trophy winner closes out the Colts -- and spoils the night for gamblers

Also on the long TD, Marcus Mariota saved his lineman from what may have been a disastrous...