DeSean Jackson on being released by Eagles: I was definitely hurt
DeSean Jackson says that he was 'hurt' when the Eagles cut him on March 28. The wide receiver also said he's 'never' been affiliated with any gangs.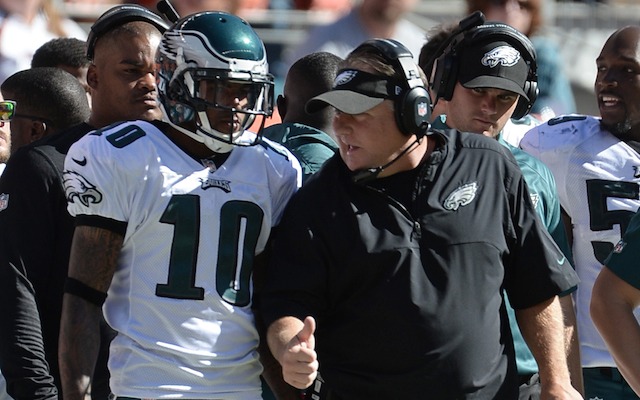 More NFL offseason: Mock Drafts | Prospect Rankings | Pro days | Top free agents
In his first television interview since being released by the Eagles on March 28, DeSean Jackson said he was hurt by the move and that coach Chip Kelly didn't specifically explain to him why he was released.
"I was definitely hurt," Jackson said of being cut by the Eagles in an interview with ESPN. "To be released, it was a humbling experience, but it definitely hurt. I was at the peak of my career, I just came off the best year of my six-years in the NFL. I can definitely say it hurt, but it's a business, it's the NFL."
Even though it's been over a week since Jackson was released, the Eagles still haven't commented on why they cut him and the NFLPA is now investigating the matter.   
It could have been gang ties: In the hours before Jackson was released on March 28, NJ.com reported that the Eagles were 'concerned with his "continued association with reputed Los Angeles street gang members who have been connected to two homicides since 2010."
However, there's also a few other reasons Jackson could have been cut. It's possible that money played a factor. Jackson had three years left on a five-year deal that was going to pay him over $10 million in 2014.
Another theory is that Kelly just got tired of Jackson's locker room antics. A report released on Friday suggested that Jackson was cut because he was blatantly insubordinate, regularly threw temper tantrums and cussed Kelly out several times in front of the team.
Jackson said the report of his temper tantrums and insubordination came from someone with an 'opinion,' but didn't necessarily deny anything outright.
"It's an allegation once again. We're dealing with someone who has an opinion," Jackson said. "How much truth to that opinion is real? I don't live my life and go out there really worrying about what people say. I try to do things the right way and try to be a professional. Have I always been perfect? Have I always done things the right way? Have I found out a better way of doing things? Yes. I had to learn I'm not perfect. No one is. But at the end of the day, I'm going to learn how to do it the right way."
As for why he was actually cut, the wide receiver wasn't given a specific reason by Kelly. Jackson said he was told that the Eagles were 'going in a new direction.'
"The conversation I had with Chip Kelly, was a deep personal conversation. He called me and was basically like, 'We're moving forward, I think it's best for the team and I think it's best for yourself. I think it's best for us and I think it's best for you, we're going to let you go negotiate with 31 other teams,'" Jackson said.
"It was more of, 'We're going in a new direction,'" Jackson continued. 
Jackson also commented on the allegations that he has gang-ties. The new Redskins receiver echoed what he said in a statement on March 28: That he's not involved in a gang and he doesn't have gang-ties. 
The 27-year-old, who was raised in Los Angeles, mentioned his rough upbringing as a reason someone might believe he has gang-ties. 
"I'm the product of the environment. Things I witnessed and the things I saw on a daily basis kind of surrounded me around that," Jackson said. "Do I know friends that are out there involved? Yes. I'm trying to stay away from that. I don't try and intervene. As far as me being affiliated and me being a gang member, never, not once. Never have any affiliation with going out and doing anything that's against the law."
Not only did Jackson deny any gang associations, but he also said that he was usually the one trying to help, "I always felt that I'm a product of my environment, but at the same time, I'm the guy that wants to go out there and do things the right way," Jackson said.  "If there's anything I can do to help anything any of my friend's that are doing these things, that's what I'm going to do."
All of the sudden, two of the most interesting games on the 2014 NFL calendar are the two games the Redskins and Eagles play against each other. 
Dak Prescott was efficient and explosive and DeMarcus Lawrence was dominant in the Cowboys...

The Dallas receiver threw up the X after his score, and he certainly deserved it

The singer sent a message with a verse of scripture on Monday night
The Cowboys owner joined in a demonstration with the Cowboys players before Monday night's...

Look for Ezekiel Elliott and Dak Prescott to rebound after a rough outing in Denver

Quarterback Russell Wilson was one of the chief proponents for the Seahawks staying in the...