DeSean Jackson signing a no-brainer for Redskins -- and Jackson, too
DeSean Jackson, despite foibles many great players demonstrate, gives the Redskins an explosive receiver and it weakens an NFC East rival. Signing him makes sense on every level.
• 1 min read
More: Redskins sign Jackson | Doyel: He just needs to grow up | More news
The Washington Redskins had to explore signing DeSean Jackson as fully as possible. It just makes sense on every level.
They weaken a division rival, in Philadelphia, whether the Eagles want to admit it or not. They gain an elite playmaker who can diversify and amplify their offense. They add speed and a player who can make it happen around the line of scrimmage in the screen game or with end around, as well as a true weapon downfield.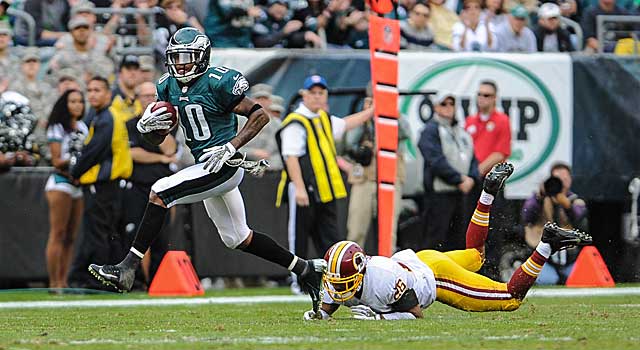 What they don't add is size, in that the top three receivers on the team (Pierre Garcon and Andre Roberts) are all shy of 6-feet tall. That's something of an issue, but Jackson is a proven commodity, and who is to say that whomever the Skins would have drafted would have panned out. With their drafting history, especially at that position, you can make the case they would have struck out.
Jackson, despite the smear campaign lobbied against him late in his Eagles stint, has no arrests, no real run-ins with the law. He can be surly and all that at times, but that's true of so many great players. He wants to win, he plays with a ferocity and an intensity and plays much bigger than his size.
He should be a fit with Robert Griffin III the way he was with Michael Vick and his inside knowledge of the Eagles offense can't hurt, either. Not to mention that this cat will be beyond fired up to try to stick it to Chip Kelly twice a year.
And the Redskins get Jackson on a contract that won't cripple them in any way. With $16 million fully guaranteed. It's essentially a two-year deal. And after that, if it doesn't work out for some reason -- off field or whatever -- they can walk from the deal with no cap or cash hardship and Jackson could hit the market yet again before age 30.
It's a gamble well worth taking for both parties. And for Jackson -- aside from Super Bowl favorites like Seattle and San Francisco, who wouldn't be offering as lucrative of deals -- the Skins certainly are a preferable option to, say, Oakland or Buffalo or Cleveland, other teams who were monitoring this situation.
Plus the Eagles' formula for winning late, the AFC playoff mish mash and a budding young Vikings...

Here are the Week 11 grades for every team that played Sunday

The Eagles move to 9-1 after beating the Cowboys by four touchdowns
Peterman threw five interceptions in the first half before getting yanked

The Vikings' coach addresses the team's cloudy quarterback situation after their eighth win...

Green Bay could have brought in a veteran quarterback but decided to stick with Hundley