DeSean Jackson to LeSean McCoy: Don't hold out
Eagles receiver DeSean Jackson -- who held out last year -- has taken it upon himself to give some advice to running back LeSean McCoy. Whatever you do, Jackson said, don't hold out from training camp.
• 2 min read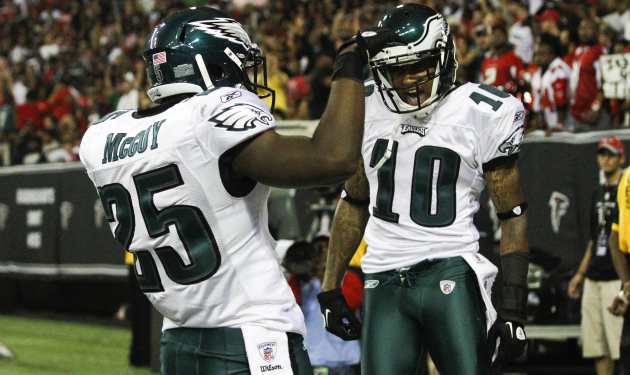 Jackson is simply trying to give good advice to McCoy. (US Presswire)
With the
Eagles
set to pay him $565,000 in 2011 during the final year of his rookie contract, receiver
DeSean Jackson
, a longtime advocate for a long-term contract, held out from training camp. But when it became clear the team was not going to reward him for not showing up,
he ended his truancy
and proceeded to have a decent (but not great) season.
Even though it led him to
a franchise tag
-- and then a long-term deal
worth $48.5 million
-- Jackson did himself no favors by holding out and then turning himself into one of the Eagles biggest villains (complete with ineffectiveness and charges that he wasn't trying his best).
That's why Jackson has taken it upon himself to give some advice to running back
LeSean McCoy
. Whatever you do, Jackson said, don't hold out from training camp.
"Looking back now it really hurt me more than I thought it helped me," Jackson said, via the
Philadelphia Inquirer
. "Hopefully he saw everything I went through, and hopefully [agent] Drew [Rosenhaus] won't have him go through the same thing."
"Them feeling like me holding out was more of a statement and trying to prove something. I just hope he doesn't take it there with the team because the Eagles are a team you don't want to try force anything with them or strong-arm them, because you know Joe Banner, Howie Roseman, Coach [Andy] Reid, they're not the easiest people to force to get things with."
As upset as Jackson, also represented by Rosenhaus, became before last season, it doesn't appear that McCoy and the team are on bad terms as they work toward a long-term deal. McCoy attended the beginning of offseason workouts last month, and though he's set to make $615,000 in 2012, there is a sense of optimism surrounding the two sides.
If Jackson, before his contract, was a pouter, McCoy is prone to smiles.
"Everybody is different, all guys are different," Reid
said in March
. "You guys deal with [McCoy] and you know he comes to work every day with a smile on his face. He's excited to play the game.
"We like LeSean and we think he's good for our organization, both on the field and off of it. And so, we'll work something out there as we go. But listen, these things take a little bit of time. That's how it works. But it'll work out."
Jackson, though, knows it won't necessarily be that easy for McCoy to continue to grin if he's not rewarded at some point.
"It's really hard," Jackson said. "He's just going to have to go through it. Hopefully he can manage and not . . . let it distract him like how it kind of distracted me."
Yes, because in the end, Jackson got fortunate that his poor late-season attitude didn't kill his chances at a long-term deal -- with the Eagles or with anybody else. He knows McCoy, if he gives a similar performance, might not be so lucky.
For more NFL news, rumors and analysis, follow @EyeOnNFL on Twitter, and subscribe to our Pick-6 Podcast and NFL newsletter. You can follow Josh Katzowitz on Twitter here: @joshkatzowitz.
Here's an up-to-date look at the 2018 Pro Bowl roster

New England is 3-0 wearing white in Super Bowls under Bill Belichick

Bettors are favoring the Eagles to keep Super Bowl LII close, but the Patriots remain clear...
No one wants to give the Eagles any respect

The three-time Grammy winner will sing before Super Bowl LII on Feb. 4

Here's a look at the NFL's entire postseason schedule for 2018