Despite the tears, Moreno a major contributor to Broncos offense
Broncos running back Knowshon Moreno went from being labeled a bust last season to the team's top running back.
• 4 min read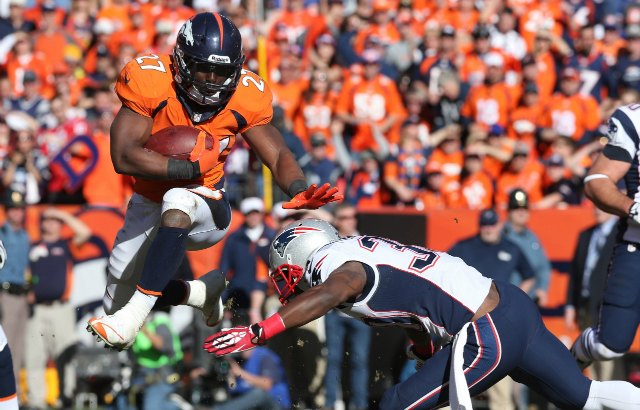 More SB coverage: XLVIII odds | Expert picks | Super Bowl weather | Latest news
JERSEY CITY, N.J. -- Those gargantuan tears emerged from the ducts around his eyes, leaving rivers of moisture trailing down his smooth face, and Knowshon Moreno immediately sparked an Internet uproar.
The big football player had shed tears during the national anthem before the Broncos game vs. the Chiefs, and they were massive. And sparked a massive discussion online.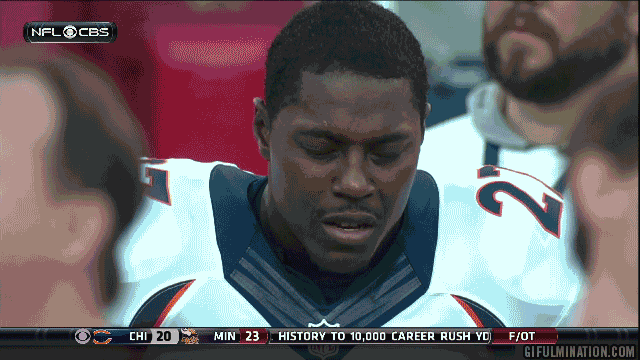 What was the deal? Was the Broncos running back a softy? Was he too wrapped up in the moment? Was he scared to play? Did he weep because of Francis Scott Key's lyrical acumen?
No, no, no.  
Instead, during the song, he ponders the journey he's taken to get to this point, a child raised by his teenage parents who was living in homeless shelters before settling with his grandmother at the age of 11. He thinks about that, about how grateful he is to be in this position, about what he experienced and what he learned from those experiences.
The tears appeared with the intensity of a man consumed with rage, but they were not the tears of negativity. They were tears of reflection and tears of wonderment.
"I think everyone has that given drive," Moreno said Monday. "For me, it's never been different. I'm always an emotional guy, I play with my emotions on my sleeve and just go out and try to play as hard as I can ... It's funny because that's just one moment [the media] ever caught. I don't know how many games I've played in, but it's never any different. You all just probably caught that one moment. I would never change."
The tears, he means. Or, as he puts it, the emotion. But Moreno needed to change in order to last on the Broncos squad and transform himself from a first-round draft pick well on his way to being labeled a bust to a 1,000-yard rusher who is a major component of a Denver offense that's one of the best in NFL history.
Two years ago, Moreno lost his starting job to Willis McGahee and then suffered a season-ending knee injury. A year ago, Moreno was inactive for eight-straight gamedays.
But this season, he rushed for 1,038 yards and 10 touchdowns while catching 60 passes for 548 yards and three more scores -- all are career highs.
What happened? Well, for one, Moreno took better care of the ball, cutting way back on his fumbles. And for reason No. 2, coach John Fox points to his maturity.
"With Knowshon, the thing that's really improved is his accountability and dependability," said Fox, who calls Moreno one of the team's most improved players. "It's not just toting the rock. You've got [pass]  protections. We change a lot of things [at the line of scrimmage], and you have to be a sharp guy. He's been professional as far as his preparation. He's developed into one of the most dependable guys when it comes to assignment football.
"It's just maturity. These are young people -- young and rich and famous people. That's not a great combination for success. I've just seen a tremendous amount of growth. It 's why I do what I do, watching that growth and development."
His time on the scout team, though, couldn't have been easy. Especially when the outside world began proclaiming that he was a first-round bust.
"Even though I was inactive and this was happening, I still thought in my heart that I'm still part of this team and have to help this team out in some way," Moreno said. "Things happen throughout the game, and things happen throughout the season. You make mistakes and things happen. For me, I just want to get better. My role was not to be playing on Sundays. Wednesday was my Sunday, Thursday was my Sunday when I was out there on the scout team trying to make the defense better."
Now, this Super Bowl Sunday is the most important Sunday of his career. He's the team's No. 1 running back, and he's played well throughout the season. He knows he can't let his emotion get in the way of his pregame preparations.
"Listening to other guys who have been in this position before playing in the Super Bowl, it's a lot going on. They say you have to hold your emotions down. You're going to be fired up, but there is so much going on that sometimes you've got to calm down," Moreno said. "I think that will be my toughest battle, just being able to stay composed until the fires start burning down."
Either way, the TV cameras likely will be watching. And Moreno probably will cry.
Follow Josh Katzowitz on Google+
The former Buccaneers kicker did not have things start well for him in Chicago

Bears special teams showed up in a big way against Arizona

Beast Mode got loose with Oakland and looked pretty impressive in the early going
Beast Mode was one of several players to sit during the Raiders-Rams game

The cleaning staff in Houston missed a couple of things while cleaning up after Super Bowl...

Marvin Jones had some serious fun in the end zone after scoring against the Jets