Dez Bryant, showing focus and leadership, primed to join NFL's elite
Determined to continue the success he had in late 2012, Dez Bryant is diligent in his drills. And Dallas' former problem child is taking on a leadership role in practice. This might be the year Bryant truly becomes great.
• 8 min read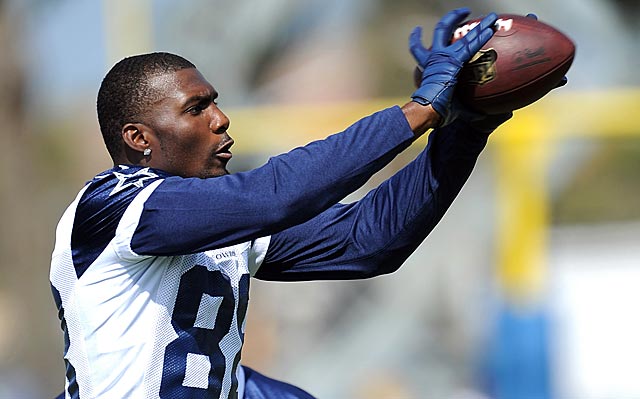 OXNARD, Calif. -- Gil Brandt was once the architect of the Dallas Cowboys and one of the gurus of modern scouting. And he has seen, Lord, thousands and thousands of training camp practices. So it takes a little something special to get him nearly jumping out of a golf cart in mid-July over an otherwise mundane session.
But a good 18 hours after Dez Bryant put on an exhibition on these practice fields, Bryant was still effusive in his praise when I ran into him Tuesday morning. "Did you see Dez yesterday?" he asked and then went on to detail each extraordinary turn of his body, his one-handed catches, his determination to get to the football. "He put on a show." Yes, this very well could be the season that Dez Bryant puts it all together. Wouldn't surprise me one bit.
With most NFL teams not yet even convened for camp, or perhaps just starting to gather their rookies, Bryant has already become the early story of the Cowboys' preseason. He is making plays at a ferocious level, and while I'm usually hesitant to make too much of any camp spectacle, especially this early in the process, it certainly seems as if Bryant is primed to join the elite at the wide receiver position.
"That's not a crazy thought at all," said Cowboys Hall of Fame receiver Michael Irvin, whose No. 88 Bryant wears and who has been watching camp this week. "I see him in joining that group."
For so long, we've known he has all the physical tools you could ever desire, but it was his propensity to associate with knuckleheads and get into (relatively minor) trouble and succumb to his immaturity that led him to fall to Dallas at 24th overall in the 2010 draft in the first place, and clearly he has had more than one misstep along the way to reach this point where he seems primed to true greatness.
No longer a man-child, he's simply at times a man among boys, and if he truly does have his mindset righted and primed to fully complement his 6-2, 222-pound frame, then it's hardly unfathomable that we could soon be mentioning him among the likes of Larry Fitzgerald and Calvin Johnson (to say nothing of what he might cost as he enters the final year of his deal).
"Dez is definitely picking up where he left off last season," said receiver Anthony Armstrong, who worked out occasionally with him in the offseason and is often seen by his side coming off the practice field. "I stay on Dez every day and try to push him to push himself every day to get better and get rid of some of those bad habits to get him to that very top level. He is so talented, that everybody who plays receiver wishes they had his physique and speed. To actually be able to see that up close in person, you want to make sure he gets the most out of it."
And, perhaps more surprising than Bryant on the cusp of fulfilling his prodigious talent is the fact that the buzz around here is he's actually becoming one of the leaders of this football team, someone whose passion for the game in practice and development as a person is a cause for the Cowboys to rally around. He appears to have put behind him the occasional drops and mental mistakes that have plagued him, as well as his tendency to pick up nagging injuries.
"Dez is leading by how he's practicing," head coach Jason Garrett said. "He loves the game and he practices really hard and plays really hard, and that's infectious ... Dez is a very influential guy."
There was a perception that Bryant might have demons, or be a troubled soul. That's not who he is. He was immature and had some bad influences in his life, but Calvin Hill, a former star athlete himself and consultant in the team's player development program, is among those who have worked to help mentor him.
"He's a nice young man," said Hill, who isn't one to bestow false platitudes. "He's not a troubled guy. He's a joy to be around, and he's matured. The magnitude of the spotlight he was under was perhaps a little more intense than he initially thought it would be, but there's been a natural progression."
Hill compared Bryant's singular competitiveness to that of Irvin, Roger Staubach and Ray Lewis -- rarified stuff -- and believes he could be as dominant as any receiver in the game.
"It's his intrinsic passion for football that makes him do the right things and stay in line," Hill said. "He wants to play football for the Dallas Cowboys and he wants to be great, and he understands that to be considered great you have to play on a great team, and you're seeing that leadership.
"Lot's of guys hate to lose; he hurts to lose, and that's a quality that shows me leadership, and other people should hurt to lose. He competes every play. In that sense, he reminds me of Michael, competing every play, or whether just seeing who could throw the ball the farthest."
Bryant said: "Seriously, I don't like losing. At anything. I don't care if it's just a video game. I don't like losing. That's the fun of this game, competing against your teammates [at practice] and competing against the other team."
The sheer intensity with which Bryant is approaching his craft, to say nothing of his physicality (he has been tossing corners around with relative ease) has certainly grabbed the attention of the Cowboys' rookie class. His daily battles with veteran corners Brandon Carr and youngster Morris Claiborne have already become must-see stuff at this camp, and Garrett is emphasizing the one-on-one drills. ("It's a great battle," the coach said. "It's something we really promote.")
"Guys like him come around once in a blue moon," said rookie corner B.W. Webb, who is trying to match Bryant in the trash-talking department but stands no chance in a one-on-one grudge match at this point. "That's a ballplayer there, man. He's big, physical. Goes up for the ball. He's one of a kind.
"It's almost like when you are younger playing against older kids, and you just learn so much from that older kid that when you got to play kids your age, you are miles are miles ahead of them. I don't want to call myself a little kid, but going against somebody like that in practice, when you get to the game, there's not a whole lot of guys out there who are like him. You feel like you've kind of seen it all already."
Bryant's ascent reached new pinnacles in the second half of last season. With tight end Jason Witten off to a slow start and ailing, and former top receiver Miles Austin waning in production and also oft-injured, Bryant truly became the fulcrum of Dallas' offense. In the final eight games, he caught 50 balls (fourth among all NFL receivers), gained an NFL-best 17.6 yards per catch with a league-leading 10 touchdowns (four more than any other receiver), and 11 catches of 25 yards or more (again tops in the league).
"I wasn't paying attention to it, but after the season, there was a lot of hype about it," Bryant said of his second-half surge. "You just have to build off last year, keep staying focused, stay true to my game and just try to get better each and every day."
Bryant is still just entering his prime. Garrett believes with Romo so improvisational by nature, and Bryant being a natural to find openings when the play breaks down, the chemistry between the two is only beginning to flourish.
"I think it evolves every day, and hopefully it gets better," Garrett said. "They're both very instinctive players, and I think we've seen that from the start. Dez just has this knack for figuring out a way to get open. He has all these physical traits -- he's big, strong, physical, he's quick, he can run, he's got great body control.
"But he also has a great feel for the game. You watch him track a football, he just sees it. You ever see a great center fielder and he just understands where the ball is going -- he runs to the spot, he knows where the warning track is, he knows where the wall is and he just catches the ball easily? I think Dez has a lot of those traits. He just has really good instincts for the game."
If this keeps up, and this time a year from now, the story of Cowboys camp won't be Bryant's new leadership role or evolution, it will be how he handles being among the richest and most famous NFL players in the land. Few are more willing to pay big bucks like Cowboys owner Jerry Jones, and with Romo having just cashed in, and the Cowboys run game still a work in progress, Bryant stands to be singularly important to this club's playoff fortunes in 2013.
I like his chances to keep up the pace with which he ended 2012, both on and off the field.
"It just comes down to his consistency," Armstrong said. "Fewer negative plays between the good plays. He keeps putting those big plays together and he's going to be extremely dangerous and it's going to be a big season for him."
After an epic collapse against the Saints, the Redskins are hoping to right the ship

Brice Irvin is not a happy camper right now

Linda Del Rio is not happy with the president
The former New Orleans Saints wideout leads the NFL in 40-yard catches with New England

SportsLine's Mike McClure, a DFS pro with more than $1M in winnings, gives optimal lineup...

Three games with NFL playoff implications make Turkey Day drama easier