Dirk Koetter officially named new Buccaneers coach
The Tampa Bay Buccaneers officially named Dirk Koetter the new head coach on Friday morning.
What we knew on Thursday is official on Friday, with the Tampa Bay Buccaneers naming Dirk Koetter the club's new head coach early Friday morning.
Koetter spent the past two years as the Buccaneers' offensive coordinator under Lovie Smith, who was fired just over a week ago.  
"We are excited to announce that Dirk Koetter will lead the Buccaneers as our new head coach," Buccaneers owner Joel Glazer said. "Dirk has established himself as one of the top offensive coaches in our game while enjoying success at every stop during his college and NFL career. His success with our offense last season, along with his familiarity with our players and our organization, makes Dirk the right man to lead our team moving forward."
Koetter is part of an interesting trend this offseason, with teams looking internally for coaching candidates. The Giants landed OC Ben McAdoo, the Titans look likely to promote Mike Mularkey and the Eagles are poised to bring back Doug Pederson. 
"When I started this search for a new head coach, the focus was on finding someone that could be a strong leader as well as a consummate teacher, and Dirk is both," GM Jason Licht said. "He brings the passion and drive that will re-energize our organization and help us establish the winning culture that will help us become the championship-caliber team that our fans deserve."
The new Bucs head coach was previously a head coach at Boise State (before it was "cool") and then landed the head gig at Arizona State. After that he jumped to the NFL, where he's been an offensive coordinator since 2007, with the Jaguars, Falcons and Buccaneers.
Matt Ryan had his three best season (all over 4,500 yards and 65 percent completions) under Koetter and didn't look like the same quarterback under a new staff (his numbers ultimately evened out).
Jameis Winston threw for 4,000 yards and just 15 interceptions under Koetter's tutelage. As we noted in our 3 things to know, Winston's progression as a rookie -- and keeping some continuity in place for him -- is the No. 1 reason to think promoting Koetter is a good thing.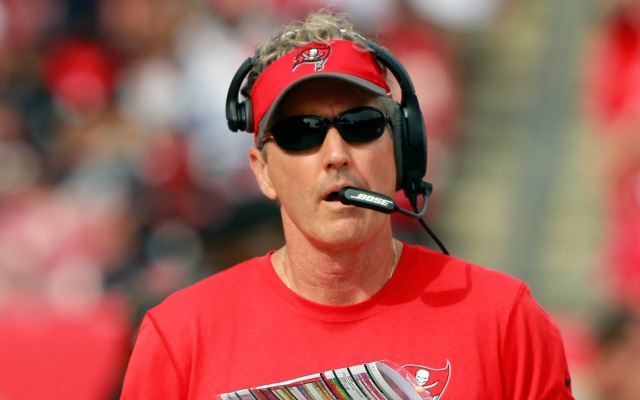 Mitchell's protests that he was pushed into Alex Smith from behind didn't fly with the league...

The Seahawks defensive end said 'the consequences are the consequences'

Who wins Sunday night's Super Bowl rematch in Foxborough? Here are are some clues
SportsLine tapped into its Vegas sources to see which NFL teams professional bettors like this...

The Falcons are sick of talking about the Super Bowl but they continue to blow big leads l...

CBS All Access allows viewers to stream every NFL on CBS game in their local market