D.J. Swearinger: Jadeveon Clowney asks about Texans every day
Texans safety D.J. Swearinger has been talking a lot with former college teammate Jadeveon Clowney and Swearinger says that Clowney has been asking about the Texans 'every day.'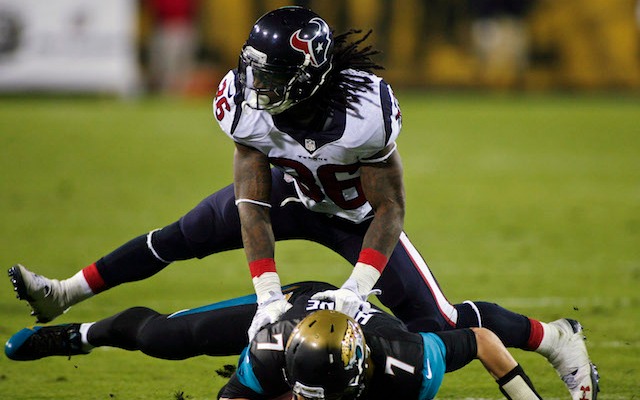 Either Jadeveon Clowney really wants to play for the Texans or he really wants to be the No. 1 pick in the NFL Draft. According to Houston safety D.J. Swearinger, Clowney has been asking Swearinger almost daily about the Texans and who the team's going to draft.
Clowney and Swearinger were teammates for two seasons at South Carolina. 
"He asks me (about the Texans) every day," Swearinger said of Clowney on Thursday, via CSNHouston.com. "He asks me every day. Like 'Bro, what's the word?' I'm like, 'it's all in your hands. You gotta do what you gotta do for these next three months to make them pick you.'"
The advantage of having the No. 1 overall pick is that the Texans can do whatever they want. Houston might draft Johnny Manziel or another quarterback, the Texans could take Clowney or the team could even trade away the pick. 
If it were up to Swearinger, it sounds like he'd take his former college teammate. Swearinger thinks Clowney compares favorably to a defensive end already on the Texans roster. 
"He's an unbelievable player, with me playing with him before I got a chance to play with J.J. (Watt), they're very similar," Swearinger said. "The thing I say is 'it's just another J.J. Watt,' he's just two-tenths faster. He runs a 4.4, he's 6-6, 270 and he has a heart for the game, he loves the game. And you can't pass that up, if you ask me."
"With them two down on the D-line, it would be unstoppable," Swearinger said of Watt and Clowney. 
Swearinger also said the Texans wouldn't have to worry about Clowney's work ethic. The Texans new strength and conditioning coach is Craig Fitzgerald, who also served as South Carolina's strength and conditioning coach in 2011.
"That's sort of somebody who kept [Clowney] straight," Swearinger said. "I think it would be a huge asset getting Clowney, because Fitzgerald always stayed on Clowney on everything and had him working 100 percent all the time. The work ethic thing, I don't think will be a problem."
If you're keeping score at home, Swearinger is the second Texans player to weigh-in on who Houston should draft. Wide receiver Andre Johnson said this week that if making the No. 1 pick were up to him, he'd trade it away. 
 
The Steelers beat the Falcons while the Saints topped the Chargers

Boldin, 36, who ranks ninth in career receptions, is calling it quits after 14 NFL seasons

Reed's toe is healed but can the oft-injured tight end stay healthy?
The Cardinals rookie safety might have a career in break dancing when he's done with the N...

All signs point to Lynch, the former first-round pick, not beating out Siemian in Denver

The NFLPA executive director comes out out firing in a 'Real Sports' segment