DNA of a New Regime: Vikings will be tough, hungry just like their coach
You're not going to find a new coach hungrier than Mike Zimmer. Demanding and frank, the longtime coordinator is just the heavy the Vikings need to turn around their ship.
• 9 min read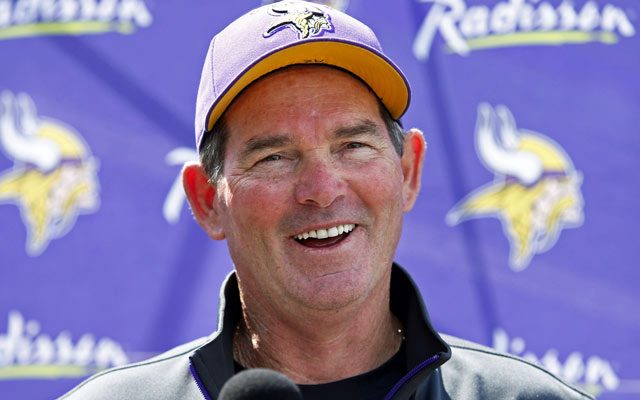 More on Vikings : Camp Battles: Will Bridgewater win QB job? | Training Camps
There were so many interviews, Mike Zimmer himself might have started to lose count.
Often a finalist; never a head coach. At least until this year.
After a battery of head coaching interviews with a bevy of teams over the past few years, and some near-hires, the Minnesota Vikings named Zimmer to the position. And, what they get, at least in part, is likely what held Zimmer back from some other opportunities. He is brutally honest, a trait that endears him to players. He doesn't play politics. There is no BS. He is a football coach. Nothing more. Nothing less.
It won't take long for that to rub off on his team. Players can see through baloney. They can recognize a salesman or an empty suit by the time that first training camp rolls around. Zimmer will bring with him much of the player-friendly, straight-shooter ways of former head coach Leslie Frazier, also a long-time defensive coordinator, but with more sparks, decidedly more colorful language and with more of a mean streak to back it up as well.
Zimmer will expect his players to conduct themselves like men on and off the field, and there will be repercussions for those that don't comply. Discipline will be key, but not in a bombastic, over-the-top, screaming-just-for-the-sake-of-screaming kind of way. If he brings the thunder, it's only because it was warranted, and for a team that hasn't done much to strike fear in opposing offenses for quite some time, it probably will be warranted from time to time as Zimmer's ways and system begin to sink in.
But you won't find anyone hungrier to do this job, and no one has paid more dues than Zimmer. His imprint was all over the turnaround of the Bengals, taking them from doormats to a perennial playoff team, and I can guarantee you he will be missed back in Cincinnati both by players and coaches alike. I'd expect plenty of energy and enthusiasm from this group, and while I expect it to take some time to truly get the Vikings competitive, especially considering the difficult division in which they play, it should take considerably less for Zimmer's mentality and focus to be imparted to his team.
What to expect from the offense
Offensive coordinator Norv Turner is a guru, he calls a helluva game (especially when he can focus simply on that chore on Sundays), and his work with tight ends and quarterbacks in particular have been constants.
I'm not sure there is a true winning quarterback on their roster right now (maybe Teddy Bridgewater will be over time), but several sources told me Turner went to bat big time with management to give Matt Cassel a significant bump in money to retain him, and Turner truly believes his offense will flow with the veteran in play (with the Browns last year Turner wrung every ounce of talent from a limited group, and his offense was humming very well before Brian Hoyer got hurt).
That doesn't mean Bridgewater won't see the field at some point -- particularly if the Vikings fall out of contention quickly -- but I don't anticipate that being anytime soon.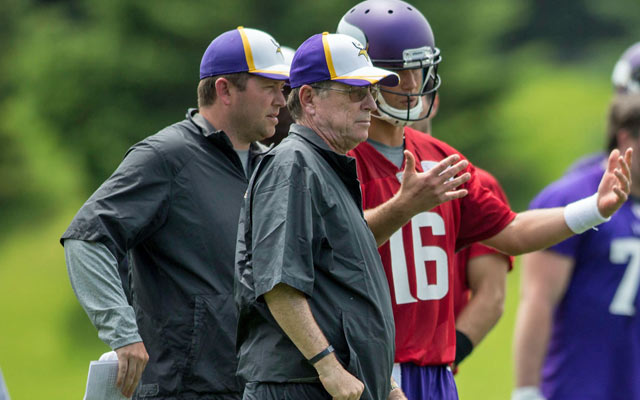 The real benefactor from Turner's arrival could be young tight end Kyle Rudolph. He has flashed well in his brief career, but a true breakthrough in 2014, along the lines of what Jordan Cameron experienced in Cleveland under Turner a year ago, would not surprise me in the least.
Rudolph was limited to just eight games a year ago, but was on pace for 60 catches, and six touchdowns in his third season in the NFL. He could shatter those numbers this season and will undoubtedly see a lot of targets.
Cordarelle Patterson, so talented but so limited as a rookie trying to learn a new offense, should be unleashed more this season, and could be a real deep weapon for the Vikings. He's trying to expand his role beyond just that of an X receiver. Greg Jennings, under less scrutiny this year after his big-money free-agent move to Minnesota in 2013, might thrive more this season as well, though health is always a concern.
Oh, and I haven't mentioned Adrian Peterson yet, silly me. Remember how many carries LT got back with Norv in San Diego? Well, the game has certainly changed some from then, but Turner won't sleep on the run game.
Patterson is among those already raving about Turner's presence, and, internally in years past sources said several players had fundamental differences with former coordinator Bill Musgrave over play calling, Percy Harvin among them.
Patterson, during a press conference with the media during OTAs, said: "I had the opportunity to talk to Josh Gordon over at the Pro Bowl and he told me, 'You got my coach. He's going to get you the ball and it just won't be you, everybody on the team, the running back, the tight ends. Everybody is going to be involved.' When you hear good guys like that saying good things about our offensive coordinator it's a blessing."
I am interested to see how this dome team deals with the elements, however, now having to play outdoors for a few years while their new stadium is being constructed. It will be so very different from playing at least nine games a year in a dome, guaranteed (eight at home and at Detroit). It could be a factor in the kicking game as well, where Blair Walsh was an absolute beast in the dome.
What to expect from the defense
This unit will be much, much more aggressive than what they have seen around there in quite some time. Zimmer will want to attack, and sitting back in a Cover-2 shell won't be a way of life. He is going to demand a lot out of his guys up front, because that's where it all starts for him.
I'm not sure there is a Geno Atkins in this bunch yet, and the interior will likely need work over time. If anyone could get Sharrif Floyd in line, it's probably Zimmer, and if he can get the tackle playing to the first-round spot he was selected in during 2013, then it could change the tenor of the season. More likely, the ends will have to be dominant and wreak havoc in order to make this team more competitive on that side of the ball.
Brian Robison grew from the years toiling under Jared Allen, and has blossomed as a left defensive end. Now he is in a leadership position. And the Vikings stepped up big time to fill Everson Griffin's pockets and keep him from departing in free agency, based largely on potential. His playing time has been limited and now he needs to show he can be an impact player on a regular basis. He will be key to the pass rush, and the pass rush had better be good because the secondary remains very much in transition.
I have a hard time thinking coverage will be a strong suit of this group, even with Zimmer masterminding it. Only three teams gave up more passing TDs of more than 20 yards or more than the Vikings a year ago. Opposing quarterbacks had a 98 rating on passes of 21 yards or longer (seventh-worst in the NFL) and overall passers had a 98.6 rating against the team, third worst in the league.
Personality of the team
I have a hard time thinking this team won't take on the look of Zimmer's defenses with the Bengals. They will be tough and physical and thrive on others counting them out or taking them lightly. It remains to be seen, however, what kind of hand Zimmer has with his offense and relating to players on that side of the ball. That was something he was knocked for at times in the past in jobs he didn't end up landing.
He can be too blunt for some at times, but speaks the truth. That should go over well in the locker room. There should be no lack of fight exhibited by the Vikings and undoubtedly Zimmer is already taking aim at some of the big-money quarterbacks in his division, as Aaron Rodgers, Matt Stafford and Jay Cutler all fit the bill. Zimmer is going to push them, and we'll see how they respond.
"They're testing us," Robison said during OTAs. "There's no doubt about it, they're definitely testing us. They are putting in a lot of stuff to see how quickly we can memorize those types of things, how we play on the run, very fast tempo during practice. Those type of deals not only put physical strain on you but mentally. That's what we need. We need to be able to really push ourselves and try to see where that threshold is for us."
The early buzz
Zimmer has generated plenty of positivity from his players already. And, well, let's not kid ourselves. It's not even August, he's a first-time head coach and everything is rosy this time of year. But the early returns have certainly been favorable.
"They've been great, top to bottom, starting with Coach Zim [Mike Zimmer]," Jennings said during a press conference during OTAs. "Just his presence, the way he carries himself, he's not one of those rah-rah guys who's going to do a lot of talking. He's going to put a lot of action behind what he's speaking. It's one of those deals where accountability is priority No. 1. He's going to make sure everyone is this building, including himself, is accountable for what they bring to the table and what expectations are for this organization."
Outlook
Zimmer has the goods to fix much of what ails this team, but I don't foresee any drastic leaps forward right away. That secondary needs work, and the quarterback position isn't going to win any games for this team, I don't believe. They still face a talent imbalance compared to most of the teams in their division, the NFC is very deep overall, and it's going to be difficult to keep pace with some of the potent offenses they will face twice a season.
And, well, I hate the way the schedule lines up for them. They open on the road at the Rams -- who should be much improved and who can beat you up with their defense -- and then face four straight legit Super Bowl contenders in recent years -- New England, at the Saints, Atlanta, and at Green Bay.
That could lead to Bridgewater taking over by midseason, and I expect him to take some lumps early himself, as almost all kid quarterbacks do. And they'll play just two games in domes all season -- Week 1 and Week 15 -- which will be a major adjustment for them too. A last-place finish in their division wouldn't surprise me, but the future should be bright.
Bennett was one of the few players who escaped punishment after Sunday's melee in Jacksonv...

Jeremy Kerley wins the award for most creative excuse for failing a PED test

Here's every official injury designation for each NFL team for Week 15
Chicago's young QB has steadily improved his game and was superb against the Bengals a week...

This why more people should get married at football games

Larry Hartstein has his finger on the pulse of the Bears and has a strong pick for Bears-Lions...