DNA of recent Super teams reveals younger QBs, retread coaches
Do recent Super Bowl teams share certain characteristics? Pat Kirwan takes a look at the past 10 title games and discovers teams tended to have experienced coaches and not-so-experienced quarterbacks.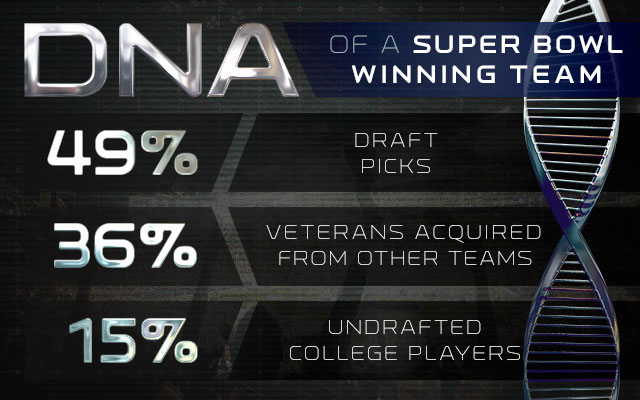 (CBSSports.com graphic)
Ever sit and wonder if your favorite team is pointed in the right direction with a legitimate chance to make it to the big game? Think you know what it takes to be a Super Bowl team? Well, time affords us the best insight on how to build one.
All owners want to hold up the Vince Lombardi Trophy and usually will do whatever they think it takes to get the job done. If owners are smart, they will leave the construction of the championship team to the football people who have dedicated their lives to the mission. Of course, that's easier said than done.
Only 13 teams -- 41 percent of all clubs -- made it to the big game during the past 10 years. Only seven different teams -- 22 percent of all clubs -- actually won the game over that 10-year span.
So what's the trick to winning a Super Bowl? I spent several years in the front office of the New York Jets, where I negotiated contracts and managed the salary cap. But as I examined the past 10 years in pursuit of the DNA of a Super Bowl winner, some of the shared characteristics of those teams (winners and losers) were obvious, but quite a few were revealing.
How the personnel is assembled
Can you build a Super Bowl winner exclusively through the draft? Can you buy a Super Bowl team in free agency? Both things have been tried in the past and with little success. To insure that your talent all peaks at the right time and you don't wind up with an inexperienced offense and aging defense, all possible talent pools must be explored.
I looked at the past 10 teams in the Super Bowl and how their rosters were constructed at the time of the big game. There are some interesting patterns that seem to hold up for the 10 teams and their 53-man rosters.
On average, the teams carried 26 draft picks (49 percent of the roster), they carried eight undrafted college players they picked up after the draft (15 percent) and they averaged 20 players who came from other teams (aka veterans). Those veterans could have been unrestricted free agents, street free agents, trades, or cap casualties (36 percent).
Many would think the Green Bay Packers had the most homegrown draft picks on their roster. In fact, the Pittsburgh Steelers carried more draft picks in their past two Super Bowl appearances than the Packers. When I combined drafted and undrafted homegrown players, the Steelers once again topped the Packers. The Saints came in with the lowest number of homegrown players when they won their title.
So what's the personnel formula for success?
Draft picks: 24-30
Undrafted players: 6-10
Veterans: 17-25
The quarterback
When is the quarterback -- the most important player on the field -- in the optimum window of opportunity?
Winning quarterbacks: 6.1 years of experience
Losing quarterbacks: 8.4 years of experience
Least experienced winning quarterback: Ben Roethlisberger (2 years)
Most experienced winning quarterback: Brad Johnson (9 years)
Experience will help a team get to the Super Bowl, but there is an element of youth to winning the big game. Are guys like Peyton Manning and Tom Brady past their window of opportunity to win a Super Bowl? Only two times in the past 10 years did the older quarterback in the big game defeat the younger one.
There is a growing number of pass plays in Super Bowls, meaning both signal callers better be ready to throw the ball 40 times in the big game. In the past 10 years, Super Bowl games saw 82.1 pass plays per game. Teams that build their offense around the passing game will rise to the top. Teams that don't have sophisticated passing games seem to get filtered out before the Super Bowl.
The running-game numbers back up the theory that the Super Bowl is a passing game. The last time there was a 100-yard rusher in a Super Bowl game was six years ago, when there happened to be two 100-yard rushers (Thomas Jones, Dominic Rhodes). There have been only three 100-yard rushers over the past 10 games.
Pass protection appears to be a more critical component of a Super Bowl team than rushing. That's something GMs might want to keep in mind when selecting offensive linemen in the draft. Roethlisberger might suffer a lot of sacks in the regular season, but in his Super Bowl games he has been sacked only five times in 91 pass plays. There were 821 pass plays in the past 10 Super Bowl games and only 44 sacks, or one every 19 pass plays.
Of note, only six quarterbacks were acquired via free agency, and only two -- Drew Brees and Brad Johnson -- won the big game.
Final thought: Make sure your team has a dropback passer who is young and capable of throwing upward of 41 passes, while getting sacked only two times. Holding on to an older quarterback is a tough decision.
Ownership
People who buy a team and have great hopes of getting to a Super Bowl in the first 10 years of ownership have a reality check staring them in the face. Only one owner with less than 10 years of ownership won a Super Bowl in the past 10 years -- Buccaneers owner Malcolm Glazer won in January 2003.
It's no surprise that the Rooneys (Steelers), Maras (Giants) and Krafts (Patriots) have seven of the past 10 Super Bowl titles. They are all longtime ownership families that also serve on critical committees to advance the league. They also aren't looking for a lot of personal media coverage.
They are visible, but do not dominate the football decisions for their club, or fire coaches impulsively. Stability and continuity are the values they desire for their teams. A number of owners need to model their style after these owners. Ravens owner Steve Bisciotti is in his 13th year atop the franchise.
Final thought: New owners need to be patient as they learn how to be effective owners. They might not want to hear this, but there is a learning curve for owners. Owners need to resist the temptation to be impulsive when it comes to retaining the services of their GM and head coach. The same is true for their roster. Dan Snyder found out you can't buy a Super Bowl with older free agents past their prime.
Head coach
Experience counts in coaching. The winning coach in the past 10 Super Bowls averaged nine years of head-coaching experience when they won the game.
Nowadays, there is a sentiment to not give a head coach a second chance. Everyone seems to call for a new guy to get a chance. The past 10 years indicated that "retread" head coaches in their second opportunity win more titles than upstart coaches. In the past 10 years, the game was won six times by coaches who were fired or left from a previous job.
Jon Gruden
Bill Belichick
Tony Dungy
Tom Coughlin
Only Bill Cowher, Mike Tomlin and Mike McCarthy won during while in their first stint as a head coach.
The losing coach, meanwhile, averaged five years of experience. That list includes the following names:
Bill Callahan
John Fox
Lovie Smith
Mike Tomlin
Ken Whisenhunt
Jim Caldwell
Only Mike Tomlin remains with the team he captained to a Super Bowl defeat.
Final thought: Too many teams keep reaching for the hot coordinator and look past the talented head coach who got fired by an impulsive owner looking to shake things up. Right now, Lovie Smith, Ken Whisenhunt and Jim Caldwell aren't running their second team -- they're either out of work or settling for a coordinator's job. History says these men should have been hired. The Kansas City Chiefs must be aware of this trend -- they quickly hired Andy Reid when the Eagles let him go.
How important is the defense?
Most coaches adhere to the philosophy "defense wins championships."
Bill Cowher likes to tell me defense gets you to the playoffs but the passing game wins Super Bowls.
Average overall defensive ranks:
Winning team: 10.7
Losing team: 12.4
Defensive sacks:
Only two Super Bowl winners ranked lower than sixth in sacks. The Saints were 13th and the Colts were 30th.
Average rank of the other eight winners: Third
Average rank of the losing team: Seventh
Ranked in the bottom half of the league: 25 percent of the teams in Super Bowls
Points allowed:
Winning Super Bowl team: 18 points per game during the season
Losing Super Bowl team: 19 points per game
Final thought: If a GM is looking at a defense that gives up over 20 points a game, he has some work to do. Super Bowl defenses need to be ranked in the top 12, capable of generating more than 40 sacks and at least 32 takeaways a season, and give up under 20 points a game. Anything less than that makes a Super Bowl appearance more of a dream than a reality.
Battle tested
There are a number of solid teams that know how to make the playoffs but they just can't get to the Super Bowl. It has been my experience that being battle tested becomes a critical factor. Unless a team has a lot of experience in this area, it will fall to the wayside as each step of the playoffs raises the stakes. The biggest reason why a 9-7 Giants team won it all last season was how much experience the offense had in pressure situations.
Key areas:
Fourth-quarter passing
Passing when the team was losing
When Eli Manning threw the ball in losing situations in 2011 he was spectacular, completing 226 of 355 passes (63.7 percent) for 3,063 yards with 21 touchdowns. In the fourth quarter, he was just as impressive, completing 120 of 182 passes (65.9 percent) for 1,715 yards with 15 touchdowns.
Winning quarterbacks in the past 10 years finished the regular season with impressive numbers when stuck in losing games. The 10 quarterbacks averaged 1,333 yards and 11 touchdown passes when their teams had to come from behind. The 10 losing offenses were able to throw an average of nine touchdown passes and 1,285 yards when losing.
Final thought: There are multiple lead changes in Super Bowls (and, for that matter, in many playoff games). Your favorite team isn't getting to the Super Bowl unless it can complete at least 60 percent of passes in those situations, and puts up at least 175 attempts while losing just to refine the skills required to get into the game.
Front offices
There are two models for running an NFL franchise: Coach as GM, and the separation of the two jobs. When you factor in the Patriots, who made it to the Super Bowl four times in the past 10 years with a GM/HC in Bill Belichick, as well as GM/HCs like Andy Reid and Mike Holmgren, that makes six appearances with that model and 14 for teams that separate the two jobs. (I'm including Holmgren in the first group even though he was no longer Seattle's GM when the Seahawks reached Super Bowl XL; he brought in most of the key players while he was GM.) Eight of the 10 winners had a true GM and a different head coach. To my knowledge, only one of the head coaches of the 20 didn't have final say on the 53-man roster. As we head to New Orleans, both the Ravens and 49ers operate with a true GM and a head coach who has control of his coaching staff and the 53-man roster.
Here's every official injury designation for each NFL team for Week 15

Foles replaced Vick during his previous tenure in Philadelphia, appearing in the 2013 play...

Mike Tierney has owned NFL totals and has a strong play for Chargers-Chiefs on Saturday
Dorsey didn't guarantee Jackson would return as coach in 2018

Everything you need to know about the Packers-Panthers game on Sunday afternoon

The Lions will be wearing their Color Rush uniforms for the first time on Thursday