Do NFL rules give the running quarterbacks an unfair advantage?
Defensive players will be howling if they can't treat an RG3, Colin Kaepernick or Cam Newton like a RB when the go into the pistol.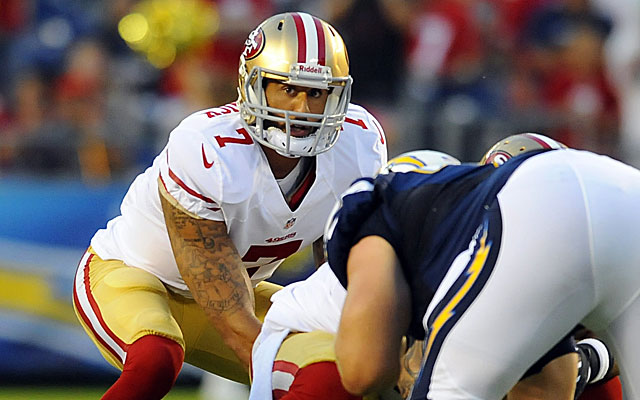 Many storylines develop during NFL training camps that will carry over into the regular season. Now that the last preseason games have been played, let's examine some of them.
Injured reserve compared to last year
Before Thursday night's preseason games, 128 players were on injured reserve. That equates to just shy of three football teams of players gone. Owners will be paying those players while they rehab from injury. Some players will return in 2013, others will call it a career.
I know the owners make a lot of money off preseason games, but when is the lost services of so many players and the ripple effect on the roster throughout the season going to get clubs to think about eliminating the preseason games? When will clubs admit they could get more work done in two controlled scrimmages with other clubs and get more players to opening day for the real games?
I would much rather see a 17th regular-season game added to be played on a neutral site (i.e. Europe, Mexico, Canada, Los Angeles, San Antonio, etc.) and no team giving up a home game. That would be better than four preseason games, two of which are forced on season-ticket holders.
Add one team to the playoffs in each conference and give only the top seed a bye. Charge $10 to watch the scrimmage and most teams will fill their stadium. I watched 20,000 Redskins fans sit on the side of a dusty hill to watch a practice and 10,000 fans watch a walk-through.
Defending the pistol
The hottest topic on my camp tour was defending the 'pistol.' Most defensive coaches and players I spoke with claim that aggressive, attacking defenses is the best answer to knocking quarterbacks around and out.
NFL defenders believe that once a QB starts to run out of the pistol, he should be treated like a running back. But after listening to former head of NFL officials Mike Perrera, I think there is a gray area that will create controversy during the season.
If after beginning a pistol run the quarterback can quickly establish a posture of a passer in the pocket -- creating a tackle box -- he regains all the protections given to the defenseless QB.
How is a crashing defensive end assigned to a QB that runs faster than him and with a history of running (Robert Griffin III, Cam Newton, Colin Kaepernick) supposed to adjust if a running QB morphs back into a pocket passer?
Defenses are clearly talking about assignment defense and someone is assigned the QB. Is the QB going to be allowed to pull the ball from the back, take one or two steps threatening the keeper, and then all of a sudden pull up and establish a posture as a passer? Get ready for lots of complaints on Monday talk shows from fans.
Undrafted rookies still on rosters
There is still a possibility we will see an undrafted rookie QB start opening day in Buffalo. That's never happened before so stay tuned.
Even after the final cuts, I bet close to 100 undrafted players get a chance on the practice squad and about 30 will make the 53-man rosters.
Three starters for the Packers were undrafted. Look for more undrafted offensive linemen to make opening day rosters than any other position group. The whole league is looking for linemen right now.
The in-game experience
Every owner I met with this summer wanted to talk about the enhanced in-game experiences the organizations are working toward. More electronics to see what is going on around the league while watching a live game, access to the locker room via video, and potentially the ability to hear what's going on down on the field between coaches and players.
I polled the listeners to my Sirius NFL radio show about all these new ideas and the overwhelming majority said lower ticket and food prices would make them a lot happier than getting all the new gimmicks.
Open up the game-day rosters
Concussions alone are a reason to open up the game-day rosters. The league is not going to let players with concussion symptoms go back in games this year, which is the right thing to do. Six owners I spoke with said they would be in favor of having 50 players active for game day, with eight-man practice squads.
There is no reason to ask a guy to finish a game that is less than 100 percent because there is no one else on the sideline that can go in and do the job.
All six owners said they saw no reason to wait for the offseason to discuss the idea.
Madden season is almost here again. Here's everything you need to know.

Zeke reportedly didn't do anything wrong but, given his suspension, this isn't a good look

Cutler's newfound enthusiasm in Miami may seem off-putting to some, but to him it's a new...
'Snacks' Harrison made a point to call out Browns fans on Twitter after the game

Martz unloaded on the Rams for hiring the youngest coach in the league

Jackson is deciding between Brock Osweiler, Cody Kessler, and DeShone Kizer