The Colts came out of left field Tuesday announcing Andrew Luck would miss 2-6 weeks with a lacerated kidney and a partially torn abdominal muscle.
The injuries sound really painful and the timeline almost doesn't meet the expectations of what you think you'll see when you hear "LACERATED KIDNEY." 
A dcotor in Indianapolis agrees, telling Stephen Holder of the Indianapolis Star the injuries that Luck's fighting are like that of a car crash and "not very common." 
"We most commonly see this kind of injury associated with motor vehicle crashes or motorbike crashes," said Dr. Lewis Jacobson, chief of trauma at St. Vincent Trauma Center in Indianapolis. He did not treat Luck. "We do see about a half-dozen per year related to contact sports. It's just not very common."
Chuck Pagano pointed to a fourth-quarter scramble from Luck followed by a massive hit from Danny Trevathan as the spot where Luck suffered the injury. It sure makes sense when you see and hear what happened.
Doctor Jacobson added it would "take a direct hit" to create the kind of injury Luck suffered.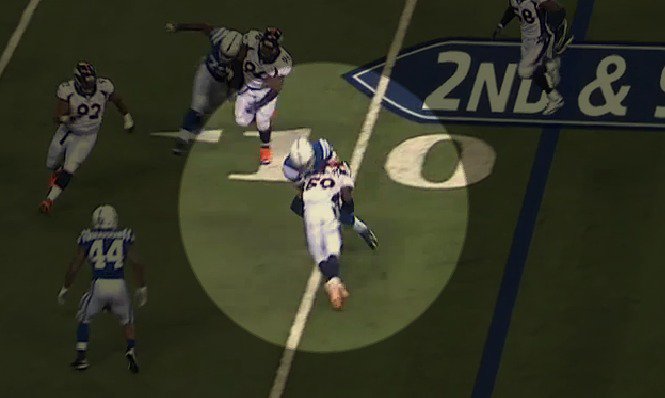 "The kidney is protected by deep muscle and the ribcage," Jacobson said. "It would take a direct hit to cause this kind of injury."
So what's the next step? The Colts say Luck won't need surgery and the doc confirmed as much, although pushing it to get back and suffering a re-injury could "greatly complicate the situation."
"There might be no need for surgery, but they do require rest and preventing further injury," Jacobson said.