More NFL offseason: League minicamp dates | Latest news, notes
When Browns general manager Ray Farmer defended his team's passing on drafting a receiver this month while knowing that standout Josh Gordon could be suspended for a significant portion -- or the entirety -- of the season, he made the claim that, well, a team doesn't really need a top-notch pass-catcher in order to win a Super Bowl.
More specifically, Farmer said this:
"Name the last big-time receiver to win a Super Bowl. Name the last mega-guy. [Gordon] matters to me because I like the guy and I think he's a really good player, but at the end of the day, when you look at the teams that have these mega-receivers, name the last guy that won a Super Bowl?... There are none. The last guy that really helped his team get there was T.O. [Terrell Owens]."
Doesn't sounds right, does it? But perhaps Farmer has a point that's worth exploring. Does a big-time receiver really not matter for a team to go deep into the postseason?
Farmer says the last mega-star to help his team to the Super Bowl was Owens with the 2004 Eagles, but Marvin Harrison with the Super Bowl-winning Colts squad from the 2006 season, Randy Moss with the 2007 Patriots and Larry Fitzgerald of the 2008 Cardinals probably would disagree with that notion.
Either way, let's break it down in a chart that shows just how effective the top receiver for all the Super Bowl participants actually was that season.
A couple quick notes about the chart:
-AV refers to the Approximate Value number created by Pro Football Reference. Here's the explanation for it. In this case, an AV of 14 or higher means, basically, that the receiver that season was playing at an elite level.
-DYAR refers to the Defense-adjusted Yards Above Replacement stat created by Football Outsiders. Here's the explanation for it. In this case, the ranking shown below give a pretty good idea of where each receiver ranked among his peers in the league that season.
-The top-5 receiver category is more subjective, but based on everything in front of us, I'll make the best choice I can.


Super Bowl-winning receivers
Year
Team
Top WR

Super Bowl winner?
Rec. yards rank that season

AV rank
DYAR rank
Top 5 WR?
2013
Golden Tate

Yes
30th
9th
No. 24
No
2013
Demaryius Thomas

No
4th
14
No. 1
Yes
2012
Anquan Boldin

Yes
52nd
8
No. 31
No
2012
Michael Crabtree

No
31st
11
No. 6
No
2011
Victor Cruz

Yes
3rd
13
No. 3
Yes
2011
Wes Welker

No
2nd
17
No. 4
Yes
2010
Greg Jennings

Yes
4th
12
No. 3
No
2010
Mike Wallace

No
5th
 11
No. 1
Yes
2009
Marquese Colston

Yes
16th
11
No. 7
No
2009
Reggie Wayne
No
6th
14
No. 6
Yes
2008
Hines Ward

Yes
14th
9
No. 7
No
2008
Larry Fitzgerald

No
2nd
14
No. 3
Yes
2007
Plaxico Burress

Yes
18th
 10
No. 35
No
2007
Randy Moss

No
2nd
20
No. 1
Yes
2006
Marvin Harrison

Yes
2nd
17
No. 1
Yes
2006
Muhsin Muhammad
No
27th
 8
No. 47
No
2005
Hines Ward
Yes
21st
 11
No. 6
No
2005
Bobby Engram

No
30th
9
No. 30
No
2004
David Givens

Yes
29th
 10
No. 30
No
2004
Terrell Owens
No
10th
 14
No. 11
Yes
The conclusion: of the last 20 teams to play in the Super Bowl, nine had an elite receiver (for that season, at least). Of those 20 squads, I'd argue that six had all-time elite receivers that will garner real consideration for the Hall of Fame (Owens, Ward, Harrison, Moss and Fitzgerald), though it's still too early to tell for the younger receivers like Cruz and Thomas.
That seems to muddy Farmer's declaration, right?
"Conceptually, Farmer is correct that you don't need a No. 1 receiver, so to speak, if you have a good professional quarterback," said Andy Benoit, an analyst formerly of CBSSports.com and now with Sports Illustrated. "There are teams that have gotten far and even won Super Bowls without elite wide receivers or even without good receivers, but all of those teams had a good quarterback to compensate. Except for Seattle [in 2013], which had the defense to compensate."
Benoit is quick to point out that he thinks Russell Wilson is a good quarterback, but he also points out that the Seahawks defense was the best in the NFL last year. Plus, consider the 2006 Bears, which started Rex Grossman at quarterback but had a top-five defense. Or the 2005 Seahawks, who had a good, professional quarterback in Matt Hasselbeck. Or all those Patriots teams with Tom Brady.
Yet the idea of building a team around a Calvin Johnson or an Andre Johnson or, despite his one Super Bowl appearance, a Larry Fitzgerald, might not be a great one.
"I think you can beat any team with a balanced corps of receivers that can all do a job even if you don't have any one of them that can escape Revis Island," said Pro Football Focus' Sam Monson. "On the flip side, you can have Megatron, but if you don't have anybody else outside of him, does it really matter? The Lions were so bare outside of him [in 2013] that teams actually put two guys on him at times, like he was a gunner on the punt team. They were basically happy to completely sacrifice a coverage defender from somewhere else to physically double-team him at the line because that's how easy it is to neutralize ONE weapon.
"If you've got three or four guys who can all do certain things well or are reasonable in all areas, that's a hell of a lot harder for a defense to shut down, largely because it comes back to the quarterback being able to exploit it and target multiple places."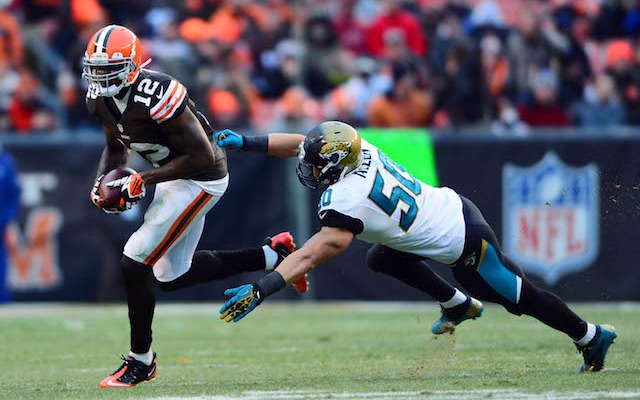 OK, that's reasonable. Instead of building a team around one standout receiver, it makes sense to put together a strong, but not necessarily elite group of three or four pass-catchers (including tight ends) that can make life difficult for a defense.
But that's not what the Browns have. Aside from Gordon, who very well could be lost for the year, and after the release of Greg Little, Cleveland's top receivers are Nate Burleson, Andrew Hawkins, and recently signed veteran castoffs Earl Bennett and Miles Austin. To be fair, tight end Jordan Cameron was highly effective for Cleveland last year.
"Farmer is right, but not about his team," Benoit said. "They have no prayer in their passing game with those guys. ... [Farmer] is putting a nice spin on it, but the Browns are hurting at that position. If the only way to get by with bad receivers is to manipulate the offense, you need a professional quarterback to do it. Do you think Johnny Manziel can recognize a defense before the snap and [adjust] the playcall? That's not going to happen."
But let's forget about the Browns for a moment. What about the rest of the league that actually has a chance at making the postseason?
"My thing is that you don't NEED anything with the probable exception of a viable quarterback or a quarterback in the middle of a hot streak," Monson said. "Things on a football field are so interlinked that you can patch up any relative hole with something else. Tom Brady runs out of receivers? He uses Rob Gronkowski and Aaron Hernandez, and the offense is as destructive as ever. All-Pro left tackle goes down? You start chipping with tight ends and running backs. Corner struggling? Roll a safety over to help."
The answer, then, is adaptability and having talent at positions other than quarterback that can contribute if the passing game isn't working. Maybe a team like the Browns, who could have a top-notch defense, might be a factor if they defend among the best squads in the league and get just enough help from the offense.
But ask Ray Farmer if he'd like an elite receiver instead of the current crop he has, and I bet he wouldn't turn away from the possibility.
"Do they NEED an elite receiver to win? No," Monson said."But given the state of the roster as-is, would they take one over the alternative? Hell yes."