Dolphins at Bills will be second blackout of NFL season
The Bills announced on Thursday that this week's game against Miami will be blacked out in Buffalo. The black out is just the second one in the NFL this season.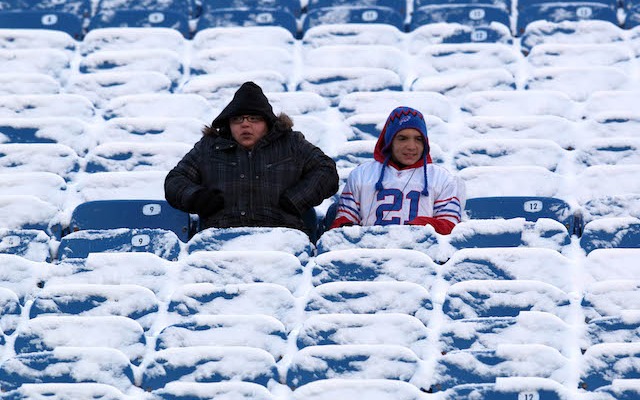 The FCC might have taken the first step toward eliminating its sports blackout rule, but that's not going to help the Buffalo Bills this week. The Bills confirmed Thursday that the team's home finale against Miami will be blacked out locally.  
Sunday's game in Buffalo will mark only the second time this season that a game has been blacked out. Through 15 weeks, the only other game to be blacked out came in Week 13 when the Chargers hosted the Bengals. Since Week 13 of the 2012 season, Buffalo and San Diego have accounted for five of the NFL's eight blacked out games. 
Bills CEO Russ Brandon believes Buffalo's horrible December weather is to blame, "Typically early in the season, we don't have issues moving tickets," Brandon told WGR-AM, via ESPN.com. "But regardless of opponent, December games even going back to the 1990s have been historically difficult to sell. I think we sold out 63 percent of those games in December in the '90s and about 67 percent in the 2000s in December."
It also doesn't help attendance when your team's not in contention. The Bills haven't made the playoffs since 1999 -- the longest postseason drought in the NFL -- and the team was eliminated from playoff contention this year when the Dolphins beat the Patriots last week. Coincidentally, Buffalo will be playing that same Miami team on Sunday. 
Everything you need to know heading into Week 15 is right here

Haden has been out since Week 10 with a fractured fibula

There's also the possibility Goodell steps aside early if his potential successor is progressing...
The league could return to its pre-2009 policy after a year in which pregame protests took...

Arians hasn't said he's retiring, but the team has discussed contingencies for a coaching...

O'Brien would be a coveted coaching candidate if he were to hit the open market