Dolphins camp observations
It's all about Ryan Tannehill's growth for the Dolphins in 2013. If he's improved, they could be a playoff team.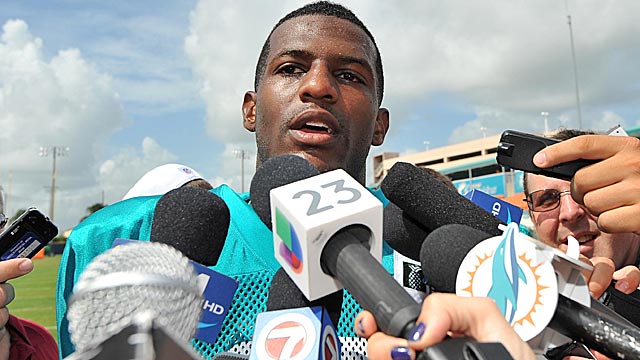 DAVIE, Fla. -- Dolphins quarterback Ryan Tannehill looks the part. He's big. He's strong. He's got a good arm. And he works at it. But there are a few things that concern me about him. One is his accuracy, but I think that will improve as he plays a second season. The more worrisome part of his game is his inability to get the ball out in a timely manner. The great quarterbacks anticipate receivers coming open and throw on time. Tannehill seems to wait for the player to come open and then make a throw. He also doesn't anticipate second-level throws. In the practices I watched, he seemed to miss some available receivers coming free on the second level, and instead took a check-down throw. That can't happen. He has to be more decisive with his reads and make quicker decisions. If he can get to another level in 2013, the Dolphins could be a playoff team.
--- There are a lot of stories coming out of this offseason that coach Joe Philbin is a lot looser than he was a year ago. Some of the players I spoke with said that is indeed the case. So I asked Philbin if he is looser than a year ago?  He laughed. "I never knew I was stiff and rigid," Philbin said. "That's news to me." In the first year, a coach has to be tougher if he's going to go the other way. It's clear that was the case with Philbin. "We wanted to install a discipline structure program where we held everybody accountable," Philbin said. "At the same time, I want to enjoy the process. I want the players to enjoy it. I want these guys to think this is the best professional experience they ever had. I like to keep the players on their toes. I don't try to be the same every single day. I try to mix in a joke during power point. Try to jab a guy here and there.  I think as we kind of grew, and we had a working relationship with one another, there was a mutual respect. When those things happen, you can maybe loosen up a bit."
 ---I love what second-year player Lamar Miller brings to the Miami offense. He is explosive at a time when backs need to be. He is the type of runner who can rip off those 40-yard runs that you need nowadays in the current style of play. Yes, he's an air back. But when I told Miller that, he had a blank look on his face. "I want to be a complete back," he said. I then told him that air backs are the wave, those types of players who can rip off 65-yard runs. He still looked perplexed. "I want to be able to do it all," he said. I look for Miller to have a 1,400-yard season with a lot of big runs. He should be a high pick in fantasy. He's also going to be used a lot more as a back out of the backfield. And he showed some good things catching the football during the work I watched. The one thing he does have to improve on is his blitz pickups.
---The Dolphins signed corner Brent Grimes to a one-year deal, and so far he's looked like a bargain. Grimes, the feisty, smallish corner from the Falcons, has earned rave reviews from his teammates. Grimes is coming off a lost season in which he sat out with a torn Achilles tendon. This was to be his big contract year, but missing the season cost him a chance at a big payday. If he plays well in 2013, he should get it next year.  The big concern is the other side. Richard Marshall and Dimitri Patterson will be in the mix, but the team wants rookie second-round pick Jamar Taylor to win the job. One problem: He's been missing time after hernia surgery.
---One thing's for certain watching the Dolphins practice: They will go deep a lot. By signing high-priced free agent Mike Wallace, the Dolphins added one of the fastest receivers in the league. And with Tannehill having a big arm, it makes sense to let it fly. Wallace and Tannehill have missed a few big-play chances during the early part of camp, but I expect them to grow as the Dolphins move to the season.
---Jake Long manned the left side for a long time for the Dolphins at tackle. Now he's in St. Louis. That has forced the Dolphins to move Jonathan Martin from the right side, where he started as a rookie, to the left tackle spot. That's a big move for a second-year player. I am not sure Martin has to the foot speed to play the left side against all the big-time pass rushers and protect Tannehill's backside.
---The Dolphins traded up in the first round to draft defensive end Dion Jordan. He was taken off the non-football injury list Tuesday, but he is being limited in practice after surgery to repair a torn labrum in February. Jordan is being counted on to be a pass-rush compliment to Pro Bowl player Cameron Wake, and the trade up has added a lot of expectations on the rookie. "No, I don't feel any pressure," Jordan said. "I feel like as far as my personal goals I just want to get out here and help any way I can because the whole thing is do better than we did last year and take this team as far as we can, and as long as I compete and make myself better as a player then I'll help the team doing that." Keep an eye on second-year player Olivier Vernon. I think he will be the guy to emerge as this team's second pass rusher in 2013.
---Charles Clay is both a fullback and a tight end, the kind of valuable reserves teams need. Clay flashed at times last season as a pass receiver, and he's one of those Swiss Army Knife-type of players.  With veteran Dustin Keller in as a tight end, Clay will provide a nice compliment as a pass catcher. Deon Sims will likely be the blocker. Clay does need to be more consistent. 
---Look for the Dolphins to blitz more with linebackers Dannell Ellerbe and Phillip Wheeler, their two free-agent signings. Ellerbe was a good blitzer for the Ravens as an inside 3-4 linebacker last season. He is now playing middle linebacker. The Dolphins showed the offense a lot of different blitz looks in the days I watched practice. 
There, I said it
---The Dolphins better win fast. South Florida is becoming Heat country. Quickly.
---The Dolphins will be an 8-8 team at best. I just don't see them beating the Patriots in the division. Do you? 
---- Wallace will prove to be worth every penny. He is not just a deep threat. The Steelers loved to say that, but put on the tape of his crossing route for a score against the Giants last season. Speed kills. He has it.
---Spending big on two linebackers who don't rush the passer from the edge is a risky proposition for the Dolphins. I wonder if the Dolphins will get their money's worth, even if I do like the way Ellerbe plays.
---General manager Jeff Ireland is better without Bill Parcells.  How much better will be determined by how well Tannehill plays.
---The Dolphins new logo looks soft. Are they? 
---Dolphins safety Reshad Jones will be a top-50 player after this season.
The longtime Bengals coach and the team are planning to part ways after the season ends

Everything you need to know heading into Week 15 is right here

Haden has been out since Week 10 with a fractured fibula
There's also the possibility Goodell steps aside early if his potential successor is progressing...

The league could return to its pre-2009 policy after a year in which pregame protests took...

Arians hasn't said he's retiring, but the team has discussed contingencies for a coaching...