Dolphins DE Dion Jordan suspended 4 games for PEDs violation
The Dolphins first-round pick from 2013 has been suspended four games.
• 1 min read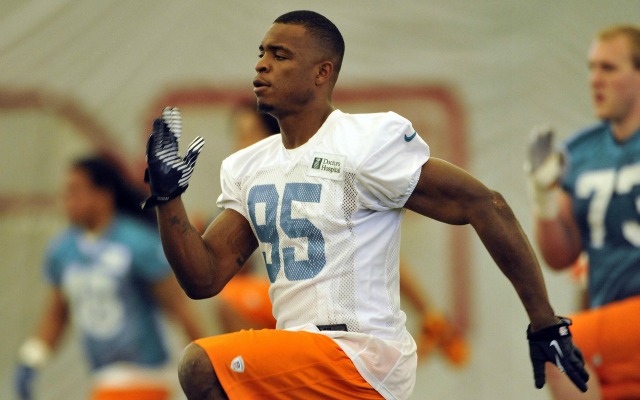 More NFL offseason: League minicamp dates | Latest news, notes
Dolphins defensive end Dion Jordan, the No. 3 overall draft pick in 2013, has been suspended for the first four games of the 2014 season because he violated the league's performance enhancing drugs policy, the team announced Thursday afternoon.
This news comes on the heels of the four-game suspension handed down to Eagles tackle Lane Johnson, the No. 4 overall pick of the 2013 draft.
"I recently learned from the NFL that I tested positive for stimulants that are banned under the NFL policy," Jordan said in a statement. "I worked carefully with my advisors and the union to investigate the test results, and I take full responsibility for the test results. I'm very sorry for the impact of this situation on my teammates, coaches, Stephen Ross, the entire Dolphins organization, fans and my family as well. I will continue to work extremely hard during training camp and preseason. During the suspension, I will stay in top shape and will be ready to contribute upon my return."
Jordan had a disappointing rookie season in 2013, playing all 16 games but starting zero and recording only two sacks. According to the Pro Football Focus metrics, Jordan ranked No. 22 among the 52 defensive ends who play in a 4-3 scheme.
In February, CBS Sports' Jason La Canfora reported that the Dolphins were gauging interest in trying to trade Jordan. But it was thought that Jordan's guaranteed rookie contract of four years and $20.5 million was too much for other teams to take on.
But this offseason, Dolphins coach Joe Philbin said Jordan was playing faster because he's "doing less thinking."
Jordan said this offseason that he had bulked up to 265 pounds, because "I was definitely too light to go out there against some of those offensive tackles." The Miami Herald's Armando Salguero wrote in May that looked as if Jordan "took an air pump and plugged it into his arms and shoulders this offseason."
"We were disappointed to learn about Dion's suspension," Philbin said in a statement. "Dion has accepted responsibility for his actions and is committed to improving, both on and off the field, in preparation for the upcoming year."
Jordan can participate in the offseason and preseason practices and games. He's eligible to return to the roster on Monday, Sept. 29.
Smith is facing up to seven years in prison if convicted

Plus everything else you need to know about Week 2 of the 2017 NFL preseason

This is why being a rookie in the NFL isn't fun
The Raiders running back went Beast Mode on reporters

Elway tried his best to emphasize how complicated the situation is

The executive director NFLPA has an ugly prediction for the future of the NFL