Dolphins hero Michael Thomas nearly missed his Miami opportunity
Cornerback Michael Thomas, who intercepted Tom Brady to seal Miami's win Sunday, had quite a ride last week.
• 2 min read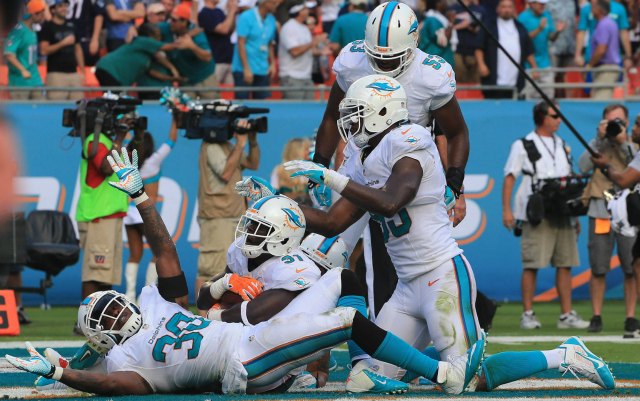 Michael Thomas, the Dolphins cornerback who was a resident on the 49ers practice squad at this time last week, was one of Miami's biggest heroes Sunday. In the final minute of the game, he broke up what could have been a game-winning touchdown pass from Patriots quarterback Tom Brady to Danny Amendola and then intercepted Brady's last-second, fourth-down attempt in the end zone to seal Miami's victory.
And he almost didn't pick up the phone in time in order to sign his deal with the Dolphins last week. If he had waited about a half-hour later to check the messages from his agent on his voicemail, he probably would still be an unknown player, residing in the shadows in the San Francisco locker room.
Foxsports.com's Mike Garafolo explains:
On the phone were missed calls and texts from his agent, Christina Phillips, who warned Thomas the Dolphins would move on if he didn't get back to her pronto.

Thomas was a member of the San Francisco 49ers practice squad at the time, so the Dolphins needed his consent to sign him to their active roster. It was 10:20 a.m. PT, but it was already afternoon in South Florida and the Dolphins had to make their move.

Thomas got back to them in time.
And then played the role of shutdown corner when the Dolphins needed it most.
Thomas was an undrafted free agent from last year and has spent his entire two-year career on San Francisco's taxi squad. He said there had been a few opportunities to move on before -- in order for another team to sign him, that squad would have to put him immediately on its active roster -- but he decided against them at the time. And the 49ers apparently almost promoted him a few weeks ago.
But as MMQB.com's Peter King points out, when Miami called, Thomas had to catch a 2:30 p.m. flight. He closed the door of his apartment and took off for the airport.
"I was just like, 'Holy crap! I gotta go!' " Thomas said.
Five days later, he found himself on the field, trying to stop Brady after Dolphins cornerback Brent Grimes had to leave the game with a groin injury -- Thomas, it should be noted, didn't take a defensive snap all week in practice, and he expected to play special teams only.
"I'm not gonna lie," Thomas told King after he found out his team needed him to play cornerback (Thomas really is more of a safety). "I was pretty emotional. I was going out there knowing Tom Brady was coming after me."
But Thomas ultimately succeeded, drawing the kudos from his teammates, whom he had only just met. Even if coach Joe Philbin had a hard time remembering Thomas' name after the game.
"You try to get to know as many guys as you can, but when you're only there for four days, it's hard," Thomas said. "I think we'll get to know each other a little more now that I should be around for another week."
Follow Josh Katzowitz on Google+
The Oklahoma quarterback isn't exactly being discreet about where he wants to begin his NFL...

No one was hurt, but Fournette's Mercedes lost a bumper

It might be time to begin worrying about the Patriots quarterback
The Patriots are still odds-on favorites, but the other teams are closing in

SportsLine tapped into its Vegas sources to see who professional bettors like Sunday

Philadelphia readies itself for a massive celebration if the Eagles advance to the Super B...