Dolphins owner Stephen Ross calls Ted Wells report 'disturbing'
Dolphins owner Stephen Ross described the report released by Ted Wells on Friday as 'deeply disturbing.'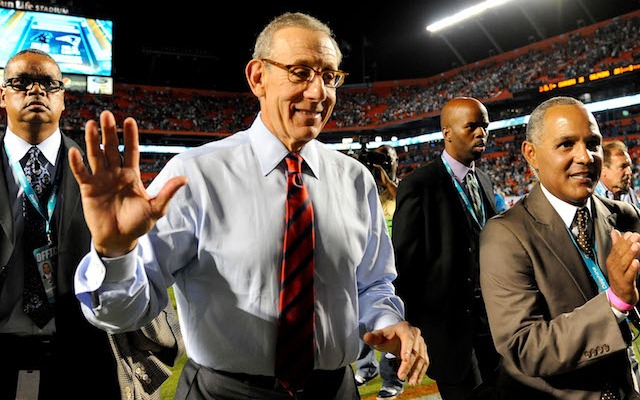 Wells report: Harassment details | Martin considered suicide | Coach involved | Racist messages | Incognito lawyer response | NFL, NFLPA, Dolphins to 'review'
On Friday morning after independent NFL investigator Ted Wells released his report, Miami Dolphins owner Stephen Ross issued a short statement saying the team would review the report in detail before responding to any of the findings made by Wells. 
Ross has now reviewed the report and on Friday night, Miami's owner released a second statement calling the language and behavior described in the report "deeply disturbing." 
The Dolphins owner didn't say specifically what he found disturbing, but Ross did say the team has begun a process that will "address the situation forcefully" and that he has made it clear "this situation must never happen again."
To prevent bullying from happening in the Dolphins locker room again, Ross says that he consulted with the New York University School of Law, the Jackie Robinson Foundation and the New York University Center for Sports and Society. Those groups helped Ross and the Dolphins create a code of conduct and a series of initiatives which will be released next week. 
The code may not just be for the Dolphins either. "We are also exploring possible legislation and a conduct pledge that would be instituted in all organized sports throughout the country to elevate the core value of respect," Ross said in part of his statement. 
Here's Stephen Ross' statement in its entirety: 
Today, I received the final report from NFL independent counsel Ted Wells and have now reviewed it.  I want to first thank Commissioner Roger Goodell for granting our request to have an independent review on this matter. I also want to thank Ted Wells and his team, who conducted a thorough, professional and objective review.

I now have had a chance to read the report and obviously, the language that was used and the behavior as described is deeply disturbing. Although the report commended Joe Philbin's commitment to promoting integrity and accountability throughout the Dolphins organization, I told Ted Wells personally during my visit with him that we are committed to addressing the issues outlined in this report. We must work together towards a culture of civility and mutual respect for one another. It is important to me, important to Coach Philbin and important to the entire Dolphins organization.

We are committed to a positive workplace environment where everyone treats each other with respect. We have reviewed our Code of Conduct and workplace policies and are making enhancements to the areas of sports psychology, human resources and player engagement functions which serve as safe outlets for any player or employee.

When these allegations first came to light, I wanted to know what happened so we could make our organization better. I also began a deliberative and comprehensive process of determining what I could do to elevate conduct in sports, regardless of the then-unknown conclusions of Ted Wells' report. 

Three months ago, I announced the creation of a committee comprised of Coach Philbin, our CEO Tom Garfinkel, and respected former players and coaches, who would review Ted Wells' report and our current Code of Conduct and make any further recommendations. Now that the report has been made available to us, the committee can move forward and begin discussions. 

After the situation came to light, I approached the New York University School of Law and the New York University Center for Sports and Society led by Arthur Miller, as well as the Jackie Robinson Foundation on ideas to address my concerns about conduct in sports. I wanted to tackle these challenging issues head on and be a driving force for change not only with the Dolphins, but in all levels of athletics. In working with their research team and lawyers, and with the cooperation of New York University Dean of Law and former White House associate counsel Trevor Morrison in particular, we have researched, debated and consulted dozens of experts and have created a series of initiatives that we will release next week, along with a policy paper examining this issue.

We seek to create a curriculum which emphasizes accountability and which educates athletes on a standard code of conduct, appropriate use of language, and the elimination of disrespectful and unacceptable behavior in sports, including discrimination or harassment because of race, gender or sexual orientation.  We are also exploring possible legislation and a conduct pledge that would be instituted in all organized sports throughout the country to elevate the core value of respect. 

I have made it clear to everyone within our organization that this situation must never happen again. We are committed to address this issue forcefully and to take a leadership role in establishing a standard that will be a benchmark in all of sports.
The committee Ross refers to in the fifth paragraph is made up of Tony Dungy, Don Shula, Jason Taylor, Curtis Martin and former Dolphins great Dan Marino, among others.  
Woods injured his shoulder during the Rams' loss to the Vikings on Sunday

CBS All Access allows viewers to stream every NFL on CBS game in their local market

With Smith out for the last two weeks, the Dallas offense has gone into a tailspin
Once considered favorites for a deep playoff run, the Raiders are instead a big disappoint...

Carson Wentz's rise to league-wide fame is but one of several monumental reasons for Philly's...

The Michigan senior has wreaked havoc and distanced himself from other defensive tackle pr...