Dolphins' Richie Incognito defends himself against 'dirty player' accusation
After Texans defensive lineman Antonio Smith accused Dolphins guard Richie Incognito of trying to break his ankle, Incognito says he actually was trying to defend himself from Smith.
• 2 min read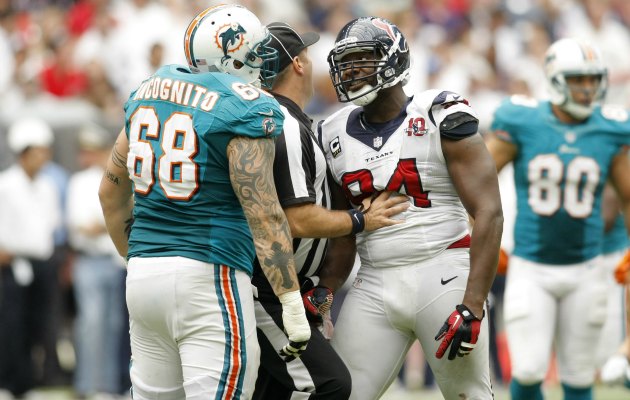 Smith was definitely not pleased with Incognito. (US Presswire)
Earlier this week, Texans defensive lineman Antonio Smith blasted Dolphins guard Richie Incognito and called him dirty, accusing him of trying to injure his ankle in the middle of Houston's 30-10 win against Miami.
"A dirty player being let to play dirty," Smith said. "Everything that's illegal that can be done on the football field he does it, but mainly he was hitting people after the play, sliding down on your leg grabbing your ankle and trying to twist to break your ankle, and he was doing it right in front of the referees and he was still in the game."
Naturally, everybody who has NFL Game Rewind made a break for their computer to see what had actually occurred (or if you have Photoshop, you could make jokes). Here's Texans blog Battle Red Blog, and how they break down the play (not surprisingly, the writer believes Incognito and the dirty reputation that precedes him are in the wrong).
Here's the video, and it does appear that Incognito is taking a mid-game nosh on Smith's leg.
But let's let Incognito explain himself. In fact, he actually took out his iPad on Wednesday and walked the Palm Beach Post's Ben Volin through the sequence of events. Incognito admitted he could have been called for holding on the play, but that he wasn't playing dirty -- just trying to get Smith from going after the fumbled ball and then trying to defend himself against kicks to the head.
"The ball is out, I grabbed his legs to keep him from getting up, and right there, he's kicking me in the arm and kicking me in the head, so then I go into my turtle shell," he said.
For the record, Texans coach Gary Kubiak said he didn't see anything out of the ordinary on that play. But Incognito thinks he knows where the problem originated -- his old reputation of playing dirty.
"It's definitely something that once you're labeled with it, it's very hard to shake," he said. "I think the misconception about me is I'm a big, angry guy.
"People who know me off the field know that that's not the deal. I'm just a rambunctious guy, getting out there and playing physical."




For more NFL news, rumors and analysis, follow @EyeOnNFL on Twitter, and subscribe to our Pick-6 Podcast and NFL newsletter. You can follow Josh Katzowitz on Twitter here: @joshkatzowitz.
The first-year cornerback has not been active in four weeks and drew a suspension earlier this...

McCown will help the coaching staff work with Bryce Petty and Christian Hackenberg

The Browns have a long way to go to be AFC North champs
Five selections against the spread for the upcoming Week 15 slate of NFL games

Here are 10 things to watch in Week 15, including a hot Bortles, a cold Brady and a new Eagles...

A couple of potential playoff teams have trouble covering against cellar dwellers in Week...