Dolphins' standout Wake beating OTs, myths with equal skill
Right side, left side, doesn't matter. Undrafted Cameron Wake is sacking QBs and myths while earning double-team respect.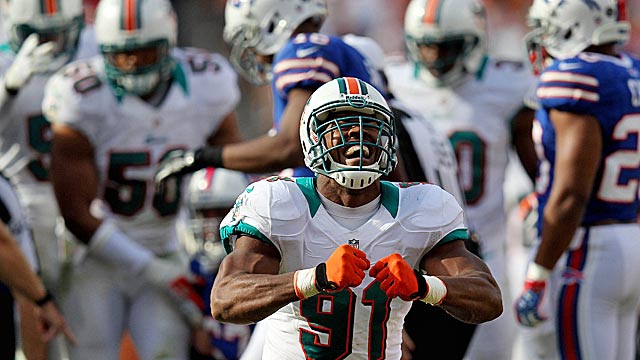 DAVIE, Fla. -- There are two myths about pass rushers that Cameron Wake is in the process of dispelling: Elite pass rushers are usually only right ends and they also have trouble against the run.
Wake, who had 14 sacks for the Miami Dolphins last year, lined up 90-percent of the time at left end, which for most of the past decade has been considered the power end, rather than the pass-rushing end.
That is changing. Players like Wake have helped amend that thinking, much as Reggie White once did.
"He's a little more comfortable coming from that side," Dolphins coach Joe Philbin said.
Wake played the left side in Canada with his hand down because he said the British Columbia Lions had a good right end in Brent Johnson. And when Wake came to the Dolphins in 2009, he was on the left side because Jason Taylor, who had a Hall of Fame-type of career, was on the other side.
"JT (Taylor) is one of the greats of all-time, so I was on the left side," Wake said. "And now it's my niche."
Wake is much more comfortable playing with his hand on the ground. The Dolphins stood him up as a 3-4 rush linebacker in 2011, and he played well, but he likes rushing the passer with his hand on the ground. As the 4-3 left end in 2012, he was as dominant a pass rusher as there was last season. He will again play the 4-3 left end, with an occasional move to the right side.
"More often than not, if you had to bet, I'd be on the left side," Wake said.
In studying the tape from 2012, Wake had to deal with a lot of chipping by backs and doubles at times. That's because Miami lacked a top pass rusher on the other side. That could change in 2013 with the drafting of Dion Jordan in the first round.
"That would be nice," Wake said. "I met quite a few offensive players on my way to the quarterback, that's for sure. At the beginning, you kind of get frustrated, but then you say that's the bed you made. If you weren't doing well, then you probably wouldn't be getting doubled. You can't sit there and say, 'I got chipped, so I can't get to the quarterback.' I have to figure out a way to get chipped and still get to the quarterback. I have to figure a way to take my game to the next level."
Of Wake's 14 sacks, all of them came when he was single blocked. He beat some bad tackles, but he also beat 49ers right tackle Anthony Davis, a top right tackle, for three sacks in a game.
The Seattle Seahawks held Wake without a sack late in the season. In studying that tape, it was obvious they weren't going to let him get going. They chipped him and doubled him almost the entire game. Here's a look at one play that shows their strategy.
Wake was lined up in his down spot at left end (yellow x). At the snap, the Seahawks chopped with tight end Zach Miller as he went out into his pattern (second photo below). Wake then was head-up on right tackle Breno Giacomini, who did a nice job stoning him after Wake disengaged with Miller (Final picture).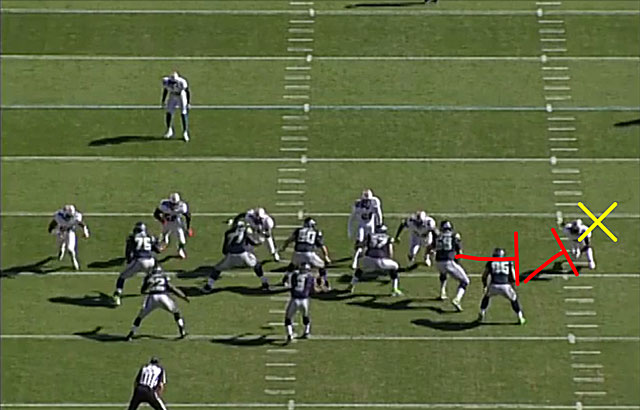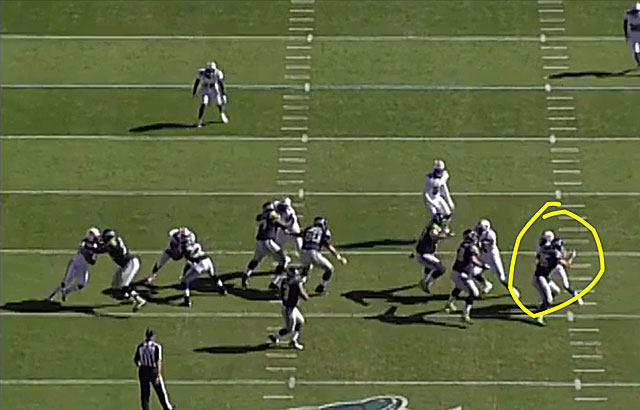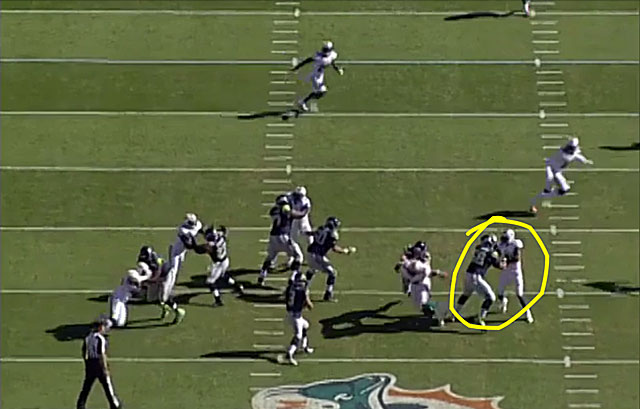 Teams would be wise to chip and help with Wake in 2013 the way the Seahawks did.
Wake's run defense was also impressive on tape. It is something he has worked hard to improve each season.
"When I came down here, Joey Porter and Jason Taylor would be the starters so I had to find a role," Wake said. "And my role was a pass-rush role. That kind of labeled me as a guy who could only come in on third down. Maybe they thought I couldn't play the run. In my mind, I can do it all. Line me up on a tackle, and I am strong enough to handle him. I take pride in how I play the run."
Here's a look at Wake against the Colts as he stopped a reverse by T.Y. Hilton when he beat two blocks.
Wake (yellow X) first beat the block of tight end Dwayne Allen as Hilton took the handoff from Andrew Luck. When he jumped past Allen, Wake was faced with pulling tackle Winston Justice. He shed him and made the tackle on Hilton for a 1-yard loss.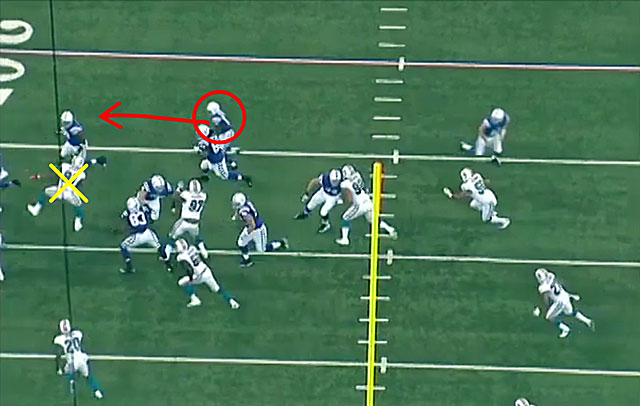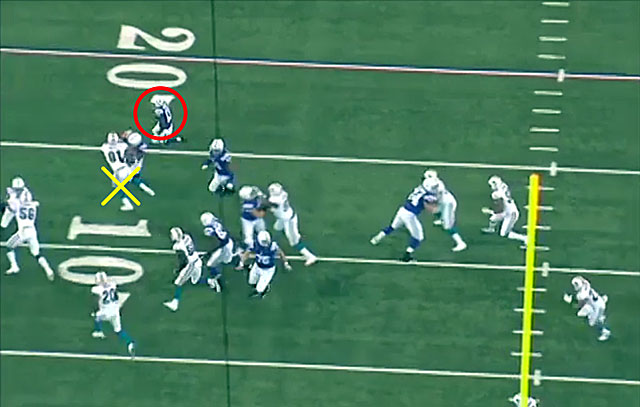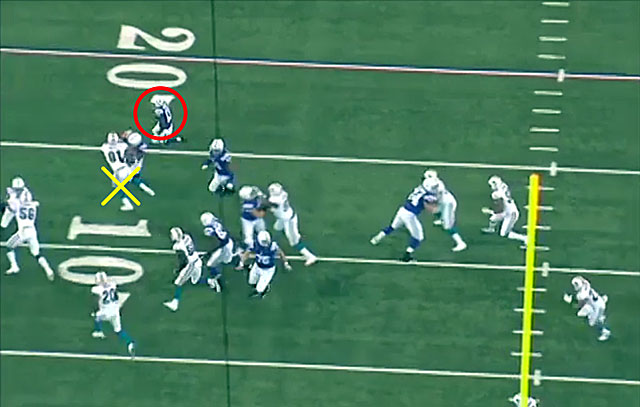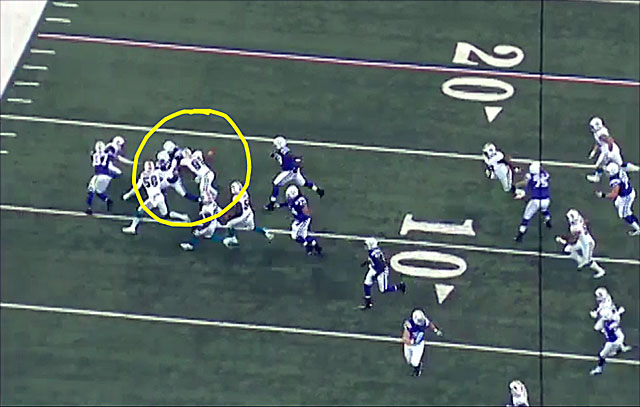 In his fifth NFL season, Wake is proving to be too much to handle for one tackle without help. And he's also showing that elite rushers can come from the left side and they can play the run.
Not bad for a guy who wasn't even drafted.
After a report emerged quoting Irving saying, 'I have made a call,' the Cowboy took to Twi...

Washington is banged-up heading into a divisional showdown with Philadelphia

Kenny Britt might be on the chopping block after his latest blunder
Sending money to help with hometown education isn't anything new for the NFL veteran

Here's every official injury designation for each NFL team for Week 7

Last year's Jets were a disaster, but this year's version has been extremely competitive